This travel pass for foreign travelers features one round-trip train ticket from Asakusa as well as discount fares for bus and train services in the Nikko and Kinugawa Onsen area.
Enjoy not only the shrines and temples of Nikko's world heritage sites, but also other destinations including the Okunikko area and Lake Chuzenji as well as Kinugawa Onsen.
Enjoy the Lake Chuzenji sightseeing cruise or ride the Akechidaira Ropeway for free. This pass is ideal for visitors who want to experience every part of Nikko, including its world heritage sites.
Present your NIKKO PASS to receive special discounts for tourist facilities, transportation, souvenirs and food, etc.

Price
Adult
Child

April 20 to November 30

¥4,520
¥1,150

December 1 to April 19

¥4,150
¥1,040
Zones included in the travel pass

1 round-trip between Asakusa and Shimo-Imaichi

All Tobu Bus lines in Nikko
Nikko Edomura shuttle bus
Nikko-Kinugawa Onsen Bus(only on days SL is in operation)
Hybrid bus(Odashirogahara area access bus) *3
Akechidaira Ropeway *1
Lake Chuzenji sightseeing cruise *2
All Tobu Railway lines between Shimo-Imaichi, Tobu-Nikko and Shin-Fujiwara stations

Facilities with discount admission

Tobu World Square
Edo Wonderland Nikko Edomura
*1 Not in operation between March 1 and 15 due to maintenance
*2 Period of operation: mid-April to November 30, not in operation on June 18
*3 Period of operation: mid-April to November 30
Pass Privileges
Present the discount pass to get discounts on tourist facilities and rides, souvenirs, and food and beverages.
20% off limited express fares and compartment room fares!
Purchase a separate limited express ticket in addition to the discount pass to ride the Limited Express Spacia (Kinu, Kegon), Revaty (Kinu, Kegon, Aizu), and Kirifuri.
SL reserved seat charge is required in addition to the discount pass to use SL Taiju.
4 persons compartment room can also be purchased at the same 20% discount as limited express fares.
●Discount prices are limited to simultaneous train reservations and ticket purchases made at the Tobu Tourist Information Center Asakusa on the 1F Counter of Asakusa Station or the 1F ticket counter at Asakusa Station.
●Compartment room fares represent the price per room. The separate limited express fare must be purchased by each person in the compartment.
●Available zones: Asakusa to Tobu-Nikko, Kinugawa Onsen Line and Shin-Fujiwara
*Limited Express Kirifuri operates only on weekends and holidays.
Discount limited express fares
(per adult)
Trains
4-person compartment fare per room
Spacia
Revaty
Kirifuri*
Weekdays
1,340yen→1,080yen
1,440yen→1,160yen
ー
3,090yen⇨2,480yen
Weekends and holidays
1,440yen→1,160yen
1,030yen→830yen
3,700yen→2,960yen
Afternoon / night discounts
1,030yen→830yen
ー
ー
ー
Discounts on tourist facilities and rides!
Nikko Area

Nikko Natural Science Museum
Nikko Kirifuri Skate Center (outdoor rink in the winter)
Kosugi Hoan Museum of Art, Nikko
Nikko Astraea Hotel

Kinugawa Onsen Area

Tobu World Square
Kinugawa Koen Iwaburo
EDO WONDERLAND Nikko Edomura
Kinugawa Onsen Ropeway
Monkey Mountain
*Discount tickets vary by season. Please be advised that there are some facilities that cannot be used in winter, and others that are only available in winter. Changes to facilities and contents are subject to change without notice.
Discounts at souvenir shops and restaurants, too!
Nikko/Kinugawa Onsen Area

10%

discount on purchases of over ¥1,000 at stores with this symbol.
*Not applicable to alcohol and tobacco. Some restrictions apply.
Terms and Conditions of Use
Validity Period:

4 Days

(3 nights and 4days)
Valid for one round trip on the railway between Asakusa and Shimo-imaichi Station, and the unlimited train and bus ride zones.
Board any 2A, 2B, 2C or 2D bus departing from or arriving at the Tobu Nikkō Station bus terminal.
Entrance fees to "Nikko shrines and temples" are not included.
※Notes
・A separate ticket for a limited express train is required to take an express train.
・Only 1 round trip train ride is allowed between Asakusa and Shimoimaichi Station (you can get off on the way, at Tokyo Skytree Station or Tochigi Station).
・Common Admission Tickets for Shrines and Temples in Nikko are not included.
・JR express trains of inter-connected through service are not included.
・Passengers taking Steam Locomotive"Taiju" need to purchase a reserved seat ticket.
Usage Area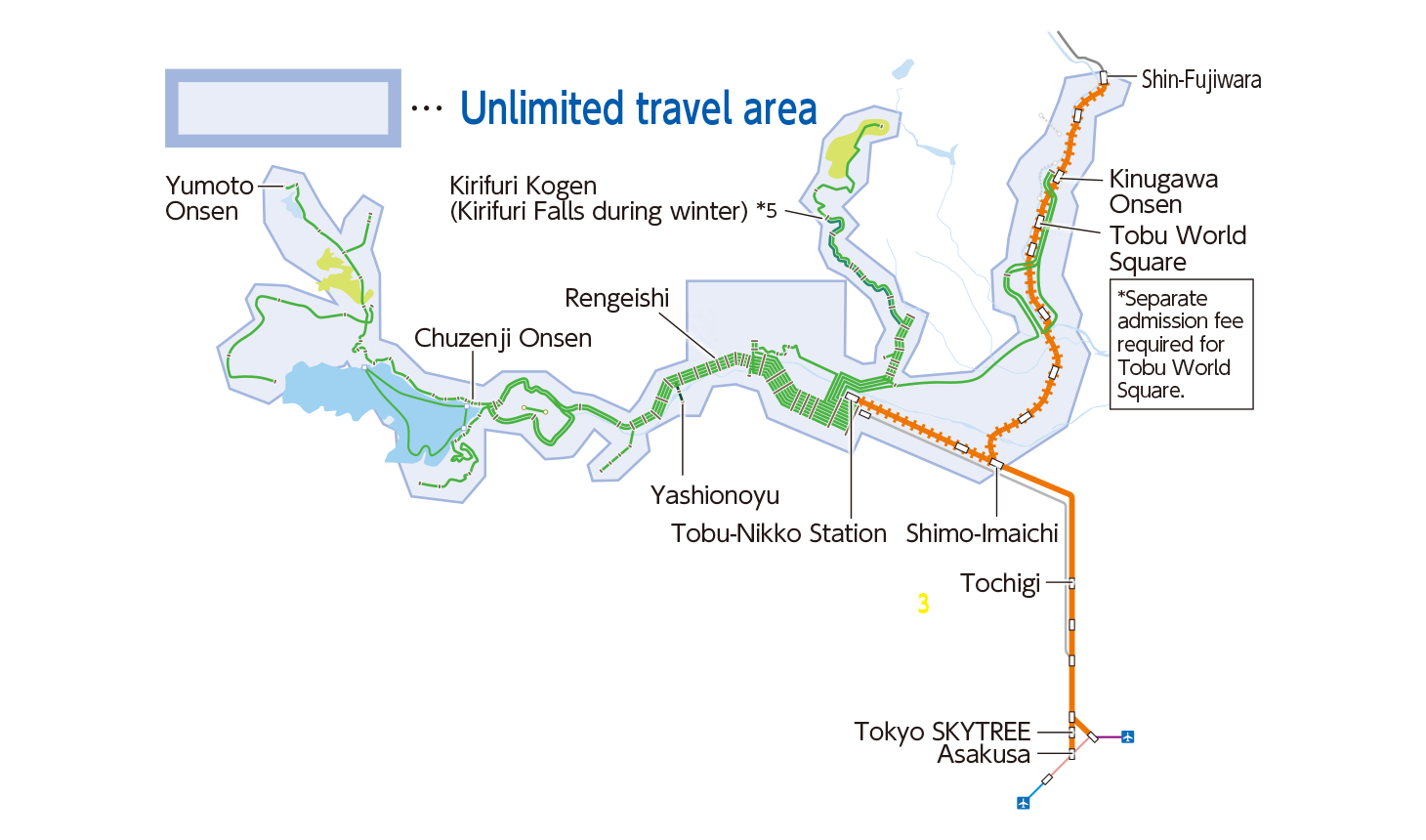 Please click here for more information regarding the free ride zones for the bus.
Introduction of the Model Course