Nikko / Oku-Nikko Area
Kinugawa Onsen Area
In Nikko, there are many famous sightseeing spots where you can thoroughly enjoy historical buildings that can be seen only in Nikko, such as Nikko Toshogu Shrine famous as the world heritage, Nikkozan Rinnoji Temple, Nikko Futarasan Shrine.
In Oku-Nikko, there are many beautiful spots where you can enjoy the nature of Japan which are different depending on the season, such as Kegon Falls, Ryuzu Falls, Senjogahara, and Lake Chuzenji. Many tourists visit there all through the year.
Nikko major tourist destination and Bus Route Map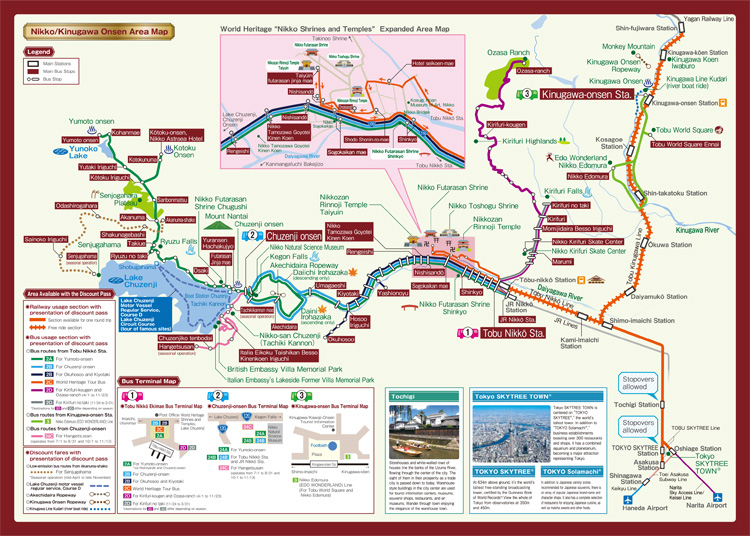 Please be careful as there are 2 different "Nishisando" bus stops: One is for the direction of Yumoto-onsen / Chuzenji-onsen, and other one is to take the World Heritage Sightseeing Bus.
Please take the bus after checking the bus stop number in the route map, and also the number shown on the monitor inside the bus.
Main Sightseeing Spots
Nikko Toshogu
Nikko Toshogu Shrine was built in 1617, by a will of Ieyasu Tokugawa, the first general of the Tokugawa shognate.
The total construction cost is said to be equivalent to about 40 billion yen in current value, and approximately 4,540,000 carpenters worked to complete the construction only in 1 year and 5 months. Ieyasu Tokugawa has become the god enshrined there, and his wish for peace was put in each sculpture group which are currently decorating the building.
Available pass

NIKKO PASS all area / NIKKO PASS world heritage area
Nikkozan Rinnoji Temple
Nikkozan Rinnoji Temple is a generic name of approximately 40 halls and towers in the Sannai area of Nikko. It consists of "three main Tendai sect temples" with Hieizan Enryakuji Temple and Toeizan Kaneiji Temple. Three golden sedentary statues, Thousand-armed Kannon, Amithaba, and Hayagriva (Horse-headed Kannon) are enshrined in the inner sanctum of "Sanbutsudo", the main hall of Rinnoji Temple.
Available pass

NIKKO PASS all area / NIKKO PASS world heritage area
Nikko Futarasan Shrine
In 782, they started to worship Futarayama-no-Okami (a family of enshrined deities; Onamuchi-no-Mikoto, the father, Takiri-bime-no-Mikoto, the mother and Ajisukitakahikone, the son) at the top of Mt. Nantai. It is said to be the beginning of this shrine. The main shrine and the sanctuary, built in 1619, are the oldest buildings in the Sannai Area of Nikko.
The precinct is surrounded by huge cedars, and it is said that you can have good luck for finding a partner or have happiness in your family after visiting there.
Available pass

NIKKO PASS all area / NIKKO PASS world heritage area
Taiyuin Mausoleum, Rinnoji Temple
Taiyuin is the mausoleum for Iemitsu Tokugawa, the third general of the Edo shogunate.
You should not miss seeing the six gates with different designs and the front shrine with splendid ceiling pictures drawn by the Kano school painters. You can feel the feeling of awe and respect of Iemitsu toward his grandfather (Ieyasu, the first general), as the main shrine was built toward the Toshogu shrine in the northeast, inspite that the direction was considered as bad luck.
Available pass

NIKKO PASS all area / NIKKO PASS world heritage area
Akechidaira Ropeway & Panorama Rest House
It is considered as the best view point in Nikko. You can glance over Lake Chuzenji, Kegon Falls, and Mt. Nantai in the west, and Byobu-Iwa (sheer cliff) with perpendicular precipices and the range of mountains stretching in a row in the distance in the east.
It takes approximately 3 min. from Akechidaira to an observation tower by ropeway. There is a promenade from the observation tower to the direction of Chanokidaira, through which you can go to Lake Chuzenji .
Available pass

NIKKO PASS all area
Kegon Falls (Kegon no Taki)
The Kegon Falls is one of the most splendid three falls in Japan. The lake water spilled from Lake Chuzenji falls down the 97 meter high perpendicular cliff all at once. The wonderful scenery of nature with the roar of the falls is really overwhelming.
You can see the powerful falls closer by going down 100 meters to Kanbakudai (a waterfall observation spot) by elavator.
Available pass

NIKKO PASS all area
Tamozawa Imperial Villa
This Imperial Villa was built for the Emperor Taisho in 1899. The buildings assembly has three different architectural styles from the latter half of the period of Edo, and the period of Meiji and Taisho. It is the largest Imperial Villa among those which were built in the period of Meiji or Taisho and still remain.
From these buildings and gardens, you can have a glimpse of the architecture tecniques and the Imperial Family culture in those days.
Available pass

NIKKO PASS all area
Lake Chuzenji Excursion Boat
Lake Chuzenji is 25 kilometers in circumference and 163 meters of maximum water depth. It is a dammed lake made by the eruption of Mt. Nantai.
By taking a pleasure boat, you can enjoy the great nature of the Oku-Nikko area to your complete satisfaction from the middle of Lake Chuzenji. There are various boat courses, but our recommendation is "Meisho-Omawari (a circular tour of famous spots)" course of about 55 min. departing from Chuzenji-ko (Lake Chuzenji) boat stop, stopping by at Shoubugahama and Tachiki-Kannon.
Available pass

NIKKO PASS all area
Senjogahara
A marshland spreading out at approximately 1,400 meters above sea level in Nikko National Park. In this 400 hectare area, you can enjoy various scenery such as marshlands, falls, brooks, and forests.
This area was named "Senjogahara (battle field)" as there is a legend that the god of the mountain had fights here. You can enjoy hiking, feeling the nature of Oku-Nikko through a wooden walkway of approximately 5 kilometers from Akanuma (red swamp) to the Yudaki Falls.
Available pass

NIKKO PASS all area
Nikko Natural Science Museum
It is a prefectural museum introducing the great nature and culture of Nikko using videos, models, photographs, displays, etc. The highlight of the museum is "Nikko-no-Shiki (four seasons in Nikko)" shown on a 3 faced multi-screen 4 meters high and 20 meters wide. You can also enjoy watching very dynamic videos.
Available pass

NIKKO PASS all area
Italian Embassy House Memorial Park
It is a restored memorial building by a lake, a villa for successive Italian ambassadors. The outer wall of the building was made of peels of cedars and has a checkboard pattern. In the building, you can feel the philosophy of Antonin Raymond, an American architect, everywhere such as a rock fireplace and lamps for ships in the living room. From the living room, you can see a magnificient view of the Lake Chuzenji spread all over the windows.
Available pass

NIKKO PASS all area
Odashirogahara
It is a marshland of approximately 2 kilometers in circumference. It has been drier and currently looks like a grass field. In autumn, this area becomes a superb view spot with red leaves everywhere. You can also see sila birch trees which are called "Kifujin (lady)" and well known among photography enthusiasts.
Available pass

NIKKO PASS all area
Ryuzu Falls (Ryuzu-no-Taki)
This falls is at the point where the Yukawa river flows into Lake Chuzenji. It was named "Ryuzu (dragon head)" as the upper part of the falls is divided into two and falls down, which looks like a dragon twisting its body. The falls is 60 meters high and 210 meters long. This place is also known for beautiful azaleas in spring, and red leaves in autumn.
Available pass

NIKKO PASS all area
Yudaki Falls
The water of this falls is flown out of Lake Yunoko, and falls down from the top of the 75 meter high and 25 meter wide rock wall.
Available pass

NIKKO PASS all area
Yumoto Onsen (Hot Springs)
This sulfurous spring has the history of almost 1,200 years. You can see the source of the hot water springing out at Gensen-Goya (source hut), in the Yunotaira marshland at the outskirts of the spa resort area.
Available pass

NIKKO PASS all area
Kirifuri Highland (Kirifuri Kogen)
This highland is spreading out on the southeastern slope of Mt. Akanagisan, a part of the range of mountains in Nikko. You can see azaleas in spring, and yellow day lilies in early summer in full bloom as far as the eye can see.
Available pass

NIKKO PASS all area
Kirifuri Falls (Kirifuri no Taki)
This falls of 2 steps 15 meters wide and 75 meters high is in the deep forest. It was named "Kirifuri (fog falls)" as the water scattering after hitting rocks on the way down looks like fog.
Available pass

NIKKO PASS all area
【As of Feb. 2016】 The above information, researched by Tobu Railway, might have changed after years.
This is one of the most famous spa area in Japan with a history of more than 300 years. Many big and small hotels and ryokans (Japanese style hotels) are on both sides of Kinugawa Valley. You can enjoy not only Onsen (hot springs), but various activities including two theme parks and a river boat.
Main Sightseeing Spots
Tobu World Square
This outdoor theme park costed 17 billion yen to reproduce famous buildings from all over the world in 1/25 scale. There are 102 famous buildings from 21 countries, including 45 buildings registered as the UNESCO world heritage.
Please enjoy the sophisticated miniture buildings from all over the world.
Edo Wonderland (Nikko Edomura)
After passing through a barrier by presenting a checkpoint passage license, the townscape of Edo (ancient Tokyo) is spread out. You can expreience a sense of reality as if you were straying in a town in the period of Edo, as samurais and young girls in Kimono are also walking on the streets. Our recommendation spot is "Henshin-Dokoro (a place where you can try costumes)" where you can choose your favorite costume among 12 different costumes of the Edo period, and enjoy walking in Edo Wonderland as a person in the period of Edo.
Kinutanoyu (Footbath)
This footbath is located in the doorway of Kinugawa Onsen (hot springs), and a handbath is also equipped. You can thoroughly enjoy the alkaline simple spring, the same as the center of the spa area. This spring is effective in relieving fatigue by soaking yourself relaxed. Please recover yourself after a long trip.
This footbath can be used as a meeting spot or while waiting for a train, and you can enjoy the feeling of taking hot springs easily and quickly. It is also a place for communication among tourists.
Kinukonoyu (Footbath)
This footbath building is located in Kuroganebashi Park. You can take a footbath listening to the songs of wild birds and the sound of the Kinugawa River. While sitting on a bench and soaking your feet in the footbath, you can enjoy the splendid view of the 30 meter high Kinugawa Valley spreading out in front of you.
Please thoroughly enjoy the alkaline simple spring the same as the center of the spa area. The temperature of the hot spring is 42℃ (107.6℉), which is just comfortable. You can relax in the full Japanese atmosphere as the building is made of Japanese cypress trees grown in Tochigi prefecture.
Kinugawa Park Rock Bath
It is the only public hot spring bathhouse in Kinugawa Onsen, and has been very popular since opened in 1993.
The garden style outdoor bath is surrounded by the great nature of Kinugawa Onsen, with a wonderful 360°panoramic view. You can look over the Keichozan mountain range and various scenery depending on the season. This is a popular spot and many people come back as a repeater.
Kinugawa River Boat
This river boat takes you to thoroughly enjoy the great nature of the Kinugawa Valley. The highlighs of the cruise are rare shaped rocks creating the Kinugawa Valley. Especially Tateiwa (shield rock), a white 100 meters high rock is very beautiful with contrast against a deep green in summer, and red leaves in autumn. On the river, you can feel the great nature enjoying a view different from the land.
Everyone can enjoy this boat ride easily, as it goes down slowly in the mild stream of the river, for about 6 kilometers.
※Operation: from the middle of April to the end of November
Kinugawa Onsen Ropeway
You can enjoy various plants and flowers depending on the season, while going up 300 meters high at once in only 3 min. 30 sec. from Kinugawa Onsen Sanroku Station. This ropeway takes you to the mountain top ovservation deck of Mt. Maruyama, where you can glance over the Tukuba mountain range and the Kinugawa Onsen area.
At the top of the mountain, you can visit "Osaru-no-Yama (monkey mountain)" where monkeys playing freely can be seen. There are also hiking courses and Onsen Jinja Shrine enshrining the god as a branch of Toyokawa Inari Shrine.
Ryuokyo
This about 3 kilometer long valley is a popular sightseeing spot in the Kinugawa Onsen area. It is located almost just in the middle of Kinugawa Onsen and Kawaji Onsen. Since underwater volcanic eruptions happened about 22 million years ago, the stream of the Kinugawa river has scratched the land for years and made this beautiful valley. You can see a series of rare shaped Ryukei rocks created by the natural erosion there. These rocks are devided into 3 groups; purple, blue, and white Ryukei rocks depending on the color and shape. You can enjoy the dynamic view created by the rocks and the stream from a walking path.
Yunishigawa Onsen (Hot Springs)
About one hour of bus ride in the mountain from Kinugawa Onsen Station takes you to this hot spring area. It is said that the defeated soldiers of the Heike family were living in hiding in this Onsen area, after losing at the Battle of Dan-no-ura, more than 800 years ago.
In this area, you can still enjoy simple and wild dishes from those days, coocked by the fireside, mainly consist of local river fish, various mashrooms and wild birds. Please enjoy the atmosphere of this hidden Onsen area surrounded by nature.
Heike no Sato
It was built in the Yunishikawa Onsen area to recover an old village. This place is used as a base to preserve and succeed secret stories and legends of ancient days to later generations forever. The Heike family, who was (were?) enjoying their prosperities in Kyoto, lost the battle against the Genji family and ran away to Yunishigawa, an unexplored area, to escape their merciless pursuers. Their lifestyle hiding from others can be still seen in this place.
【As of Feb. 2016】 The above information, researched by Tobu Railway, might have changed after years.