The new limited express train vehicle "Revaty" will make its debut!Tobu Railway's timetable will be revised on April 21, 2017.
Updated on: April 18, 2017
Tobu Railway will revise its timetable for routes including the TOBU SKYTREE Line, Isesaki Line, Nikko Line and TOBU URBAN PARK Line on April 21, 2017 (Fri). Together with Nikko Line "Spacia" and Isesaki Line "Ryomo," "Revaty" will start operations as a new limited express train launched for the first time in 26 years. With greater convenience provided by limited express trains, customers can ride on trains for a wide array of purposes, including sightseeing and commuting.

Features of the new Revaty limited express
Feature 1

Improved convenience! The 6-car train can be separated and connected by 3 cars.

Feature 2

Destinations can be reached without transferring at Shimo-imaichi station or other stops.

Feature 3

Easier transportation! Limited express trains from central Tokyo to Nikko and Kinugawa increased by 5 trains on weekdays, and 9 trains on weekends and holidays.

Feature 4

More convenience for trips to Aizu! Limited express trains extending to the Yagan and Aizu Lines and running from Asakusa to Aizu-tajima increased by 8 trains.

Feature 5

Easy commuting! New limited express routes will run between Asakusa and Kasukabe and extend to the TOBU URBAN PARK Line in the morning and evening rush hours.
Outbound trains will stop at Sengen-dai for the first time.
Overview of train cars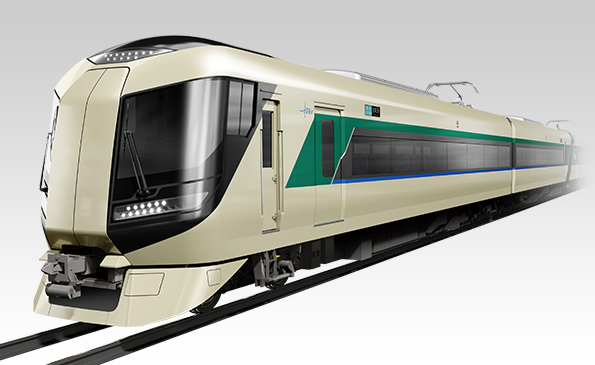 Operation system

The cars can "connect and separate" by 3 cars as 1 train for a seamless trip to your destination.

Ecology

The overall impact on the environment was reduced by making trains lighter and cutting down electricity consumption through incorporation of LED on headlights and indoor lighting.

Facility

Facilities are complete with convenience and comfort, as Wi-Fi service, wheelchair space, and wheelchair-accessible lavatories have been installed in trains.

Design

"Champagne Beige" chosen as the train's theme color represents a composed and relaxed flow of time, while the "Forest Green" color on the side expresses the limited express train's prestige and its stations' lush greens.
New trains to be operated
Revaty Kegon: Between Asakusa and Tobu Nikko (with some trains going to Shin-tochigi)
Revaty Aizu: Between Asakusa and Aizu-tajima
Revaty Kinu: From Shin-fujiwara to Asakusa
Revaty Ryomo: From Asakusa to Tatebayashi
SKYTREE Liner: Between Asakusa and Kasukabe
URBAN PARK Liner: From Asakusa to Omiya, Noda-shi and Unga
Stations stopped by limited express train Revaty
Revaty Kegon・Revaty Kinu・Revaty Aizu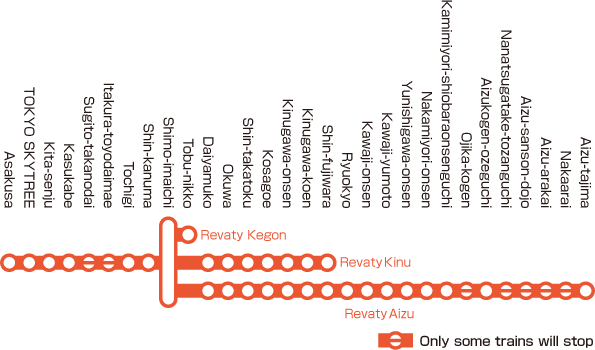 Revaty Kegon・Revaty Ryomo

SKYTREE Liner

URBAN PARK Liner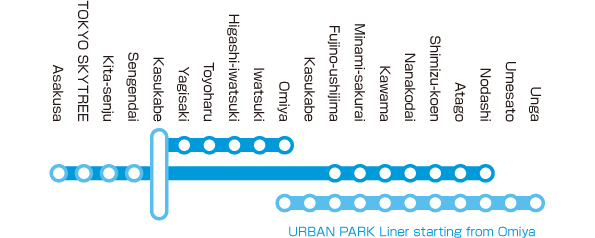 Seasonal limited express train operations (for peak and off-periods) to Nikko and Kinugawa will be discontinued. The new timetables for weekdays and weekend/holidays will make operations easier to understand for our customers.

Stops at Itakura Toyodai-mae station only taken by "Kegon 1" (departing Asakusa at 7:30am, arriving Itakura Toyodai-mae at 8:26am) in the current timetable will be made earlier, and an outbound limited express train will stop in the evening. This will make travel easier for customers playing at nearby golf courses.
Revaty Kegon 1 (departs Asakusa at 6:30am, arrives Itakura Toyodai-mae at 7:26am)
*Arrival at Itakura Toyodai-mae made 1 hour earlier compared to the current timetable
Kegon 36 (departs Itakura Toyoda-mae at 4:19pm, arrives Asakusa at 5:15pm)
*New train stopping

Some limited express trains pass Kuki station in the current timetable, but will all stop at Kuki after the timetable revision to improve convenience for customers commuting from the line to central Tokyo.

Some limited express trains pass TOKYO SKYTREE station in the current timetable, but will all stop at TOKYO SKYTREE after the timetable revision for better access to Tokyo Skytree Town that will mark its 5th anniversary.

Direct trains from Tobu Nikko to Shimo-imaichi and Kinugawa-onsen will be increased by two to 3 trains per day, and direct trains from Kinugawa-onsen to Shimo-imaichi and Tobu Nikko will be increased by six to 7 trains per day.
Travelling around the Nikko area will be made easier.