Pass overview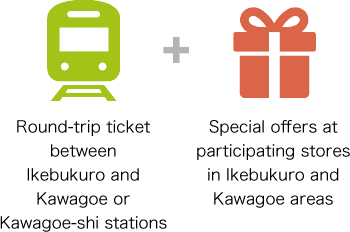 Discounts at facilities and gift stores in the Kawagoe area
| | |
| --- | --- |
| Tsuchikane Folk Arts | 10% discount on items purchase |
| Japanese Restaurant Yamaya | One complimentary item added for "Kagome" and "Tsubasa" bento boxes during weekday lunch hours. |
| Torokko | 5% discount on Satsumaimo Mini Kaiseki |
| Coedo Vivian | Free gift with purchase of 1,000 yen or more on accessories (excluding tax, excludes kimono rentals) |
| Unakko | One complimentary item added with meal |
| Inabaya Hompo | One complimentary Imo (sweet potato) Donut added with purchase of 1,000 yen or more (excluding tax) |
| Umon (Ichibangai and Toki no Kane stores) | 5% discount for Mushitate Imokoi for eating while walking |
| Nagamine-en | Free Japanese teabag when purchasing any product |
| Kameya (Main store and Motomachi stores) | 5% discount *Excluding sale items |
| Tamariki Seika | Free "Chiyomusubi" with purchase of 1,000 yen or more (including tax) |
Facilities and their contents are subject to change without notice.
Present your KAWAGOE DISCOUNT PASS beforehand (before entering stores).
5% discount coupon valid in Tobu Department Store in Ikebukuro
Receive a 5% discount coupon that you can use in Tobu Department Store in Ikebukuro by presenting your KAWAGOE DISCOUNT PASS and passport at the department store's tax refund counter.
Prices
Adults
Children

710 yen
370 yen
Where to purchase the pass
Tobu Tourist Information Center IKEBUKURO
Tobu Tojo Line counter in Ikebukuro Station
TOBU TOP TOURS Ikebukuro Station branch
Validity period
Valid for the day of use within 1 month from the date of issue only
Important notes
Please present your passport at the time of purchase.
The pass is valid only once per customer within the validity period.
The pass will be void if not used within the validity period.
Ride the train bound for Tobu Ikebukuro station for your return trip.