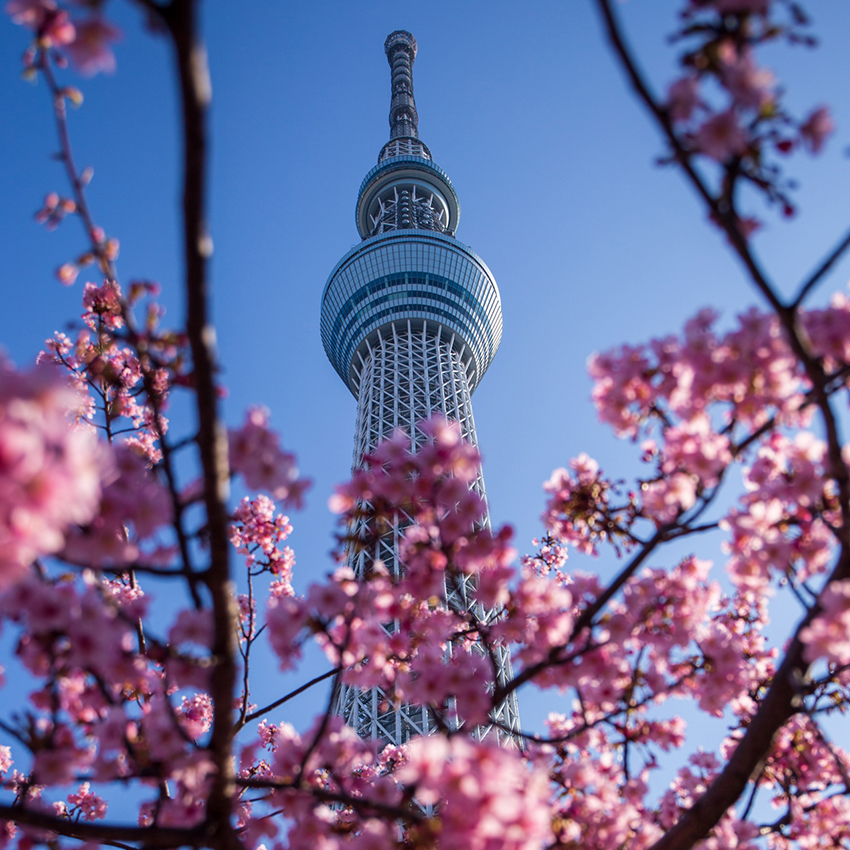 The new symbol of Tokyo peeks out from behind the dense urban landscape, sometimes losing its head in the clouds, sometimes towering over every other structure in Tokyo. Opened in 2012, TOKYO SKYTREE is a broadcasting and observation tower that gave a new life to the low-rise Sumida area also known as 'shitamachi' in Japanese. Asakusa's Senso-ji temple and TOKYO SKYTREE are the biggest landmarks, but there is so much more to do than snapping a photo and leaving, as if only documenting their existence.
Asakusa and Its Hidden Backstreet Wonders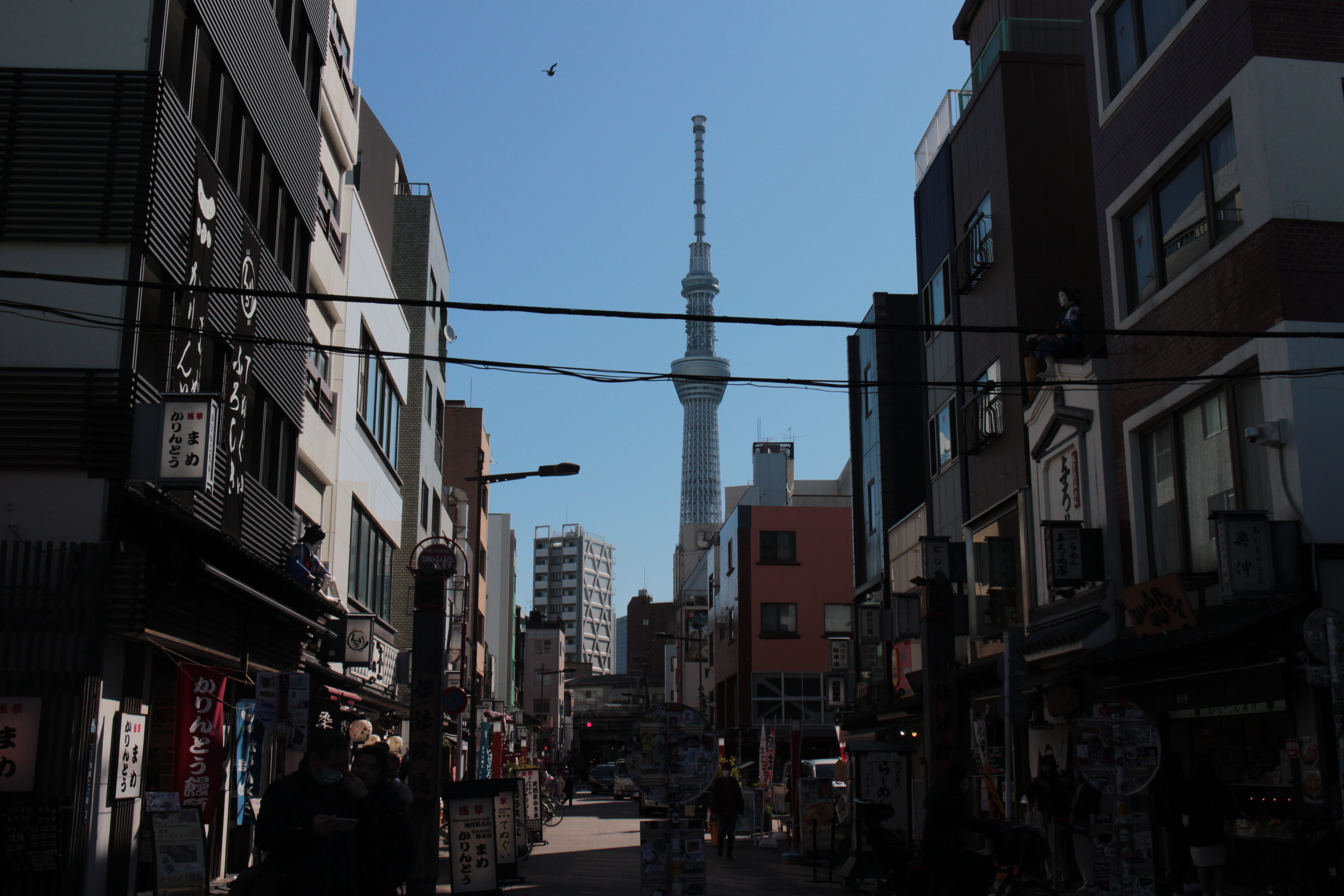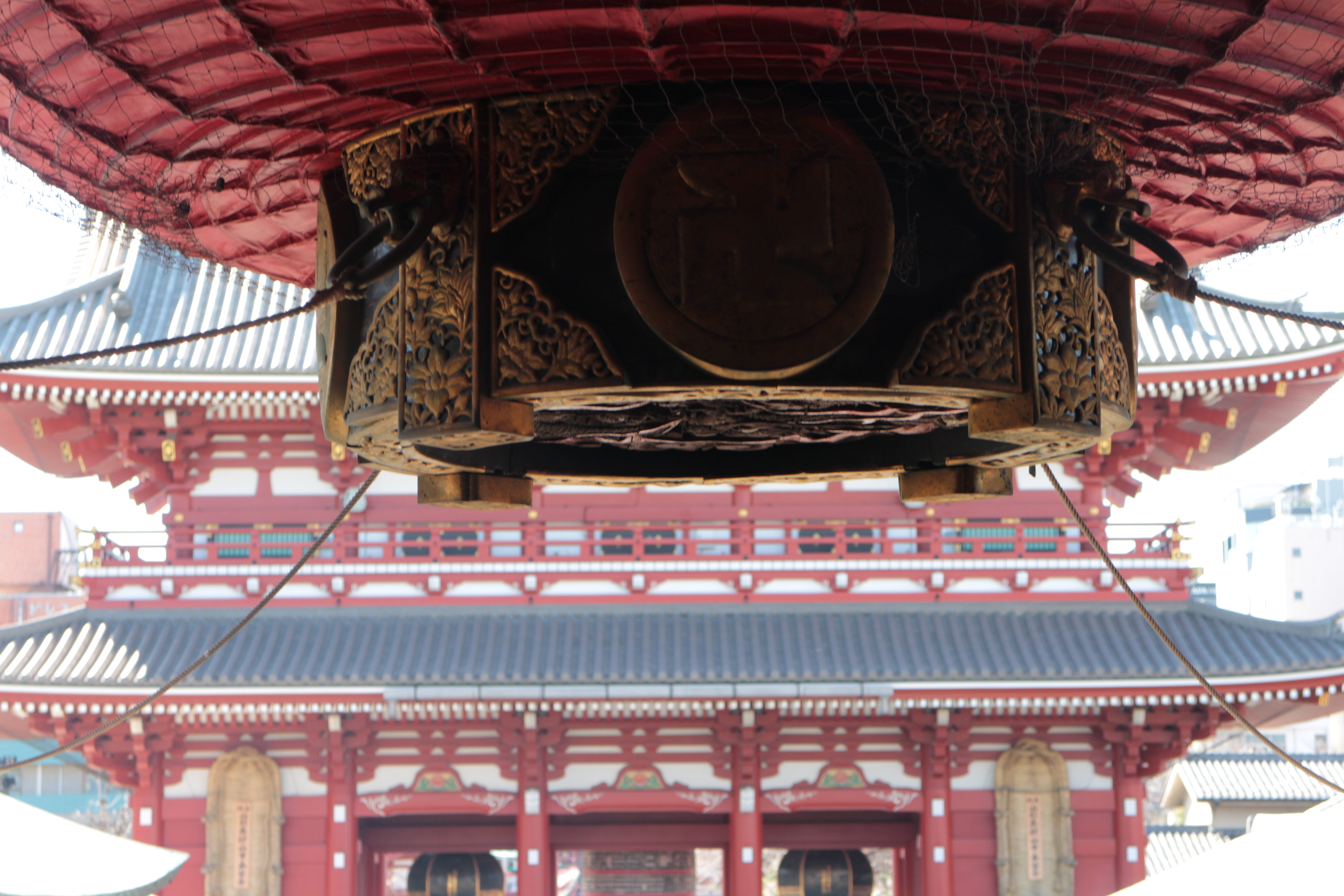 Asakusa is one of Tokyo's beating hearts. One of the oldest too. This vibrant area has developed with the growth of Edo itself in the beginning of the 17th century. From the red Kaminarimon, literally Thunder Gate, all the way to the main hall of the Senso-ji temple, the path is bathed in red color, tasty treats and huddled souvenir shops. From the smell of fresh senbei crackers, to the smell of incense burning, we explored the grounds of Senso-ji temple as it is a stunning must-do spot. Where do you go next?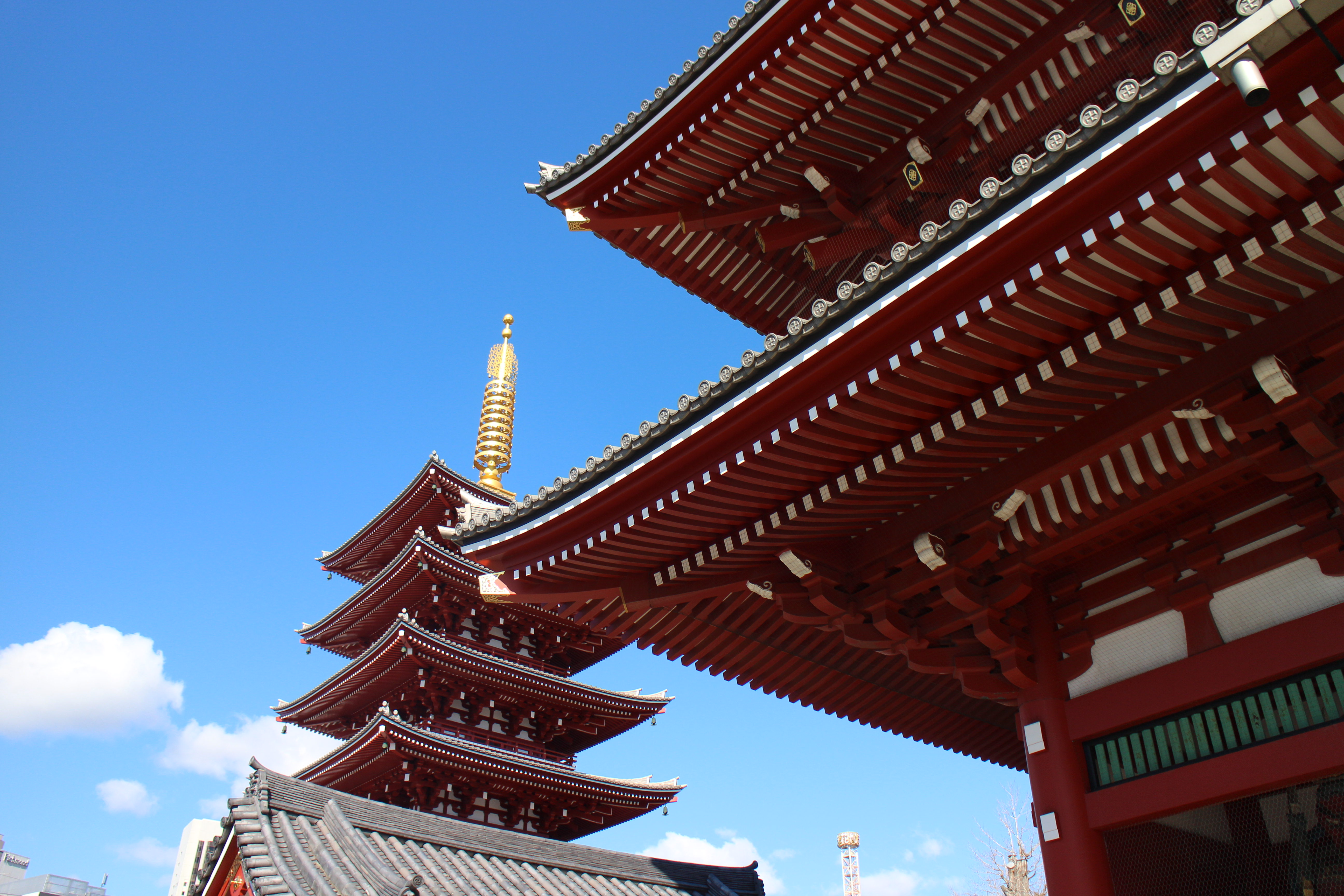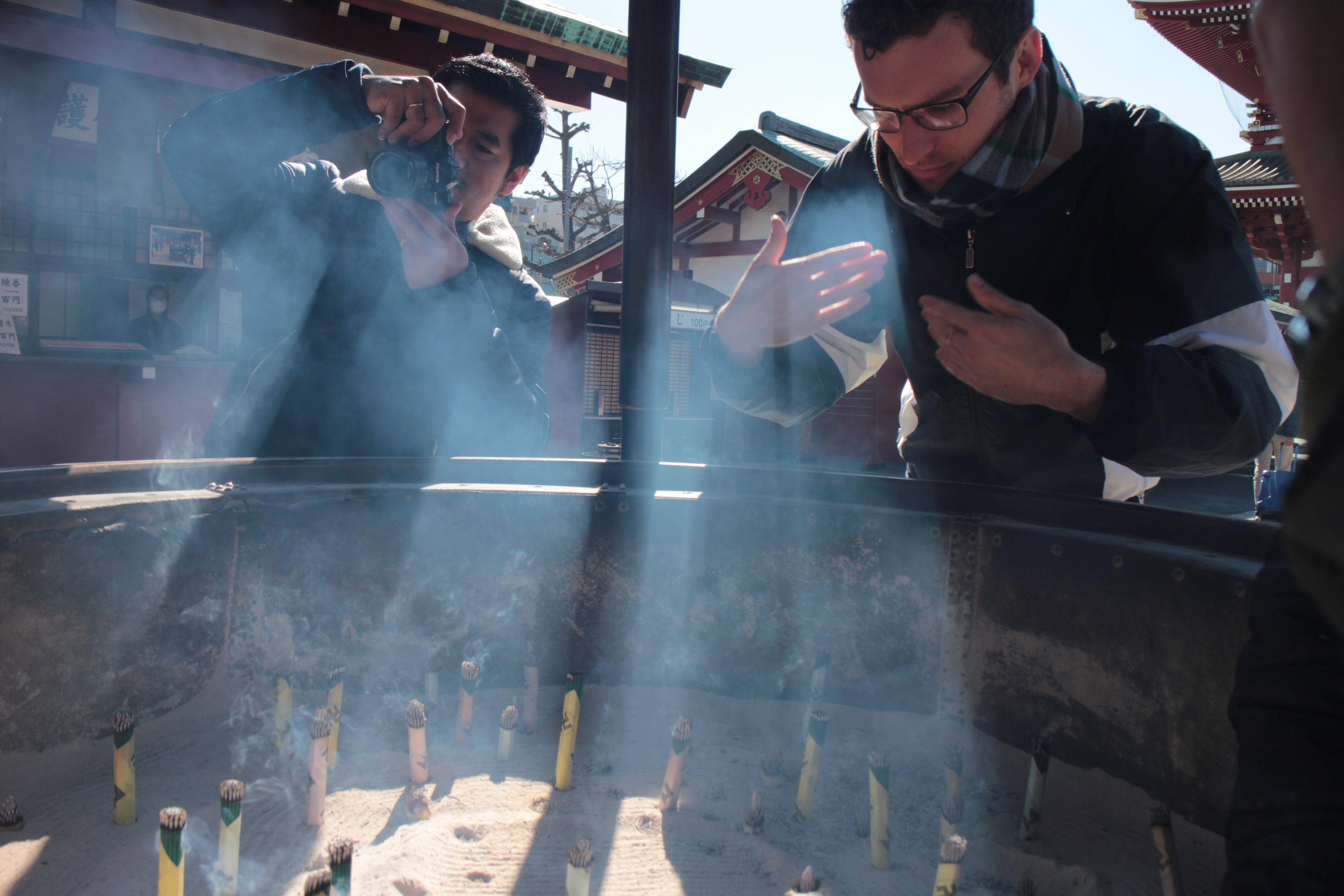 Asakusa is much bigger than the temple area, so venturing in the smaller side streets is highly recommended. This is where you discover more shops, unique restaurants and quiet cafes. This is where we found SUKEMASA COFFEE, walking past the excited screams from the Hanayashiki Amusement Park, and ducking into a quiet corner. The barista in a stylish denim kimono is a perfect example of that chic vintage but current charm that this coffee shop has. Carefully roasted coffee beans, expert preparation, classic Hollywood movies projected on the wall and pleasant calm. Exactly what one needs between two busy tourist spots.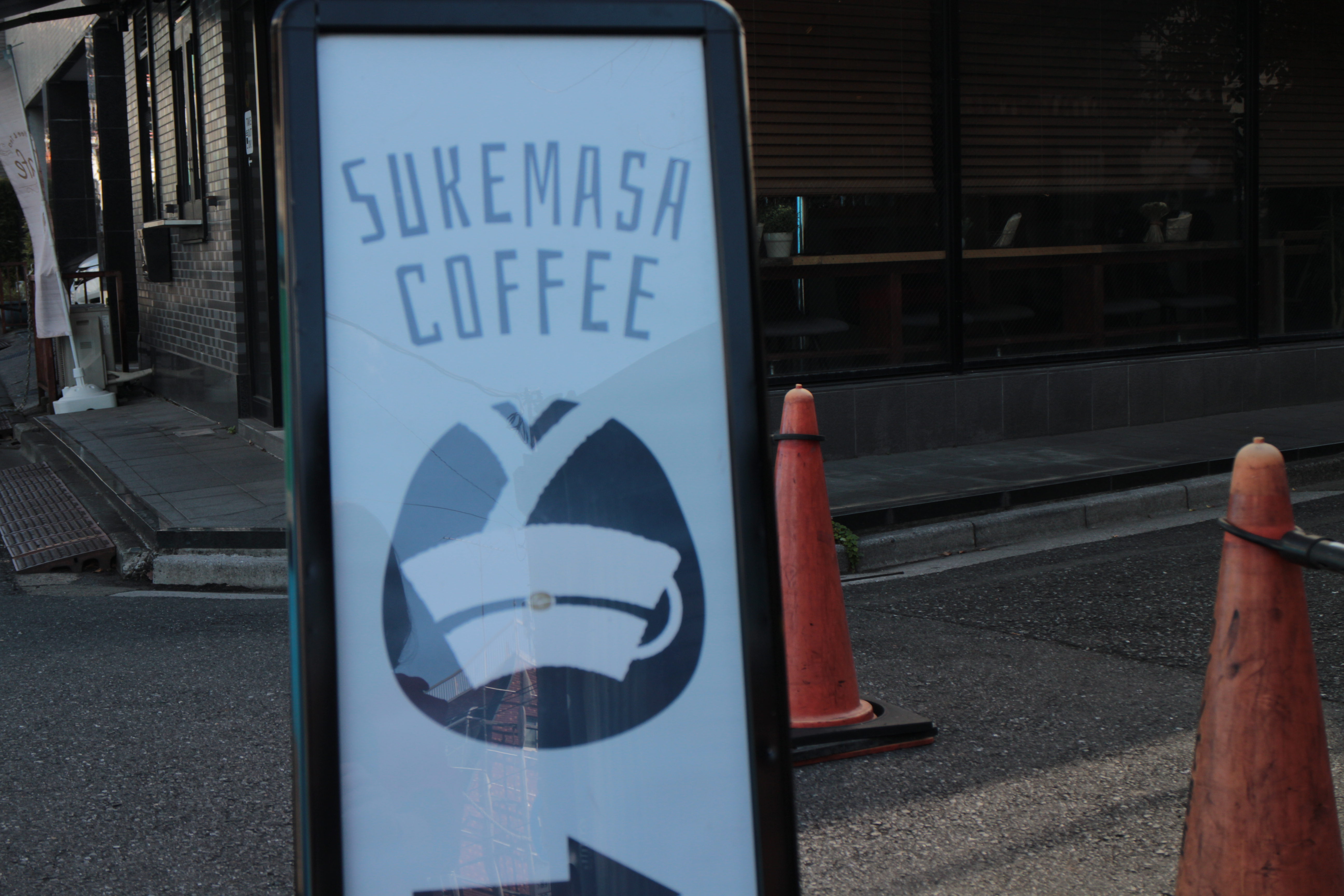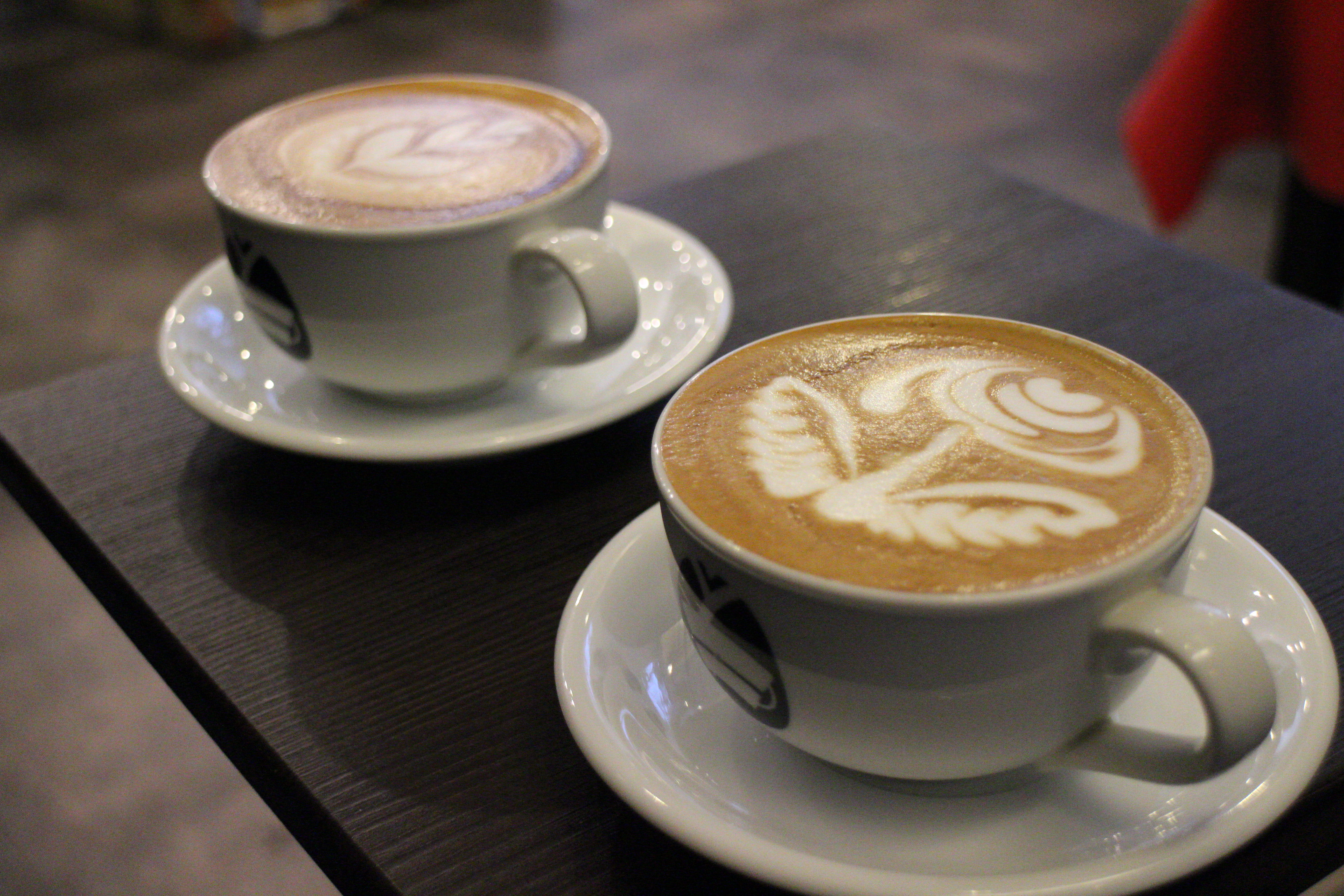 Walking to TOKYO SKYTREE
Boosted by perfectly brewed coffee, we decided to walk to TOKYO SKYTREE despite that there's a train connection and the station is right under the Skytree. It's just that we don't want to miss a thing. We didn't want to miss the view of TOKYO SKYTREE peeking behind the Asahi building with its curious golden decoration that is said to be a flame lying down. We didn't want to miss on crossing the bridge over Sumida river and taking photos of the popcorn clouds. And we didn't miss on discovering little local streets of the Shitamachi area where real life goes on – bicycles, bonsai shops, flowering magnolias on the street corner. And behind everything, TOKYO SKYTREE like a guiding star so you never lose your way.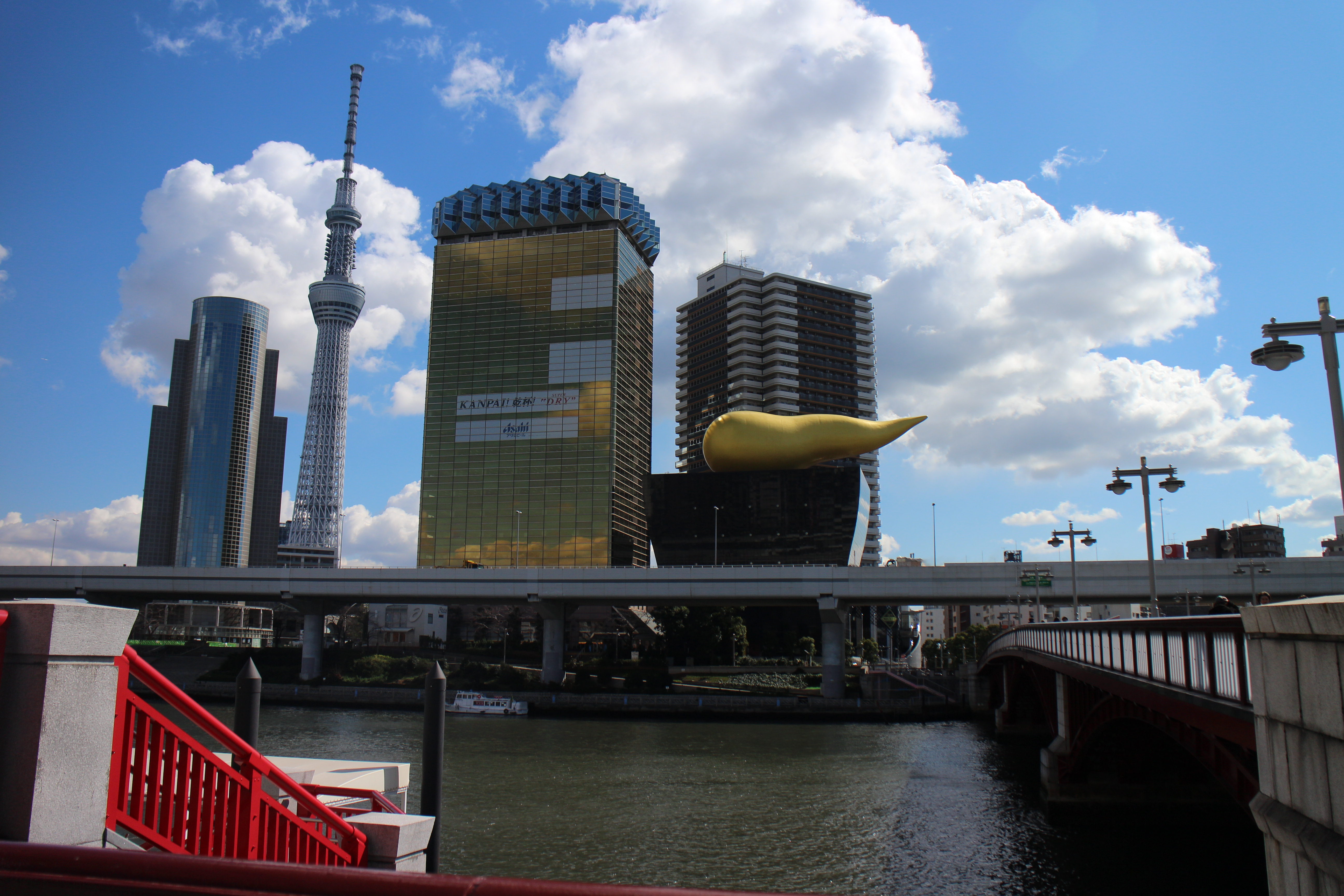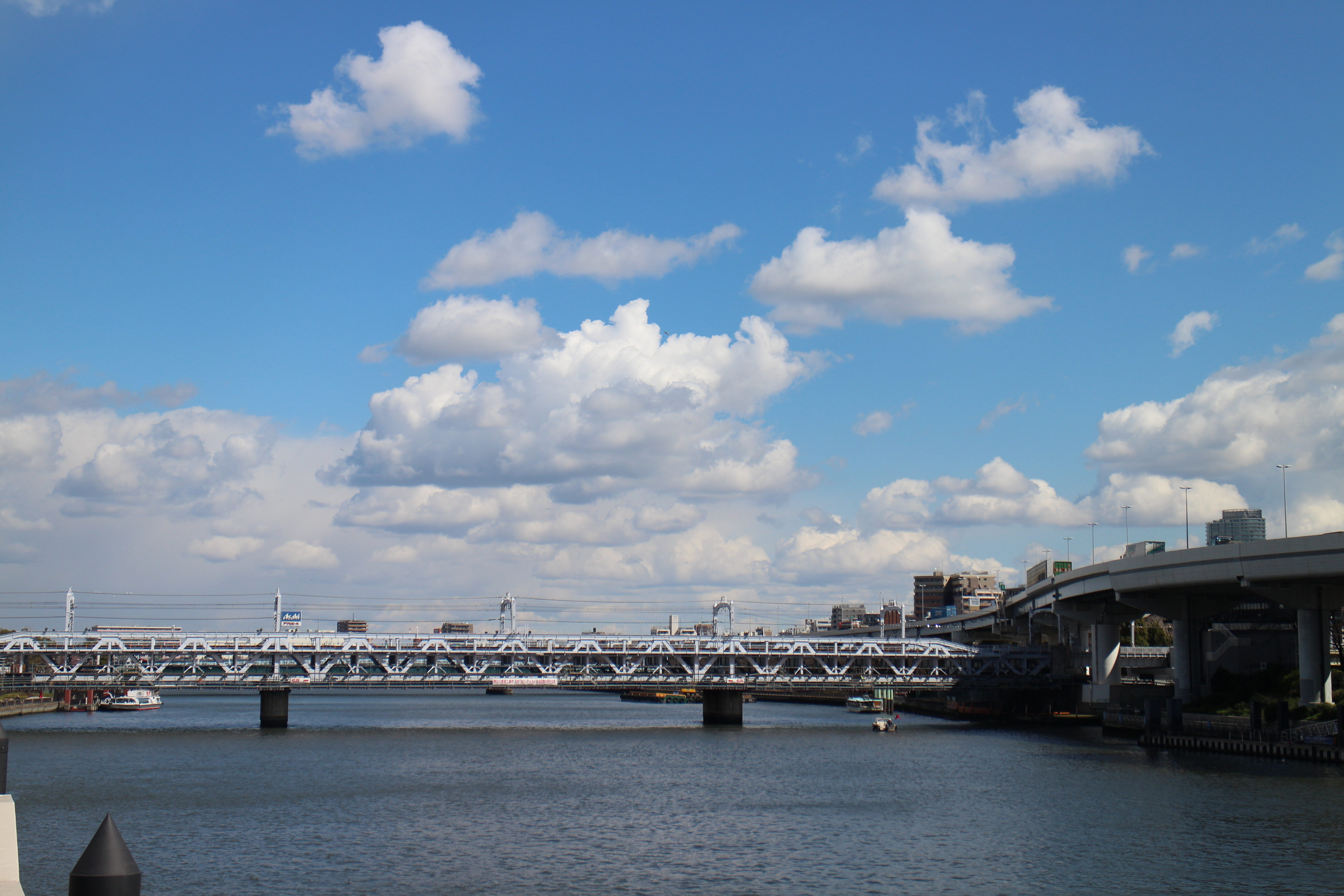 The greatest find of all on the Shitamachi walk is the selfie mirror that creates some cool photo illusions and bends TOKYO SKYTREE so it can fit in the photos. Found in the small Oyokogawa Shinsui Park, the mirror named "Reflectscape" is part of the Geidai, Taito, Sumida Sightseeing Art Project, designed by art students.
The last surprise just in front of TOKYO SKYTREE were a couple of early blooming cherry trees. As if under a spell, everyone stopped and took photos of TOKYO SKYTREE towering above branches of pink blossoms. It felt like a reward for our 30 minute walk.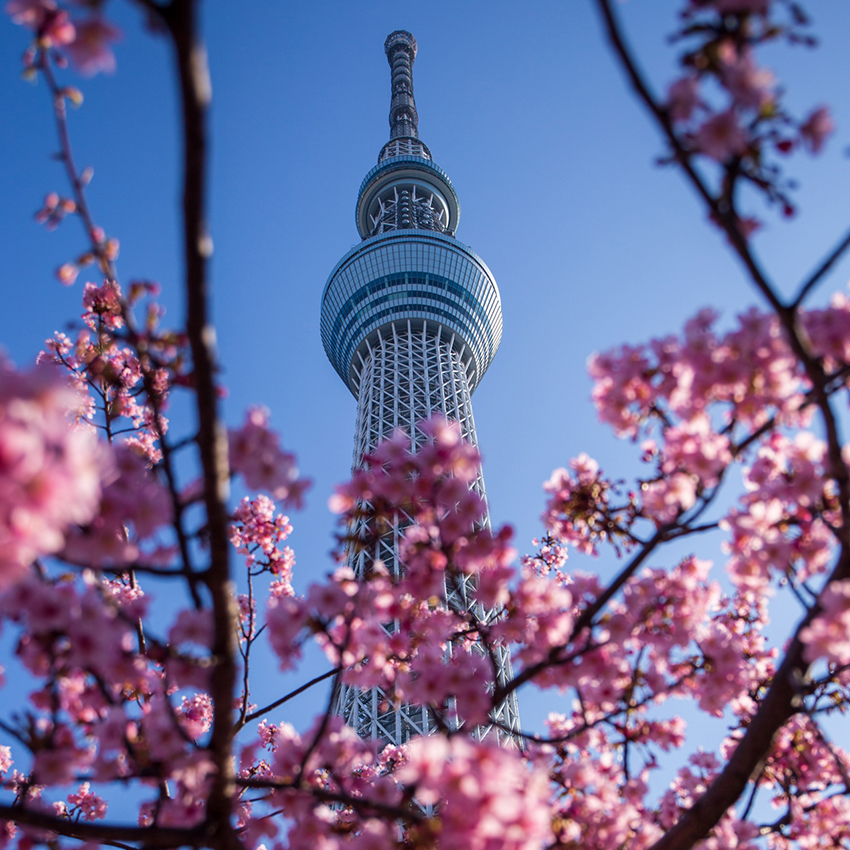 To the Top of Tokyo!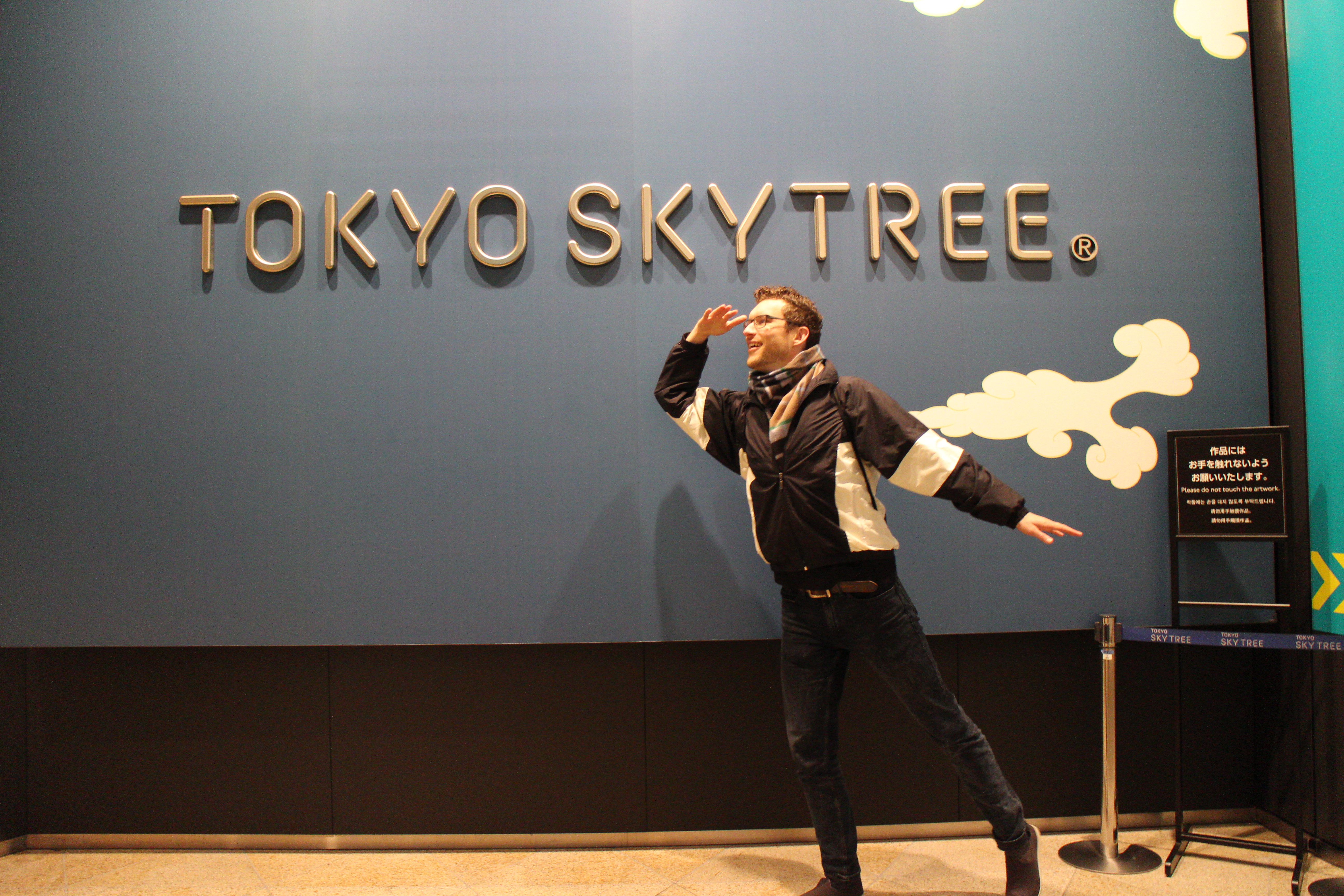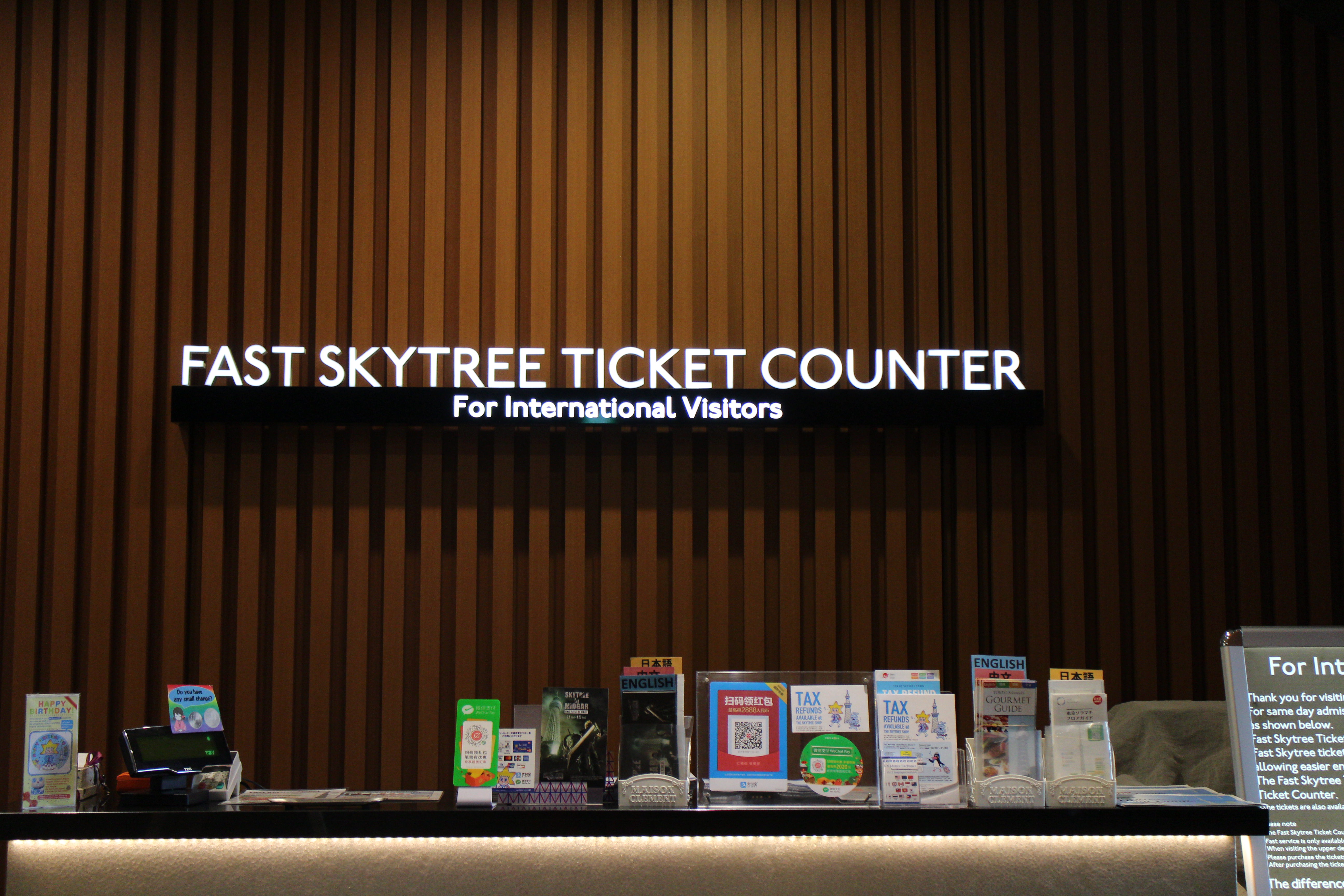 We chased after the top needle of TOKYO SKYTREE from Asakusa, getting ever closer as the tower grew bigger. With its 634 meters (about 2000 ft) this is the tallest free-standing broadcasting tower in the whole world as of now, and everyone has been excited about it since 2012. Queues are to be expected, but overseas tourists can sigh a relief because there is a special ticket counter for fast track tickets for them. After getting a ticket, to the sky we go!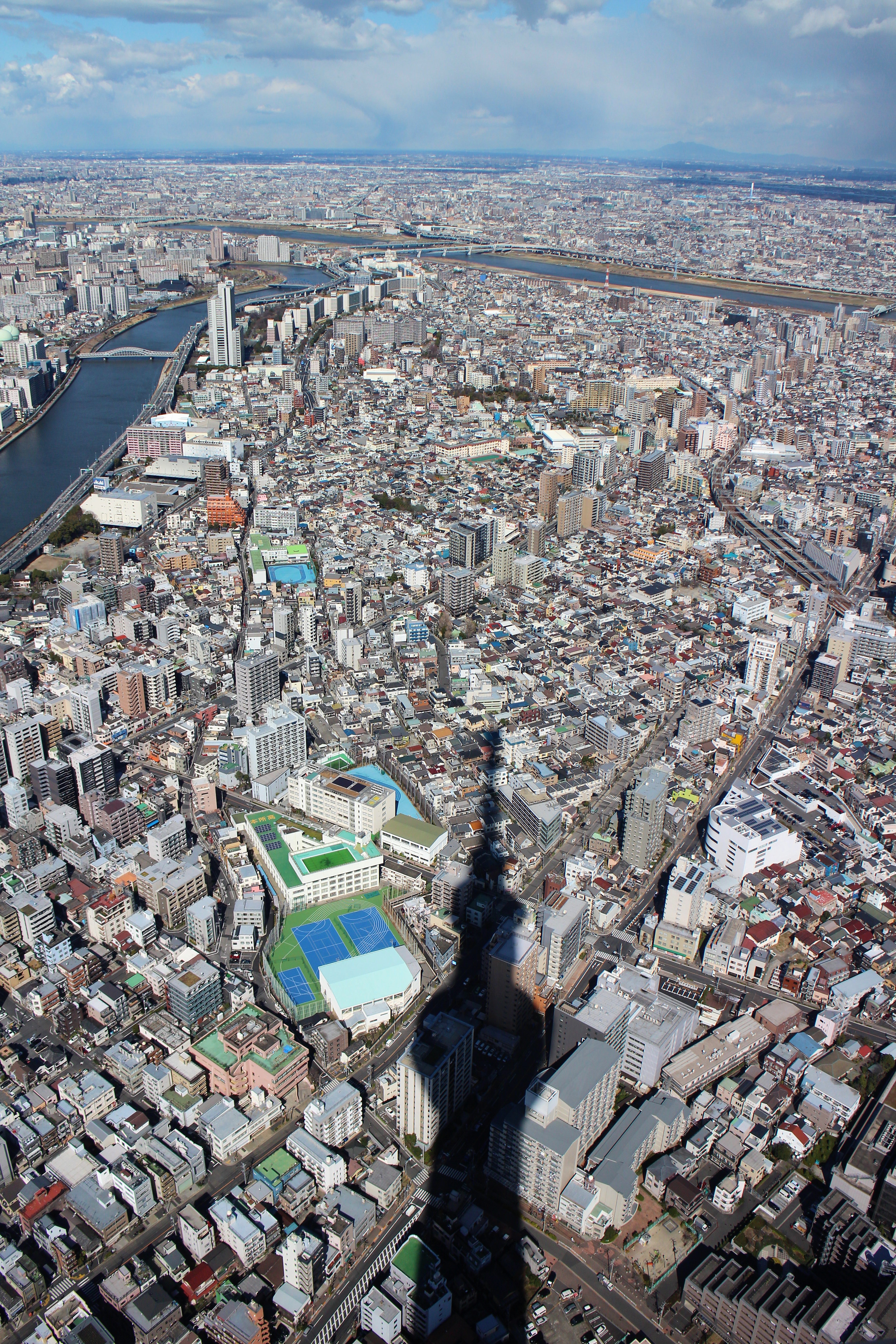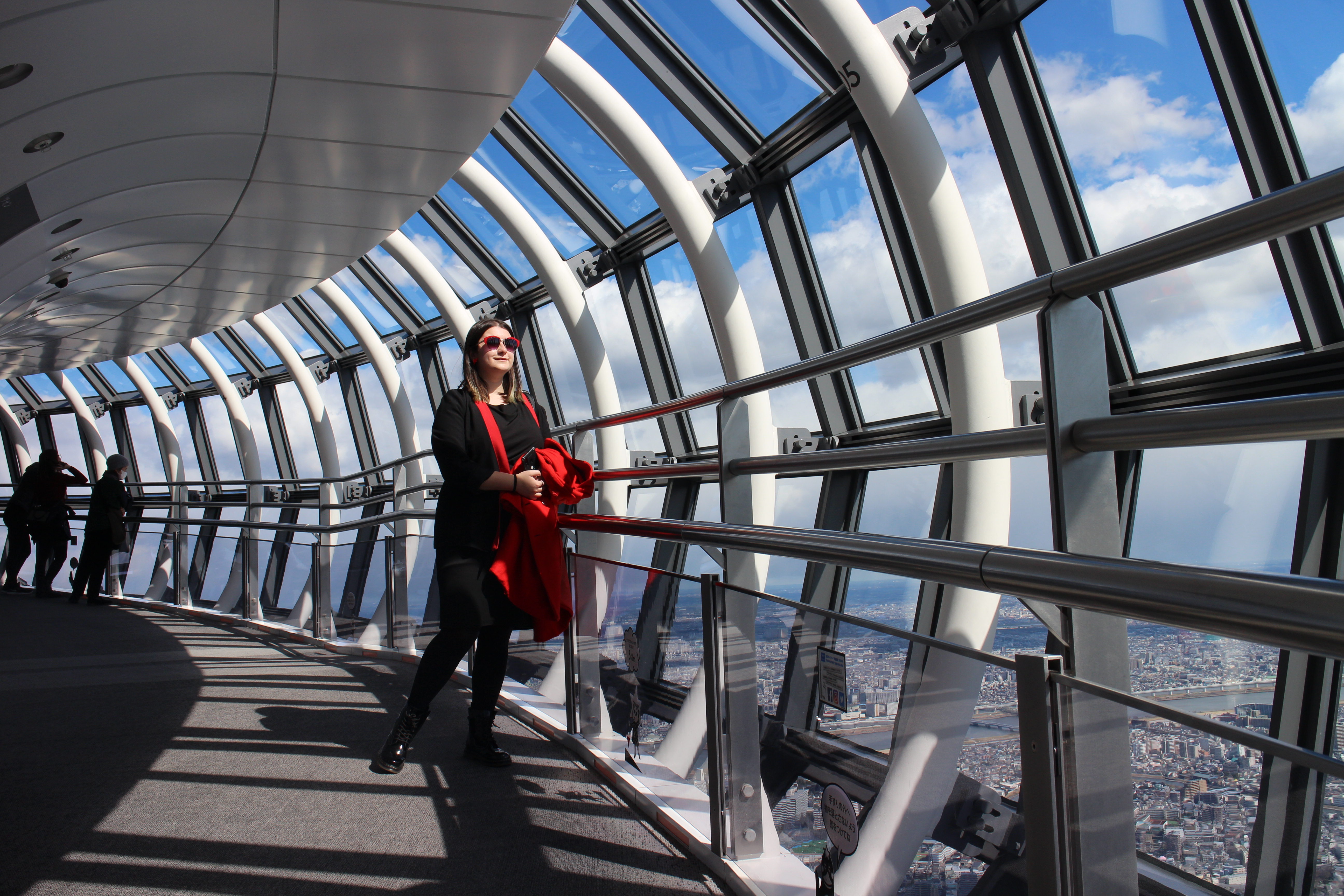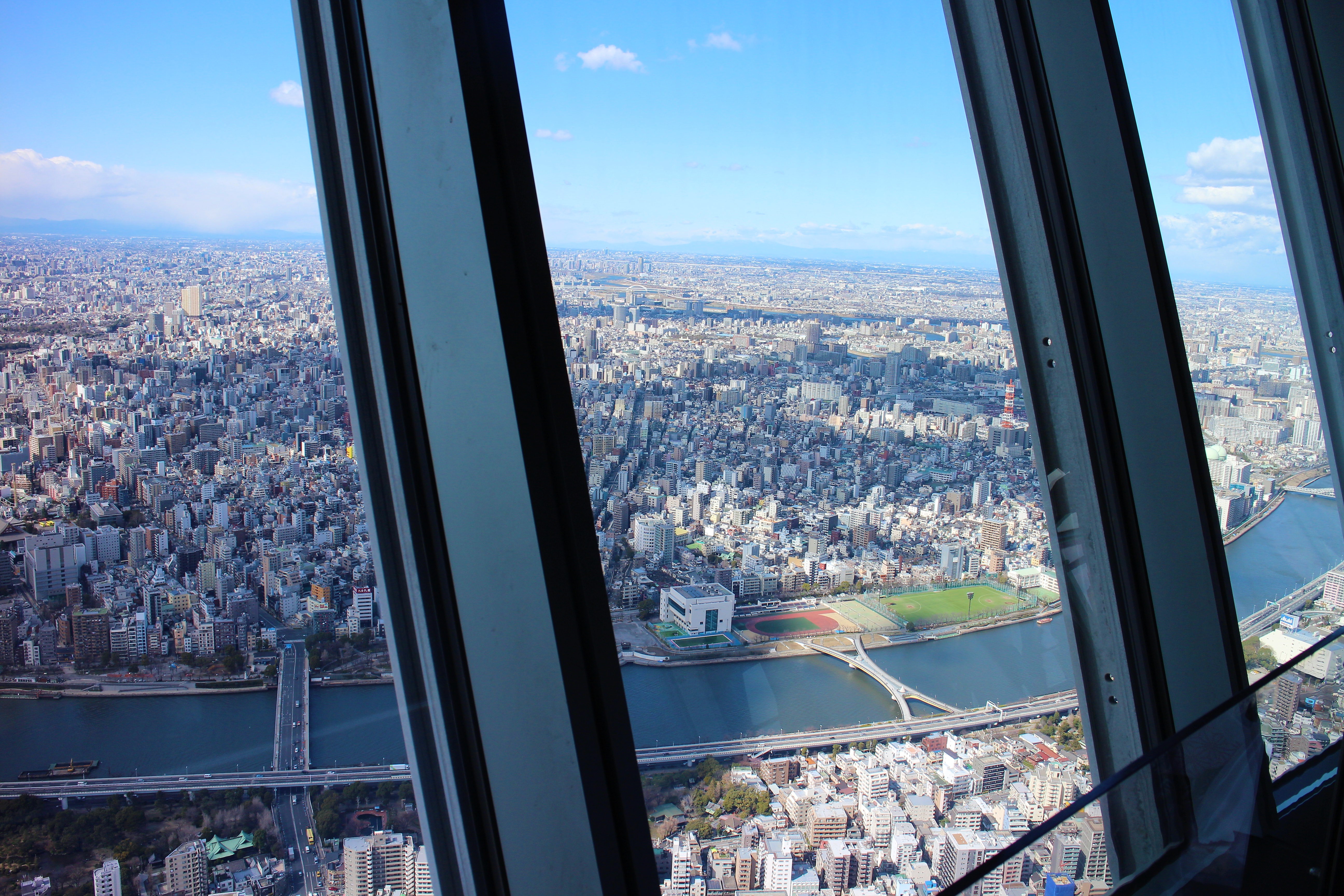 Gazing upon Tokyo cityscape from this height feels like having the most beautiful vivid map spread out around you. From Sumida's little box houses neatly arranged like a Lego set, to the clusters of skyscrapers and the blue waters of Tokyo Bay, this is the most expansive view of Tokyo, especially on a bright sunny day. And that's at the lower observatory! For those wanting to go even higher, there's the Tembo Galleria at 450 meters, the path winding its way between city views and temporary exhibitions on the walls. Back at the lower Tembo Deck, there is a treat for the brave – a thick glass floor with a view that plunges down to the base of TOKYO SKYTREE.
From TOKYO SKYTREE to TOKYO Solamachi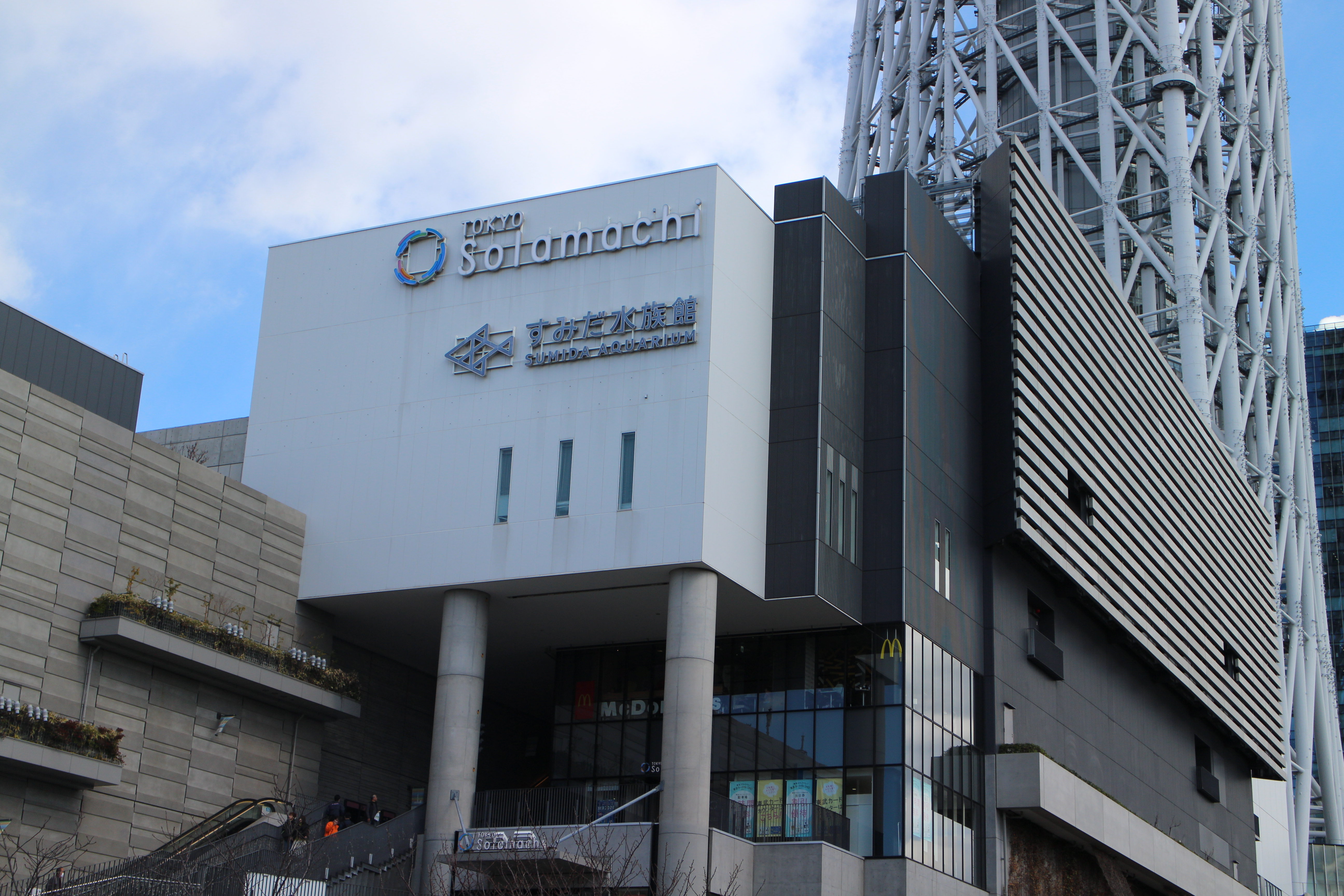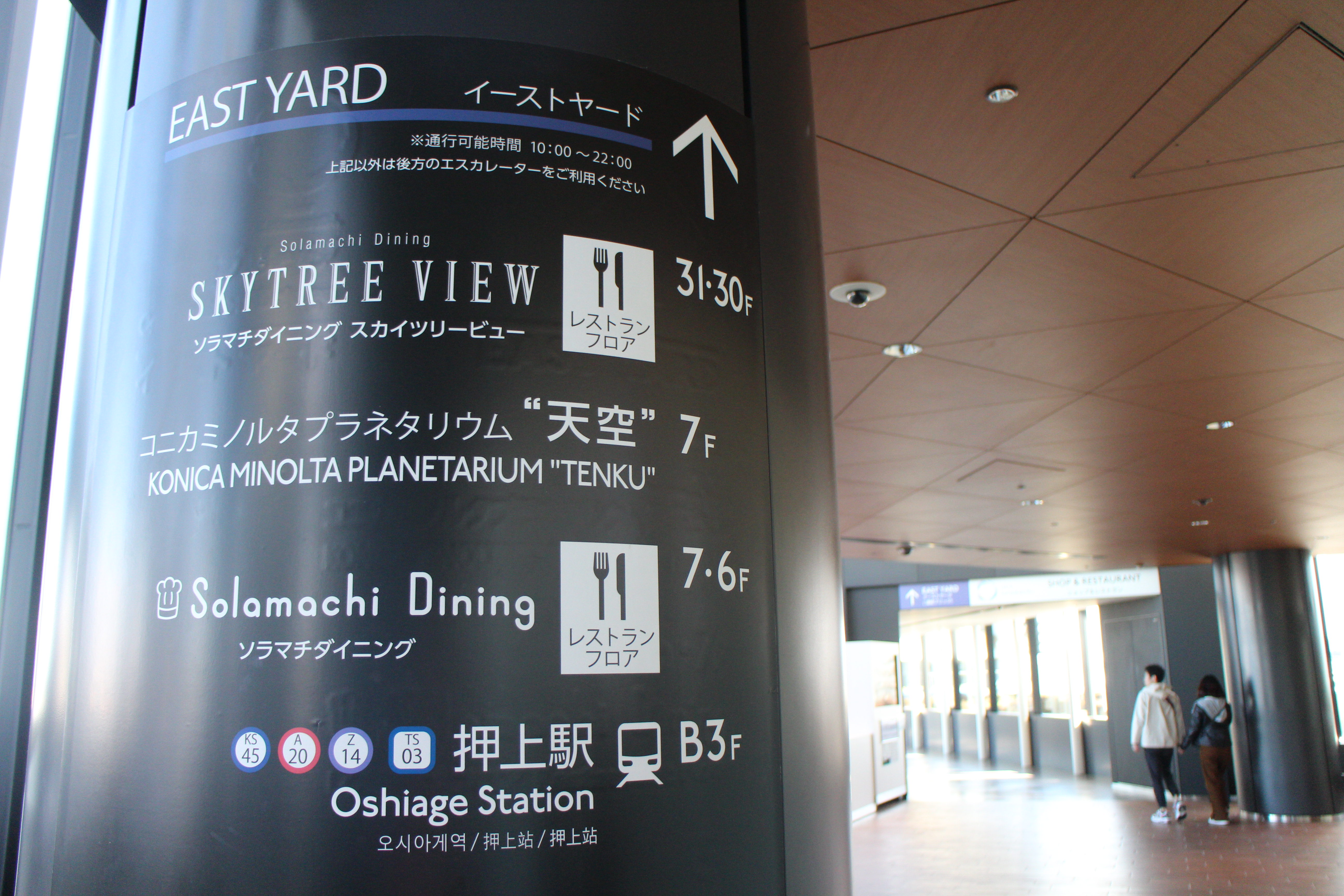 Yes, we know that the sky is the limit, but it's not the end, is it? Connected to Tokyo Skytree there is TOKYO Solamachi complex. TOKYO Solamachi itself reaches for the skies, with the 30th and 31st floor dedicated to dining with a stunning view.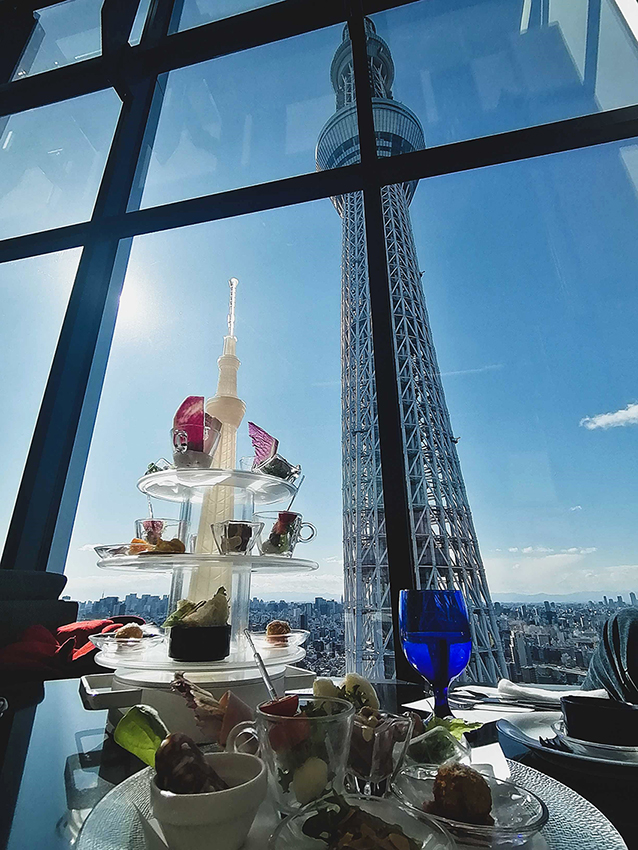 Getting down from TOKYO SKYTREE we went up again to the 31st floor of Solamachi to have lunch in the Tenku Lounge Top of Tree restaurant with a view of TOKYO SKYTREE. Even the appetizers come on a mini TOKYO SKYTREE! The food is a delicious French and Italian cuisine with seasonal Japanese twists. Basking in the sun, we almost didn't want to leave, but we had souvenirs to buy and looking at TOKYO Solamachi shopping guide we had a lot to choose from.
Souvenir Shopping in TOKYO Solamachi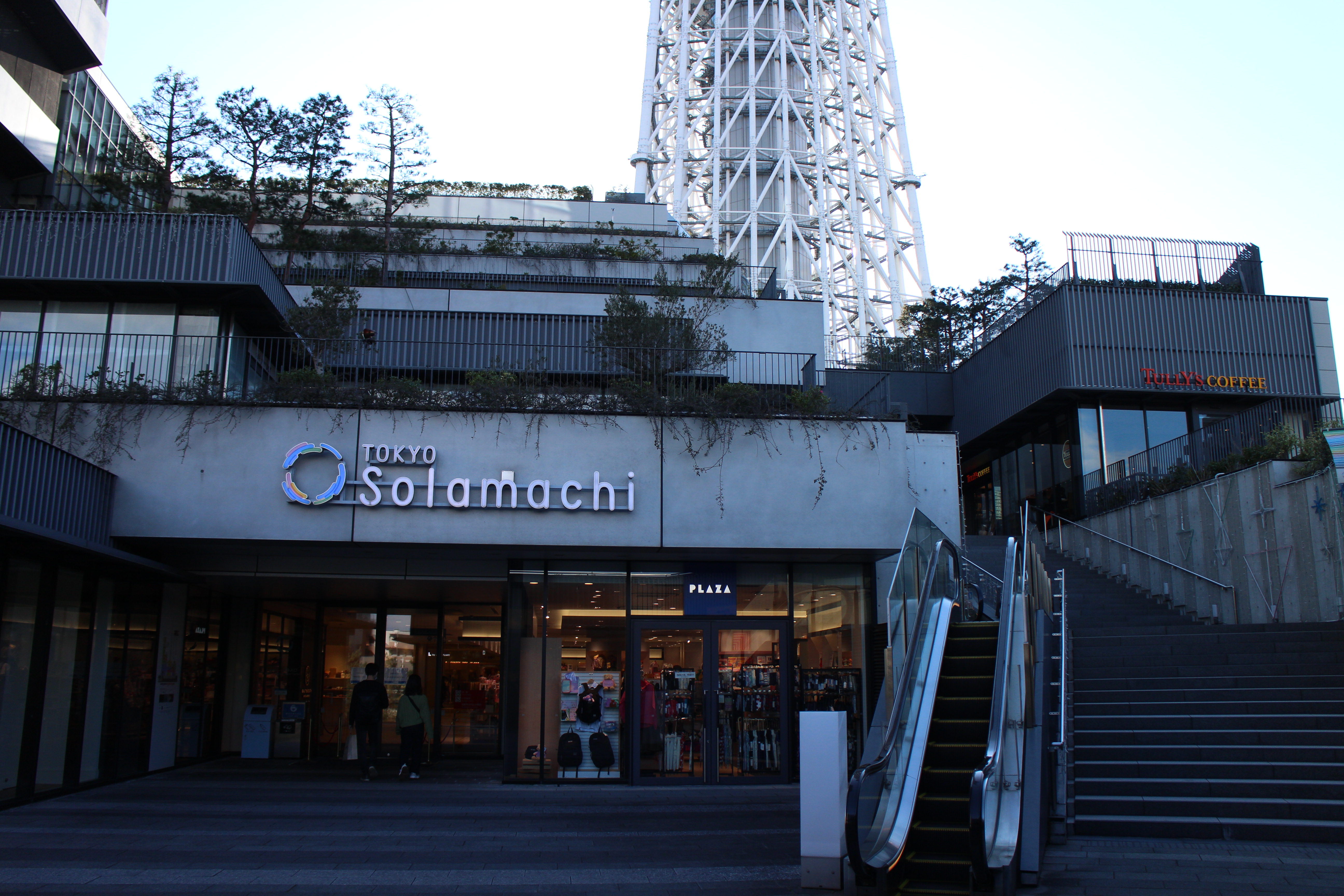 TOKYO Solamachi has curated shops that favour Japanese design, fashion, traditional crafts and souvenirs, as well as iconic popular culture merchandise and almost everything one could want. We set our eyes on the 4th floor which is dedicated to Japanese souvenirs that are traditional but also designed with modernity in mind.
Donguri Republic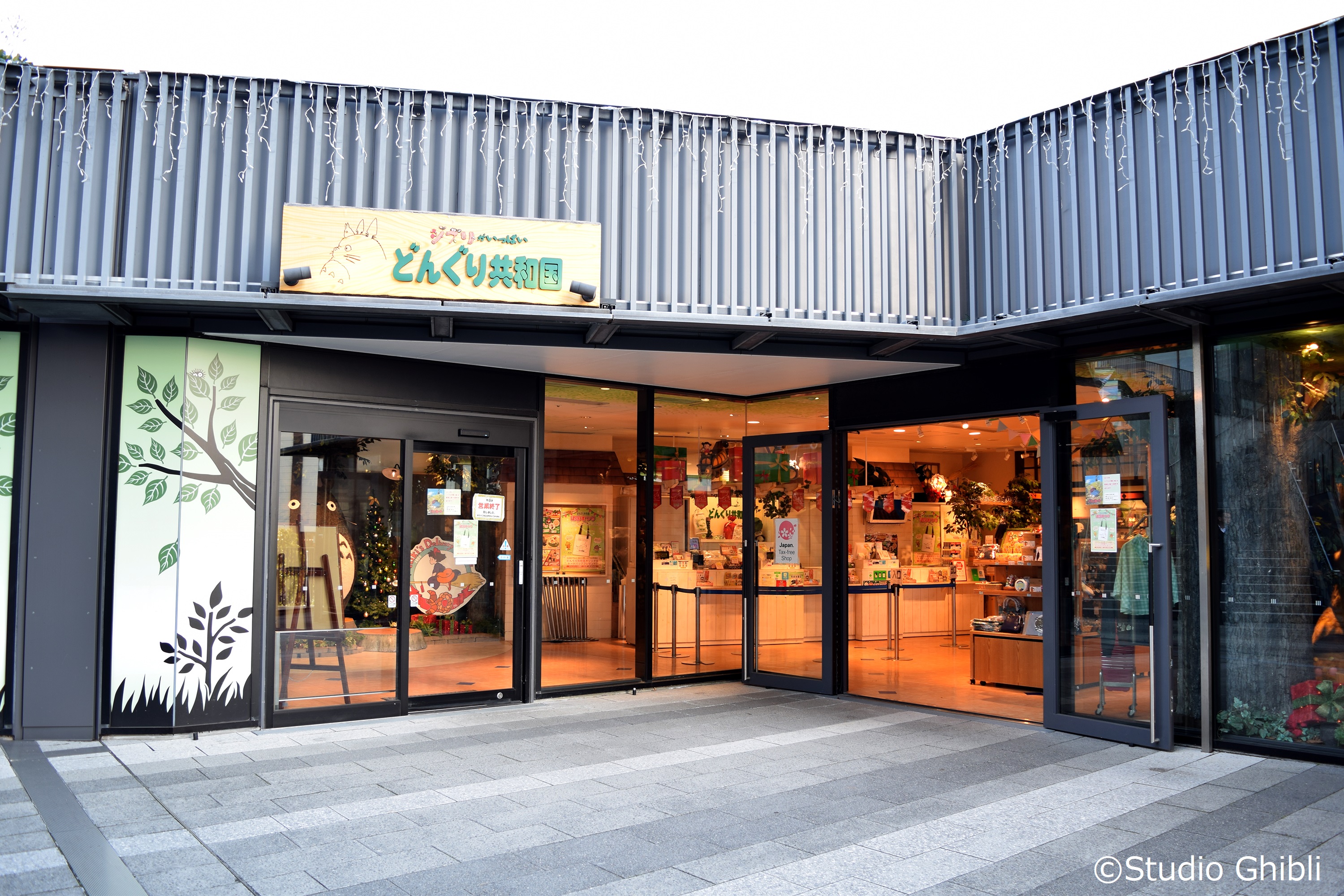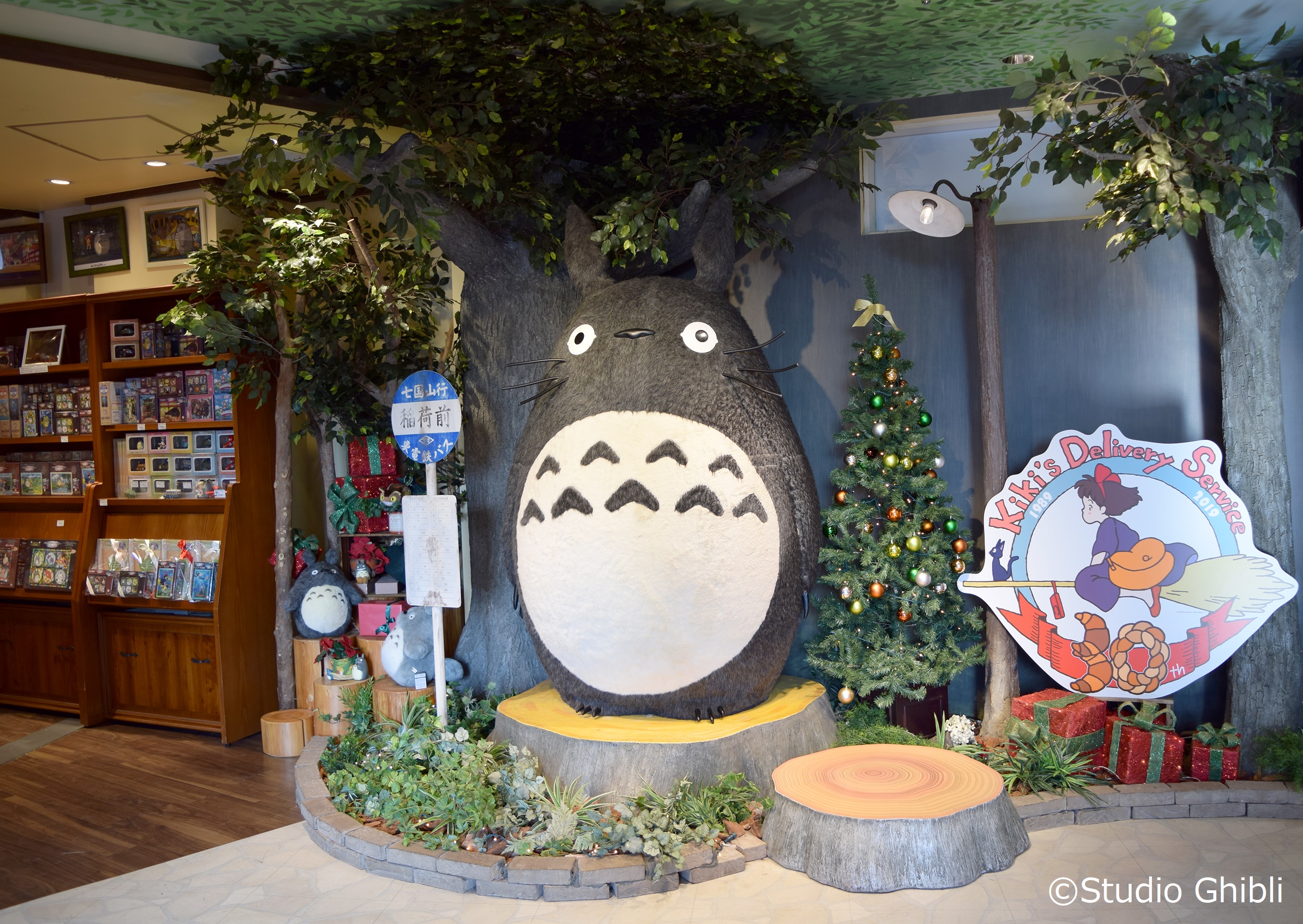 Many famous characters have set a base in TOKYO Solamachi, and Donguri Republic on the 2nd floor is selling character goods from Studio Ghibli. A huge fluffy Totoro in front of the store is a perfect spot for taking photos. Donguri Republic sells everyone's favorite Ghibli anime goods like "Spirited Away" and "Kiki's Delivery Service". The store itself, designed with elements of wood and lined with forest branches, makes you feel like you are in one of Studio Ghibli's films.
https://www.tokyo-solamachi.jp/en/shop/165/
Asakusa Amezaiku Ameshin Candy Store, TOKYO Solamachi Branch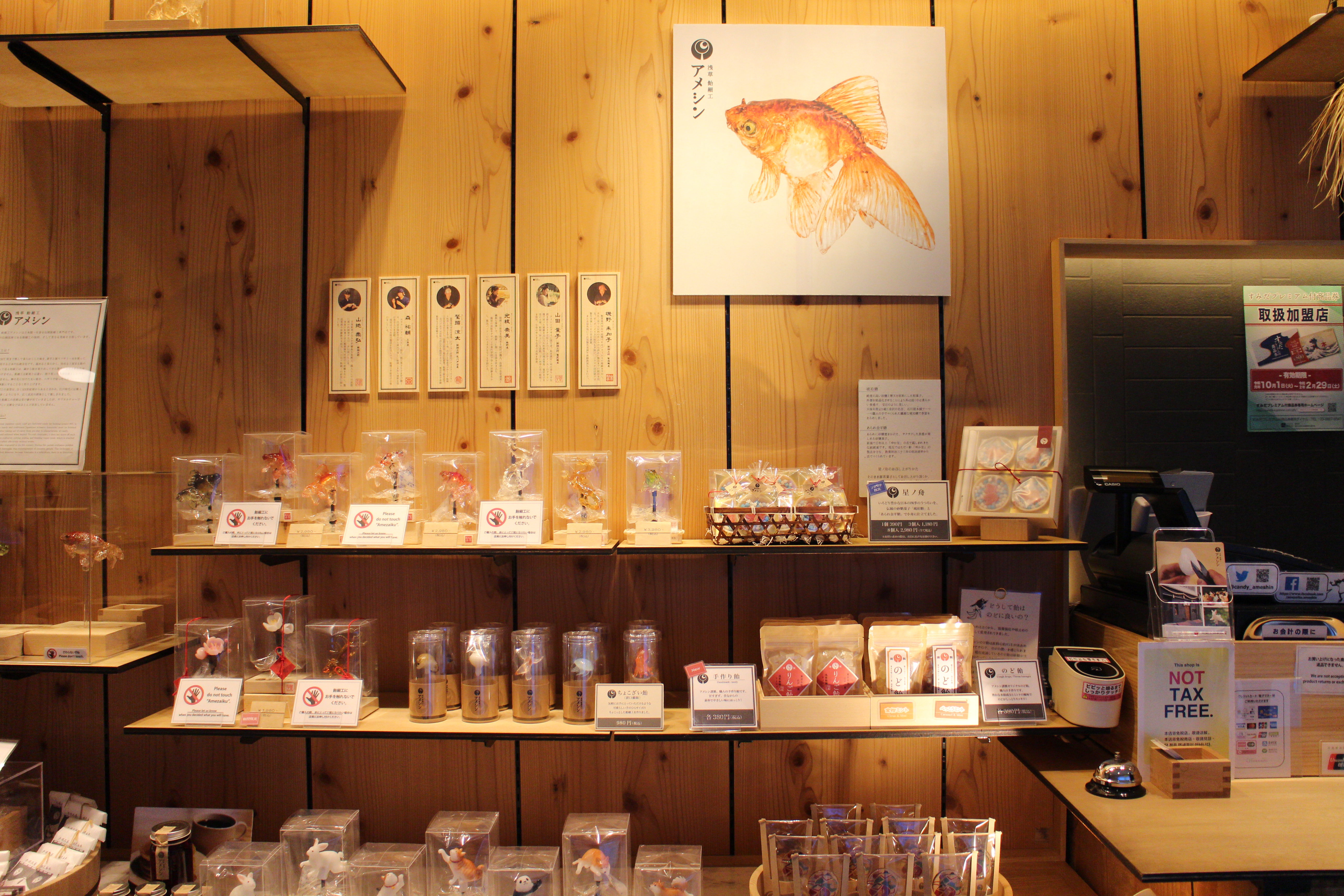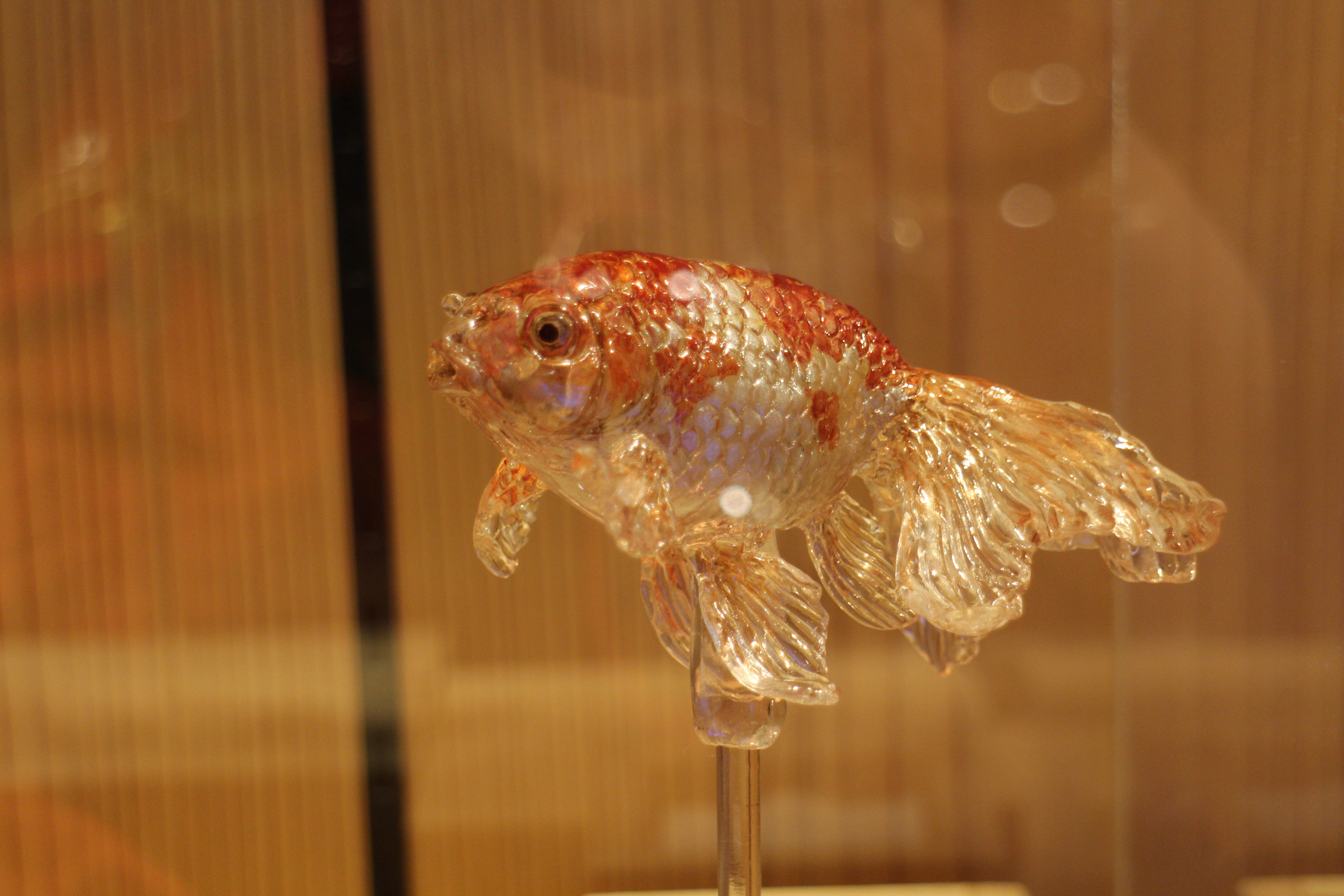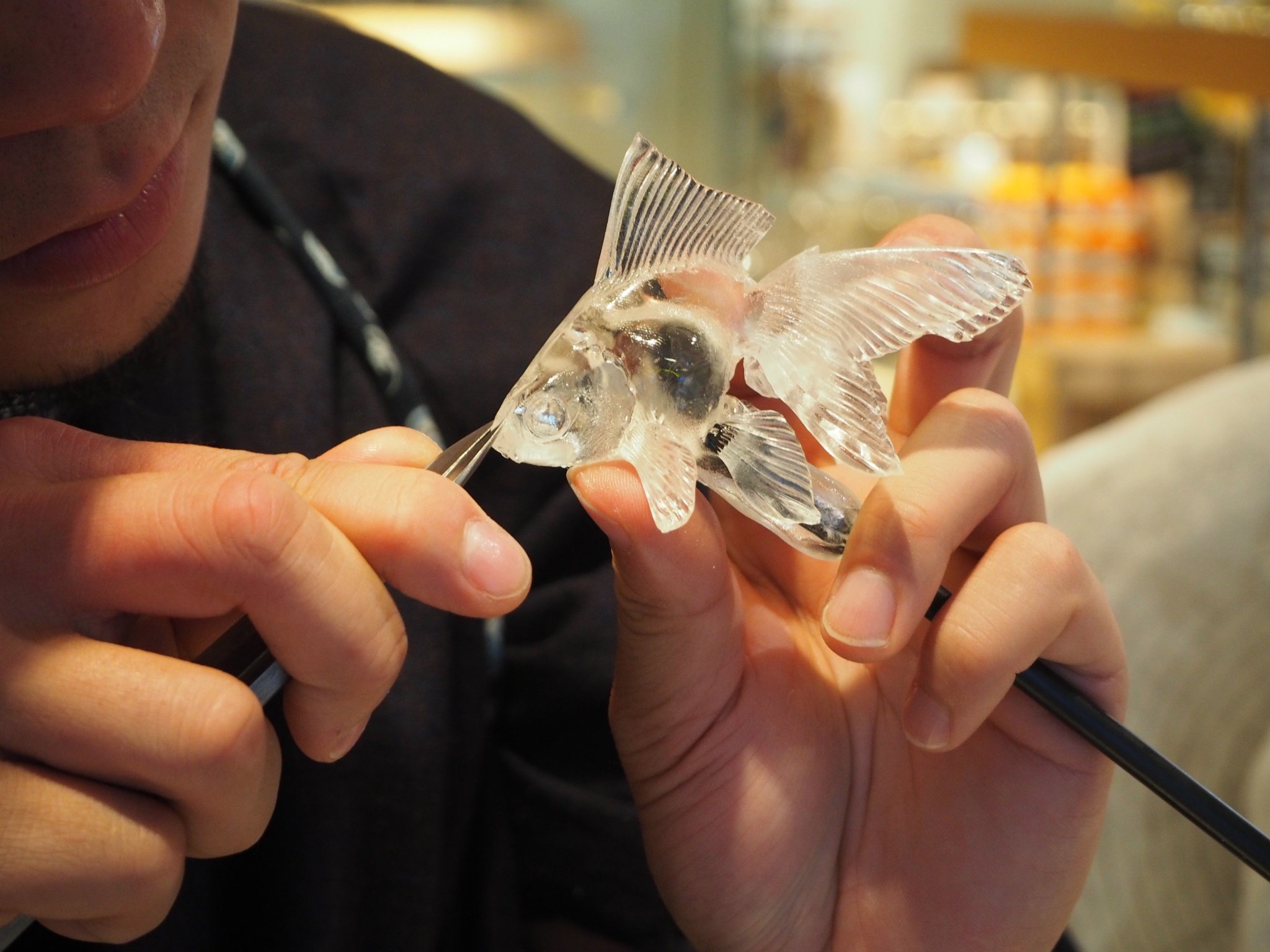 We bring you one more member of the "too cute to eat" things in Japan club – artistically sculpted candy. Amezaiku Ameshin has highly skilled professional candy artisans that make sugar koi fish that look like they've just been taken out of a pond. Same goes for their other candy creations, crafted only with twisting, pulling and cutting molten hot sugar. And this is no novelty gimmick, as the amezaiku craft dates back centuries in Japan. We bought a few candies a tthe TOKYO Solamachi store, where there are also occasional candy crafting demonstrations, while their studio in Hanakawado offers amezaiku workshops.
Ganso Shokuhin Plastic Food Samples Store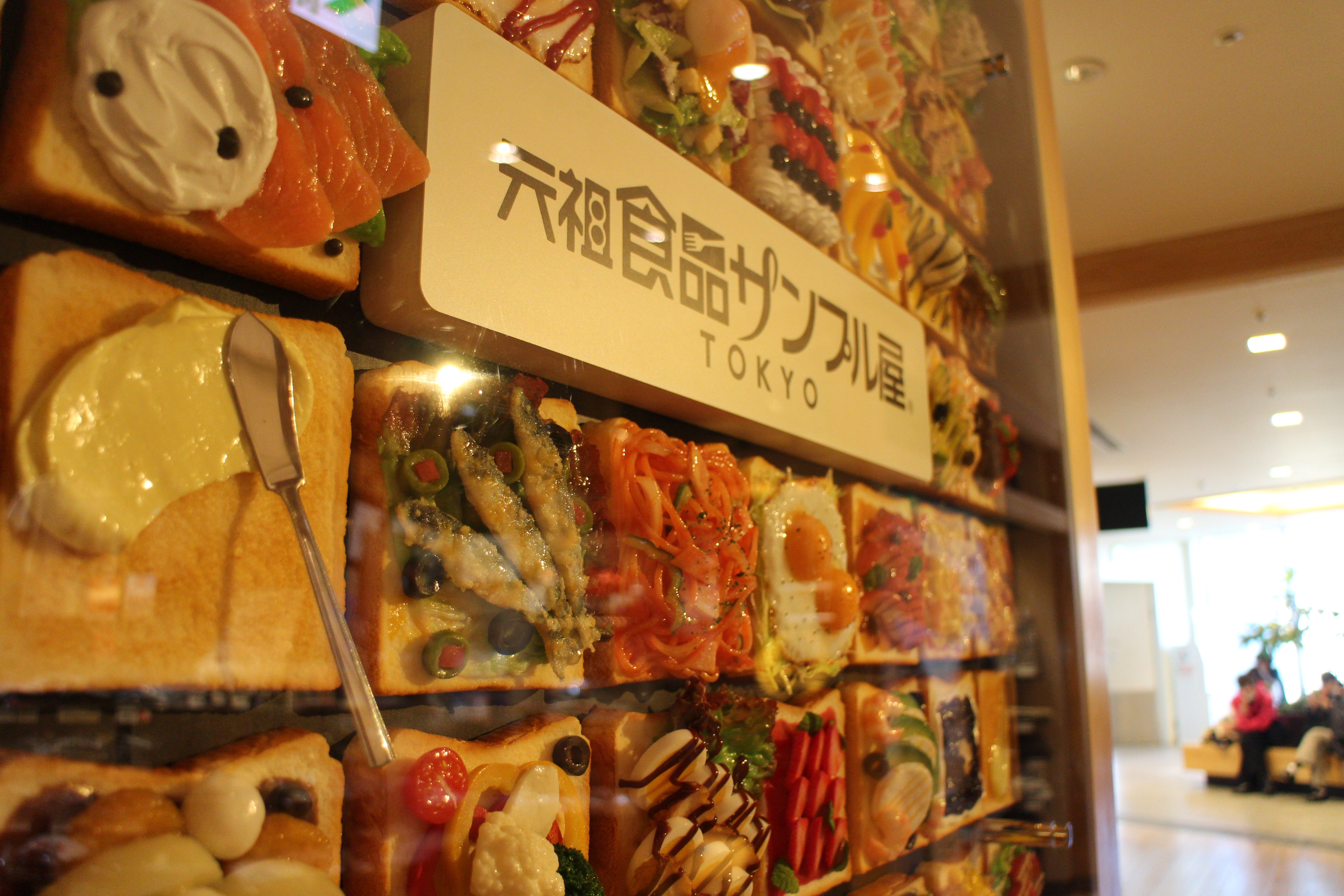 If we were to choose what's a tourist's best friend, I would vote for the plastic food samples in Japan. Removing language barriers and awkward conversations, these perfectly realistic plastic samples in Japan show you exactly what's on the menu even before entering the store. Kappabashi near Asakusa is the most famous area that sells these plastic foods, and Ganso Shokuhin even has workshops to teach you to make them from scratch! Walking in their TOKYO Solamachi branch, we started doubting and questioning what's real! The foods are too believably real and unbelievably plastic. You can buy everything there, from sushi keychains to baked potato pencil stands. Just don't go hungry!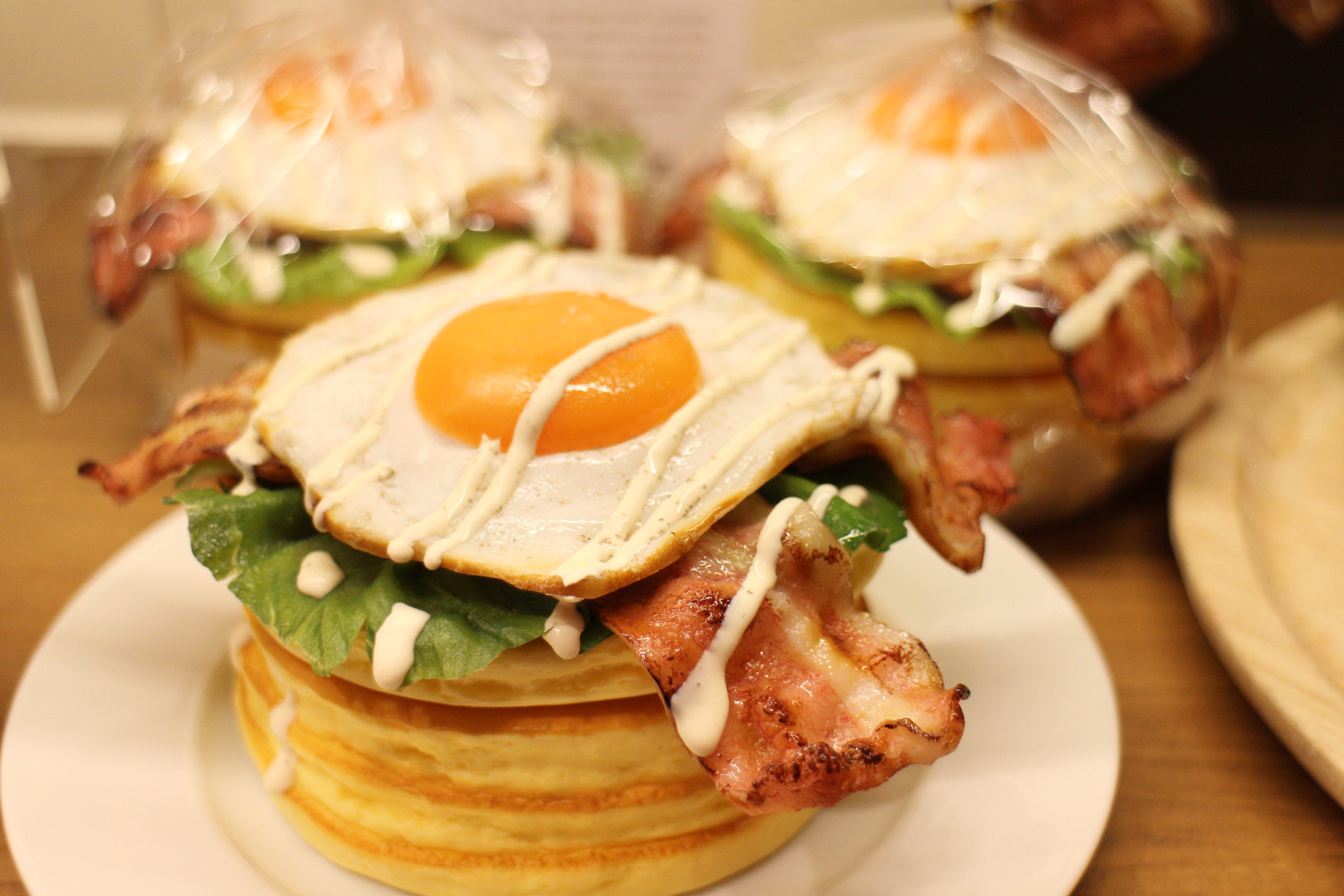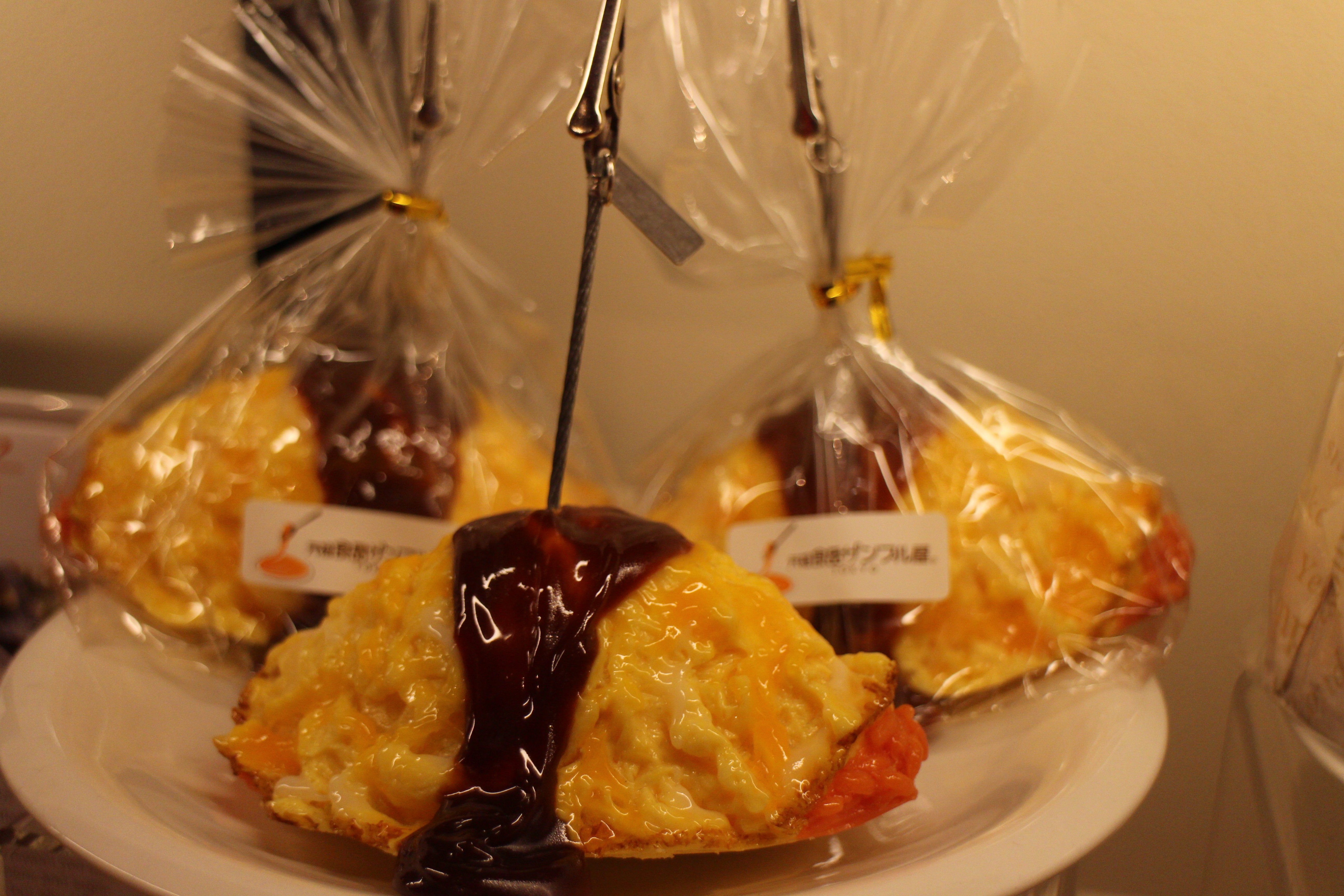 https://www.tokyo-solamachi.jp/en/shop/265/
https://www.ganso-sample.com/en/
TOWER KNIVES TOKYO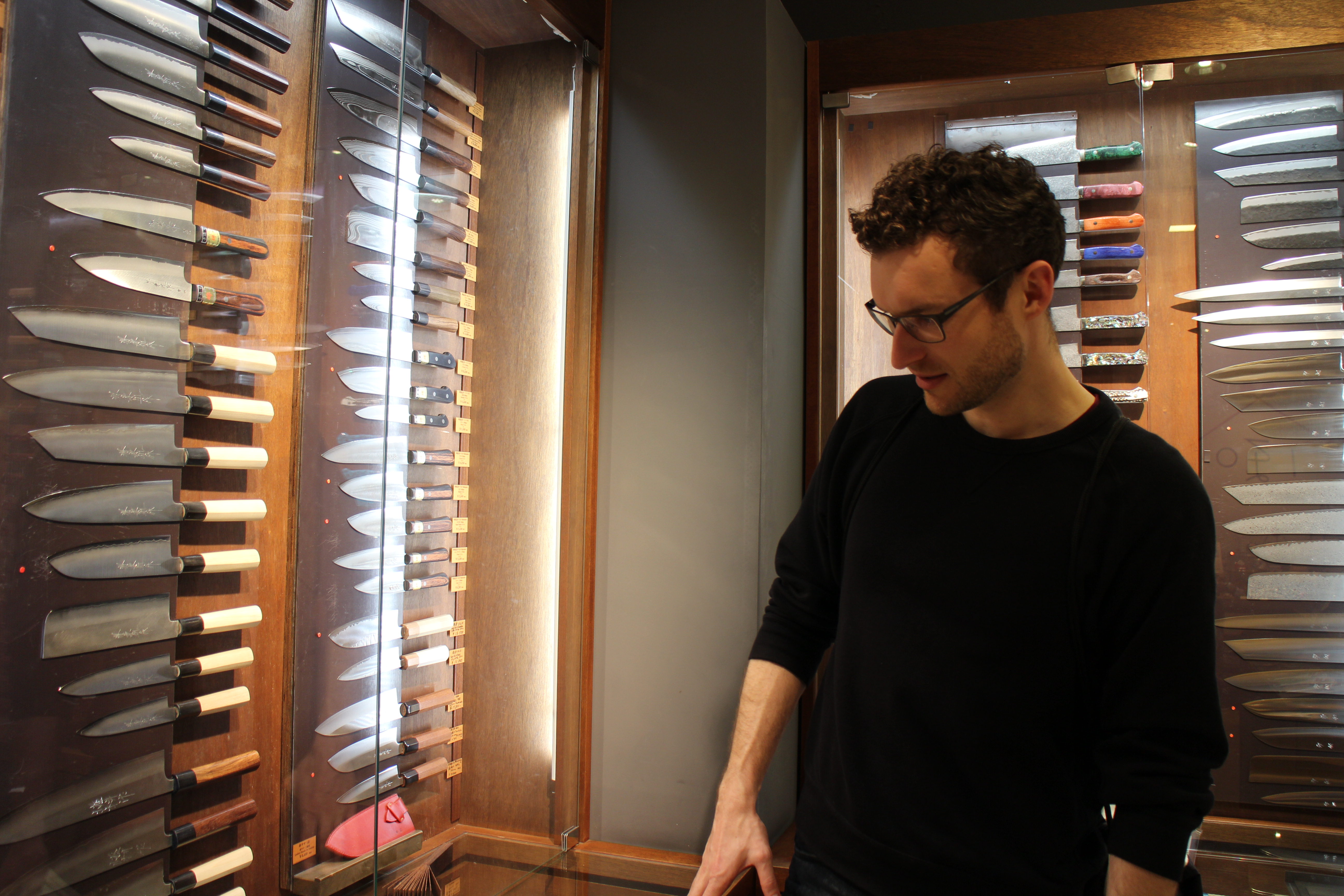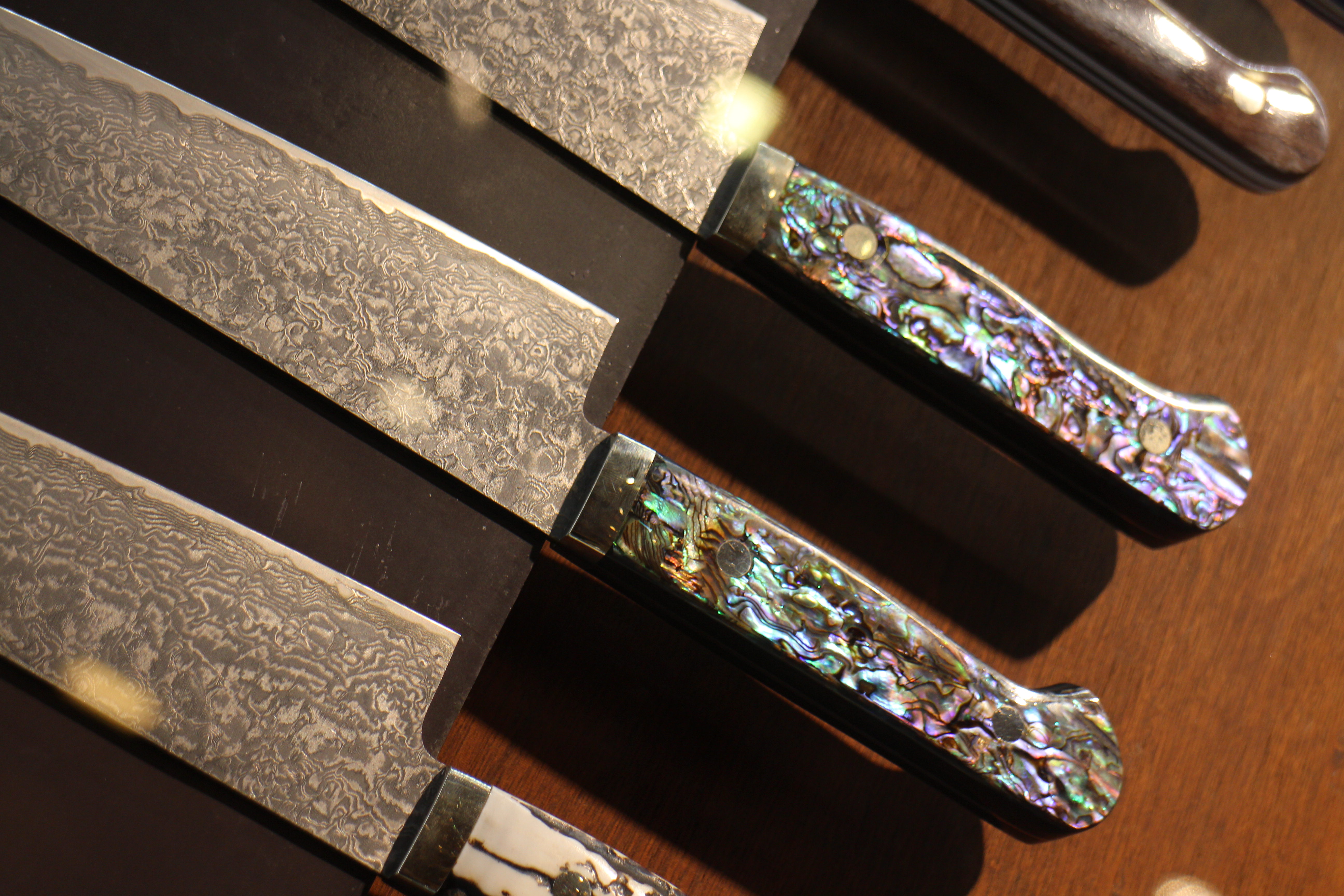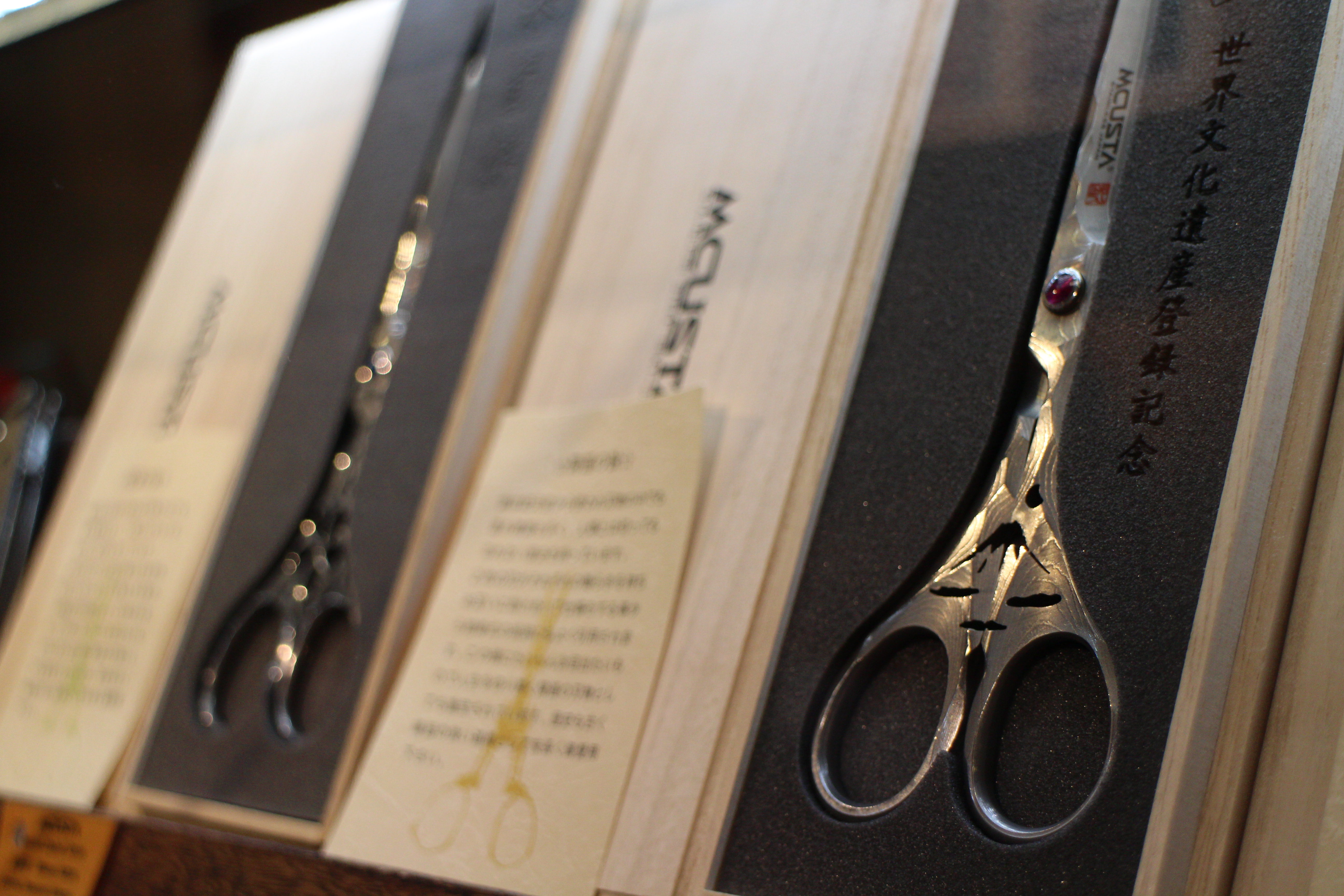 TOKYO Solamachi's shop selection has a specialized knife store because another kitchen product synonymous with this area of Tokyo is the Japanese knife. Tower Knives have blades made by the best artisans around Japan, many of which have katana sword-making heritage. The steel folding techniques make some blades look like water waves, while the modern stylish handles on some knives are designed by a workshop from Gunma that has younger innovative artisans. From a tiny 'princess blade', to crab scissors, to a massive tuna carver, this is the place for buying special gifts for special people.
http://www.towerknives.com/tokyo.php
nana's Green Tea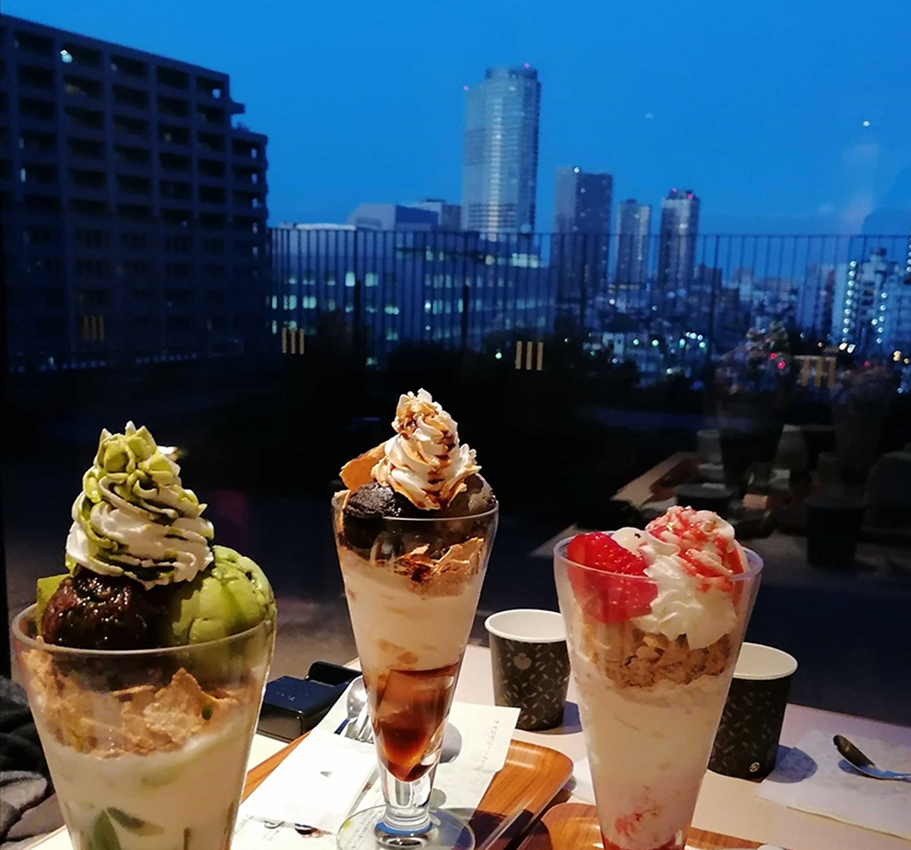 At the end of the day, green tea seemed like a perfect pick-me-up. We found nana's at the 4th floor in a cozy corner, surrounded by windows and tables divided up by sheer curtains. Classic simple green tea is on the menu of course, but it also appears in more modern versions like latte, anmitsu dessert, or parfait. There are also hojicha, azuki bean, black sesame and seasonal flavors. Digging through the many layers of a parfait, we enjoyed each sweet surprise as we were watching the twilight sky go darker outside.
http://www.nanasgreentea.com/en/
The Best Kept Secret Photo Spot - Inverted TOKYO SKYTREE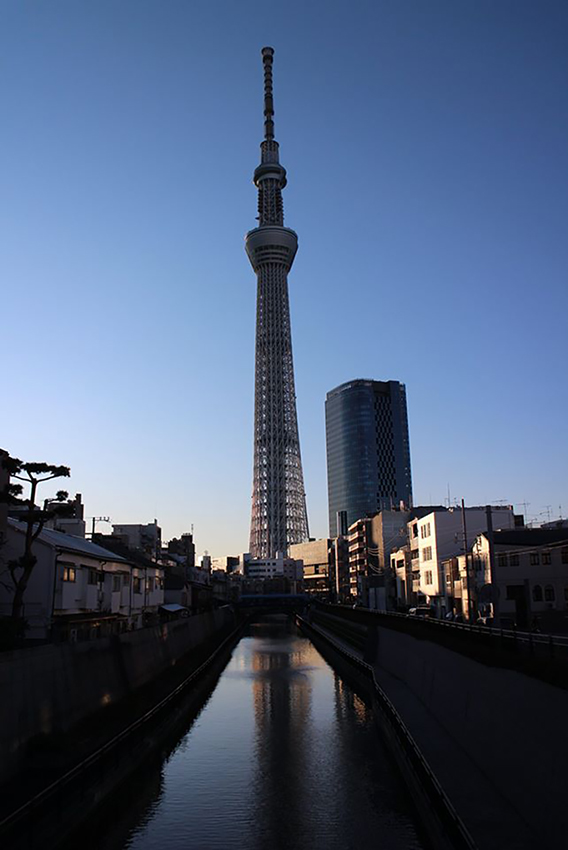 As night was falling, we walked down the canal to Jikkenbashi bridge, less than 10 minutes walk from Skytree. This bridge has become a favorite spot among photo enthusiasts, as TOKYO SKYTREE is perfectly reflected on the water surface. Photographers and their tripods were already there, patiently waiting for small water ripples to calm down and ducks to swim away, for that perfect mirror image. The view of TOKYO SKYTREE is pretty from the other bridges down the canal as well, but here on Jikkenbashi the image is perfectly inverted.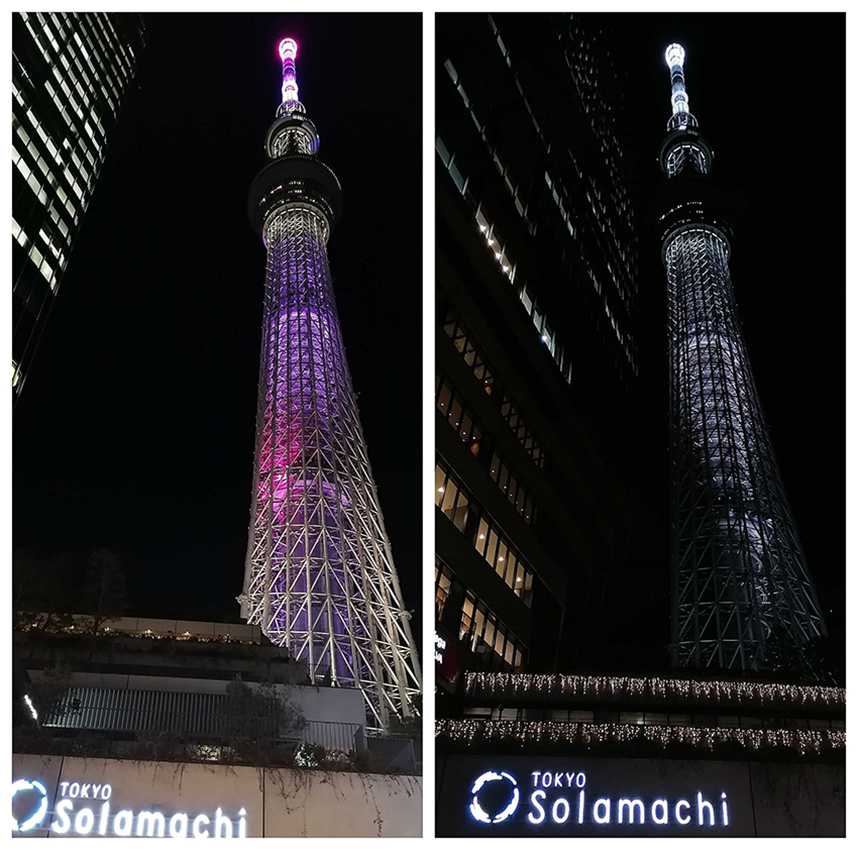 If Hokusai, who lived around here, were alive and making ukiyo-e prints, TOKYO SKYTREE would be in them as much as Mount Fuji is. Whether inverted, contorted, white in sunlight, lit up at night, from top, from bottom, from TOKYO Solamachi or from Asakusa across the bridge,TOKYO SKYTREE is a constant presence. We are looking forward to coming back to see the waterside complex "TOKYO mizumachi" (meaning water town) and walk across Sumida River via the "Sumida River Walk" footbridge, both scheduled to be opened this spring. As we head to Oshiage station to go home, TOKYO SKYTREE sends us off with yet another new face – changing colours.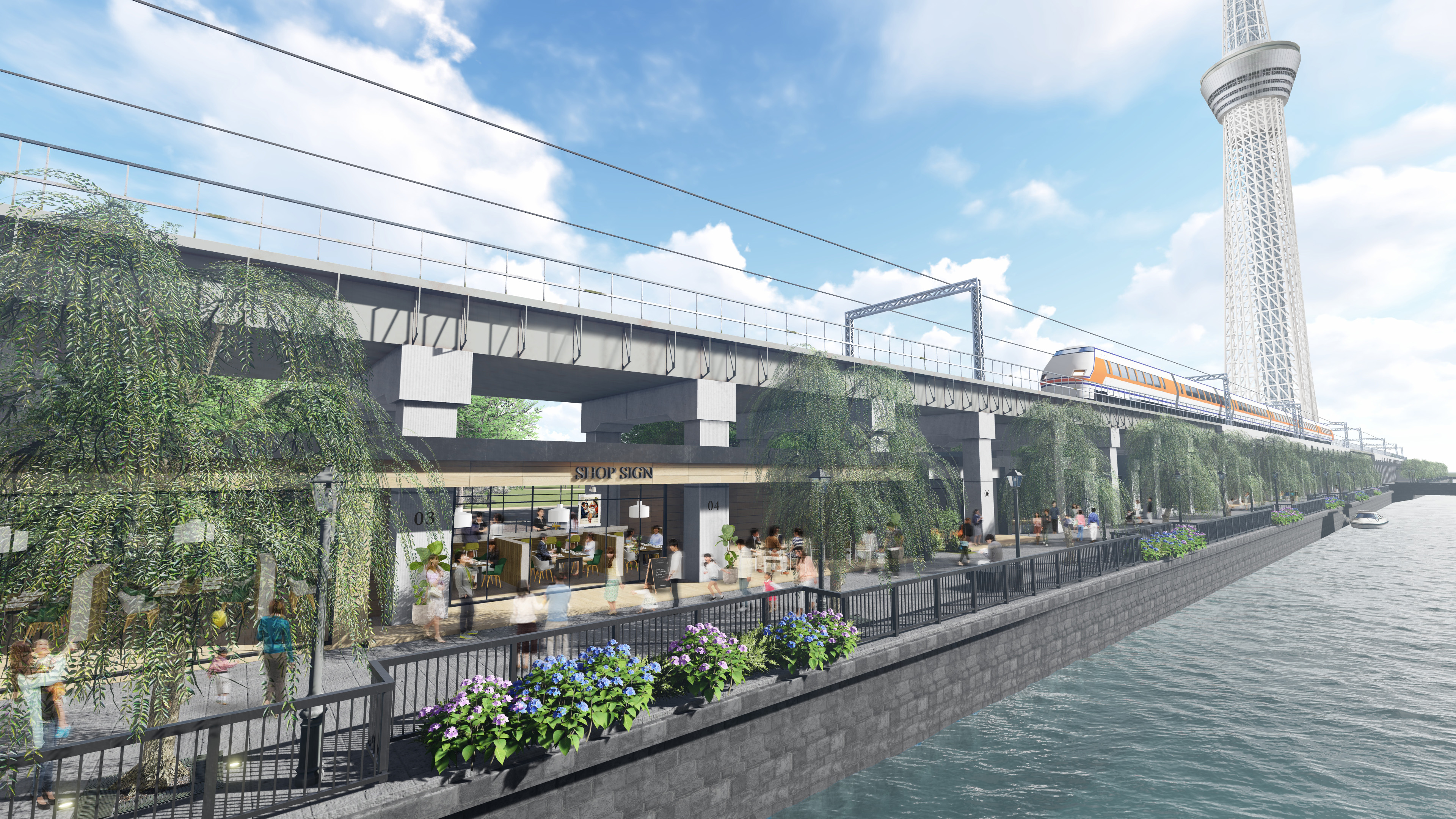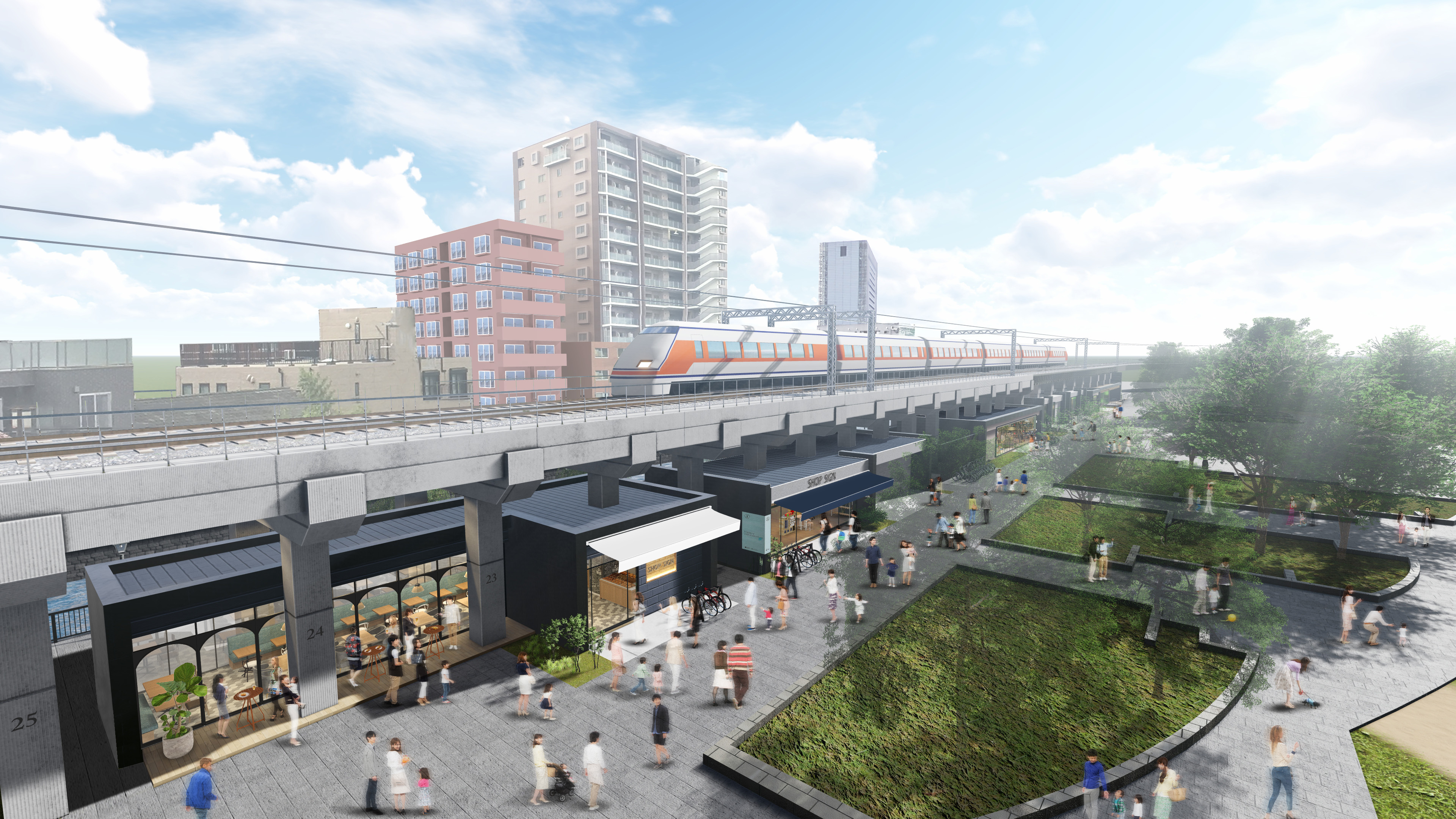 Useful links:
TOKYO SKYTREE

TOKYO Solamachi

Tenku Lounge TOP of TREE

Tokyo Skytree Town overview of the area

Sukemasa Coffee
(TOKYO) SKYTREE is a service mark /trademark of TOBU RAILWAY CO., LTD. and TOBU TOWER SKYTREE Co., Ltd., registered in Japan, United States of America and other countries.