YUTTARI (relaxing) AIZU TOBU FREE PASS
Pass Overview

Applicable area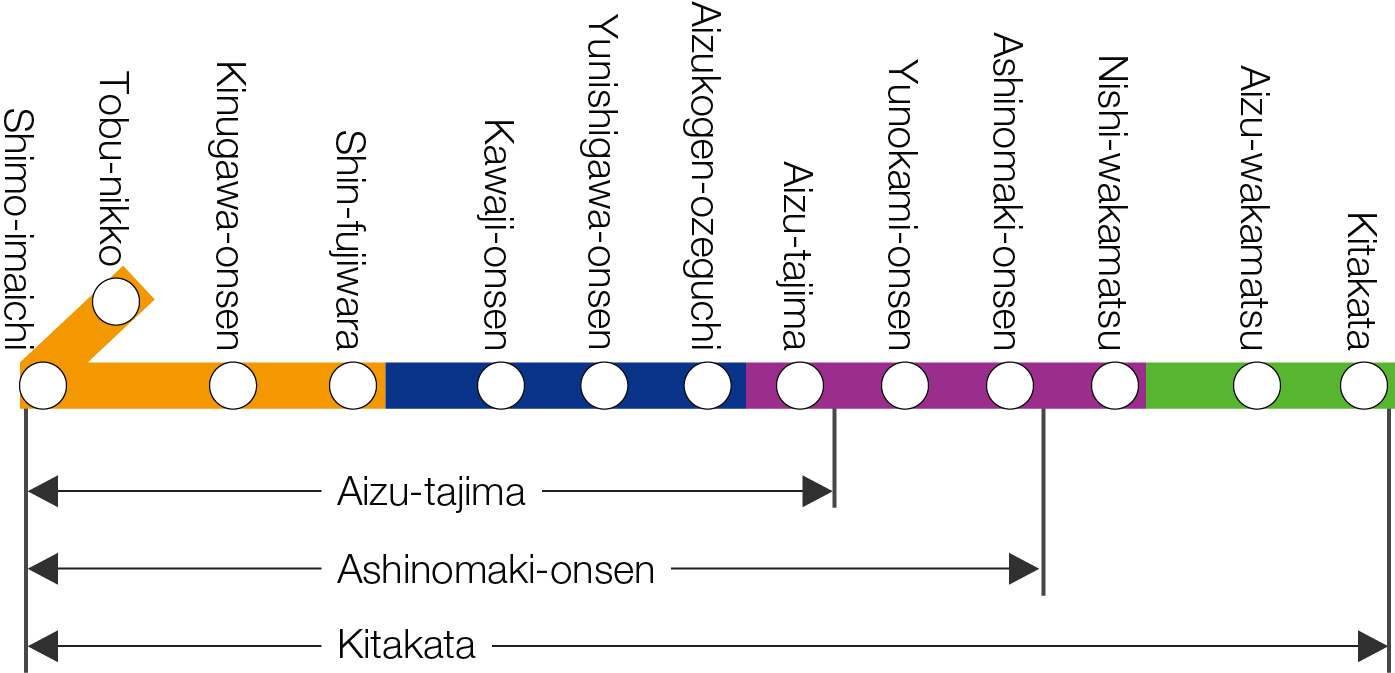 List of stores and facilities offering discounts
The Aizu Bukeyashiki
The Aizu Folk Museum
Tsuruga-jo Kaikan
Grandeco Resort Urabandai Ropeway
Aizukeizan ware
Mt. Bandai Eruption Memorial (3D World)
Handicrafts Workshop Bansho
Gaburi Garden
Ryumonaki Pottery
Former Takizawa Honjin
The Showa Natsukashi (Nostalgia) Museum
Aizu Kitakata Ramenkan (Honkan) - 50 yen discount on a bowl of ramen at the restaurant Tanpopotei
Aizu Eto Koboshi
Aizu Clan School Nisshinkan
Aizumura
Prices
Shimo-imaichi through Tobu-nikko/Aizu-tajima

Entraining station

Price [Adults]

Price [Children]

Asakusa through Kanegafuchi, Oshiage, Omurai through Kameido, Masuo through Funabashi

¥5,950
¥3,010

Horikiri through Koshigaya, Daishimae, Kazo through Tatebayashi, Omiya through Owada, Shimizu-koen through Shin-kashiwa

¥5,620
¥2,830

Kita-koshigaya through Hanasaki, Nanasato through Nanakodai, Sugito-takanodai

¥5,320
¥2,690
Shimo-imaichi through Tobu-nikko/Ashinomaki-onsen

Entraining station

Price [Adults]

Price [Children]

Asakusa through Kanegafuchi, Oshiage, Omurai through Kameido, Masuo through Funabashi

¥6,920
¥3,470

Horikiri through Koshigaya, Daishimae, Kazo through Tatebayashi, Omiya through Owada, Shimizu-koen through Shin-kashiwa

¥6,620
¥3,330

Kita-koshigaya through Hanasaki, Nanasato through Nanakodai, Sugito-takanodai

¥6,350
¥3,210
Shimo-imaichi through Tobu-nikko/Kitakata

Entraining station

Price [Adults]

Price [Children]

Asakusa through Kanegafuchi, Oshiage, Omurai through Kameido, Masuo through Funabashi

¥7,390
¥3,710

Horikiri through Koshigaya, Daishimae, Kazo through Tatebayashi, Omiya through Owada, Shimizu-koen through Shin-kashiwa

¥7,110
¥3,570

Kita-koshigaya through Hanasaki, Nanasato through Nanakodai, Sugito-takanodai

¥6,850
¥3,450
Available locations
Ticket counters in stations between Asakusa and Tatebayashi, between Omurai and Kameido, between Omiya and Funabashi, and Sugito-takanodai (Excluding Oshiage and Daishimae stations)
Asakusa Station Travel Center
Tobu Top Tours, Kinki Nihon Tourist and Nippon Travel Agency branches
*Some stations may not have passes available at certain times.
*Nippon Travel Agency only sells passes as travel products.
Precautions
A separate ticket for a limited express train is required to take an express train.
Purchase this area pass in stations listed above other than Oshiage and Daishimae stations.
Passengers taking Steam Locomotive "Taiju" need to purchase a reserved seat ticket.
Check this short video before travelling!
How to purchase the YUTTARI (relaxing) AIZU TOBU FREE PASS