Construction on the TOKYO SKYTREE started in 2008 and concluded in February of 2012, though it only took a tiny fraction of that time for the tower to become a new symbol of Tokyo. In the nearly 10 years since its completion, TOKYO SKYTREE has remained the tallest television and radio tower in the world and the primary signal provider for the entire Kanto region (eastern Japan). This technological and engineering marvel also serves as the heart of a massive commercial complex, TOKYO SKYTREE TOWN, funded and developed by TOBU RAILWAY, which today includes shops, offices, parks, the Sumida Aquarium and even a planetarium.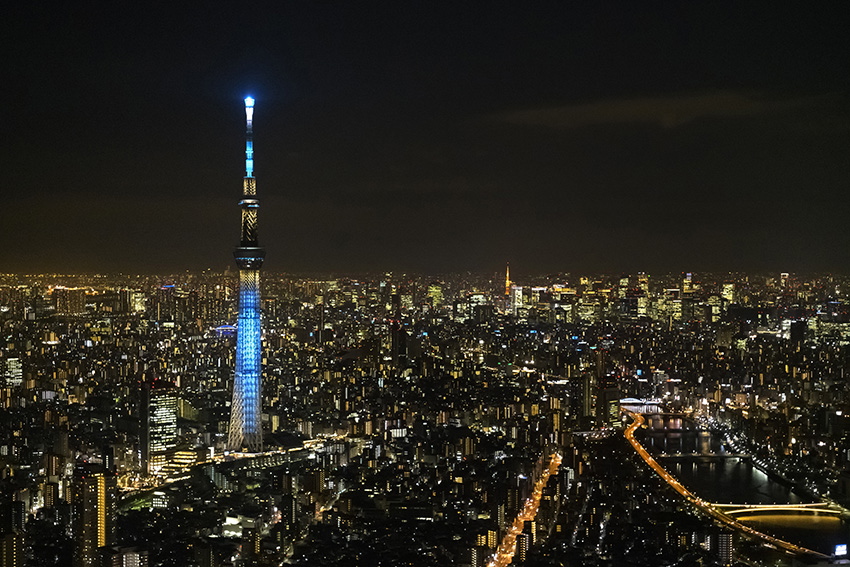 ©TOKYO-SKYTREE
But the human mind is a curious thing. Given enough time, it can get used to anything. Fortunately, TOKYO SKYTREE has never stopped looking for brand-new ways to amaze, innovate, and make the world a better place.
A Beacon of Change and Innovation
While it's easy to look at TOKYO SKYTREE as a symbol of advanced technology, it's actually also a deeply spiritual place. How so? TOKYO SKYTREE is situated along a line that connects the Kashima Shrine in Ibaraki Prefecture, one of the most famous power spots in the country, with Mt. Fuji, an even holier symbol of Japan. Besides the tower, the line also passes through the Imperial Palace and the Meiji Shrine, putting TOKYO SKYTREE in very good, spiritually-potent company. Fun Fact: It is said that TOKYO SKYTREE's location is also very good in terms of Fen Shui.
The W1SH RIBBON Project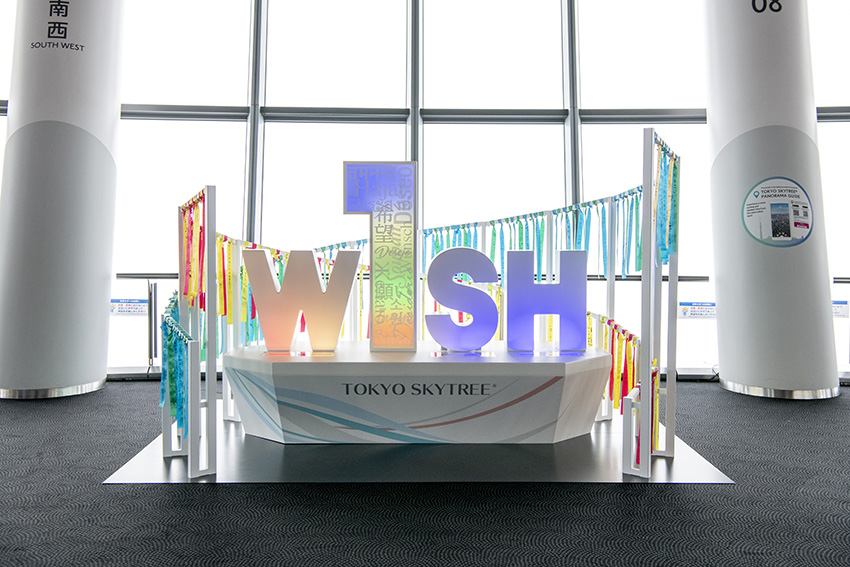 ©TOKYO-SKYTREE
The "W1SH RIBBON" project aims to harness that power for the greater good. The "1" in the name symbolizes people's most dearly-held wishes, which they can write on ribbons and tie them to a monument on the tower's observation deck. With the "W1SH RIBBON" project, the idea has been given a spiritual boost thanks to TOKYO SKYTREE's location. Those who can't make it to the tower in person can still pray for a better world on social media using the #W1SHRIBBON hashtag.
The Tree of Hope produced by Leslie Kee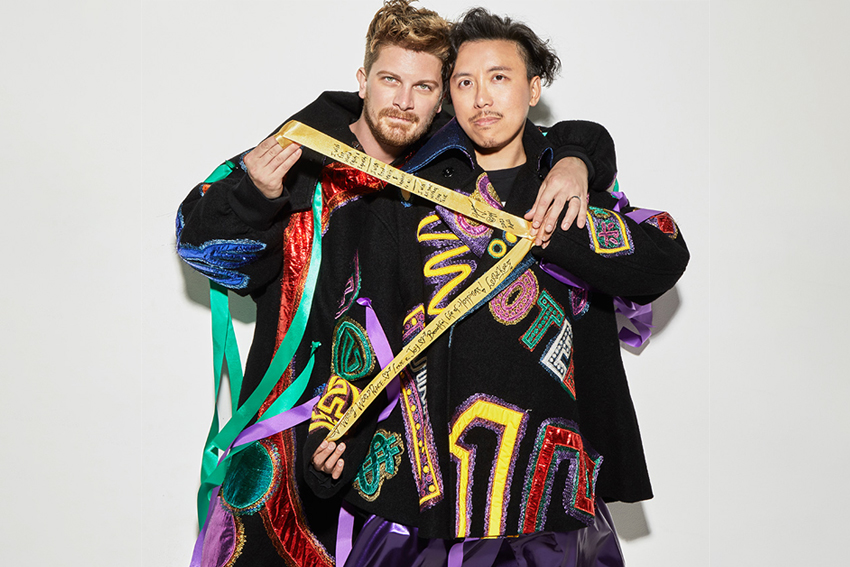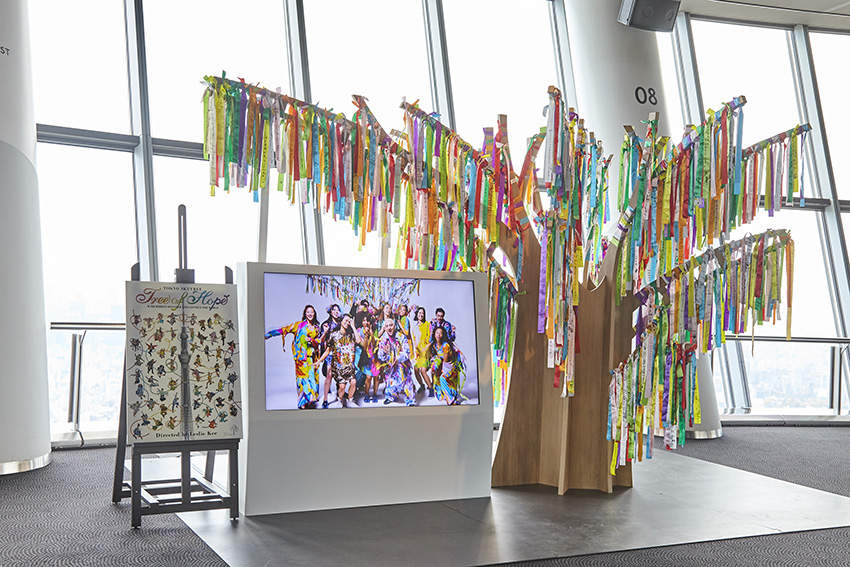 ©TOKYO-SKYTREE
The Tree of Hope is a monument that encapsulates the wishes that TOKYO SKYTREE can become a beacon of hope for the world. It was produced by photographer Leslie Kee, along with the music video of the same name. Kee , a Singapore-born graduate of the Tokyo School of Visual Arts, is today one of the most famous fashion and art photographers in the world. Located on the tower's Tembo Deck, the Tree of Hope monument stands at a whopping 350m above ground and its colorful display is possible thanks to ribbons tied with the wishes of visitors. TOKYO SKYTREE hopes that people from all over the world will participate in this campaign.
Together in Unity and Solidarity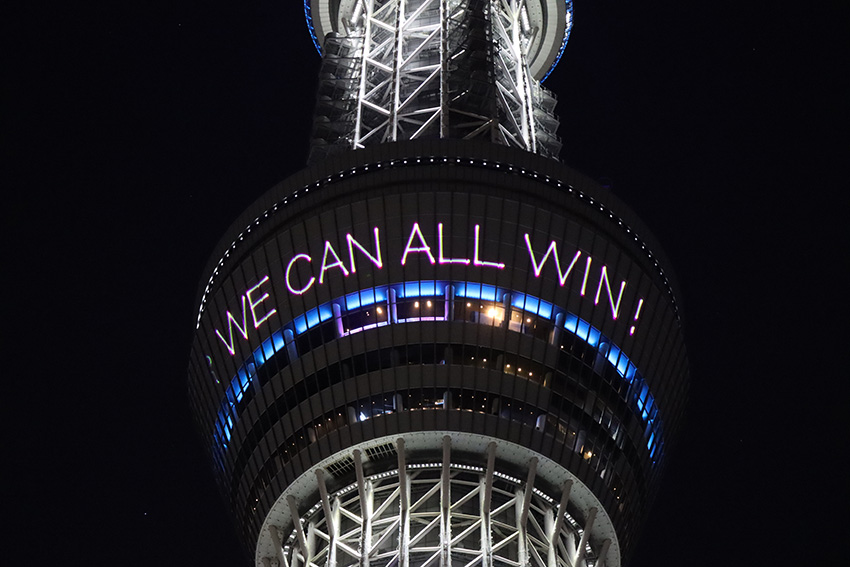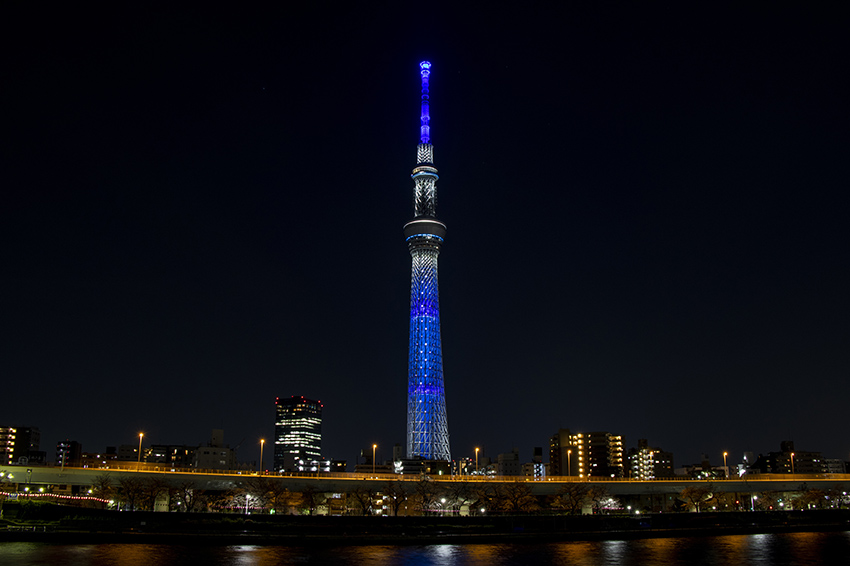 Since 2020, the world has been facing a new type of challenge in the shape of a global pandemic. TOKYO SKYTREE sent a message of encouragement to all those affected by Covid-19 by doing what it does best: Offer a spectacular lightup. Blue lights inspired by the colors of Earth and laser mapping on the observation deck projected a message of unity, "Together we can all win!"
Gateway to Asakusa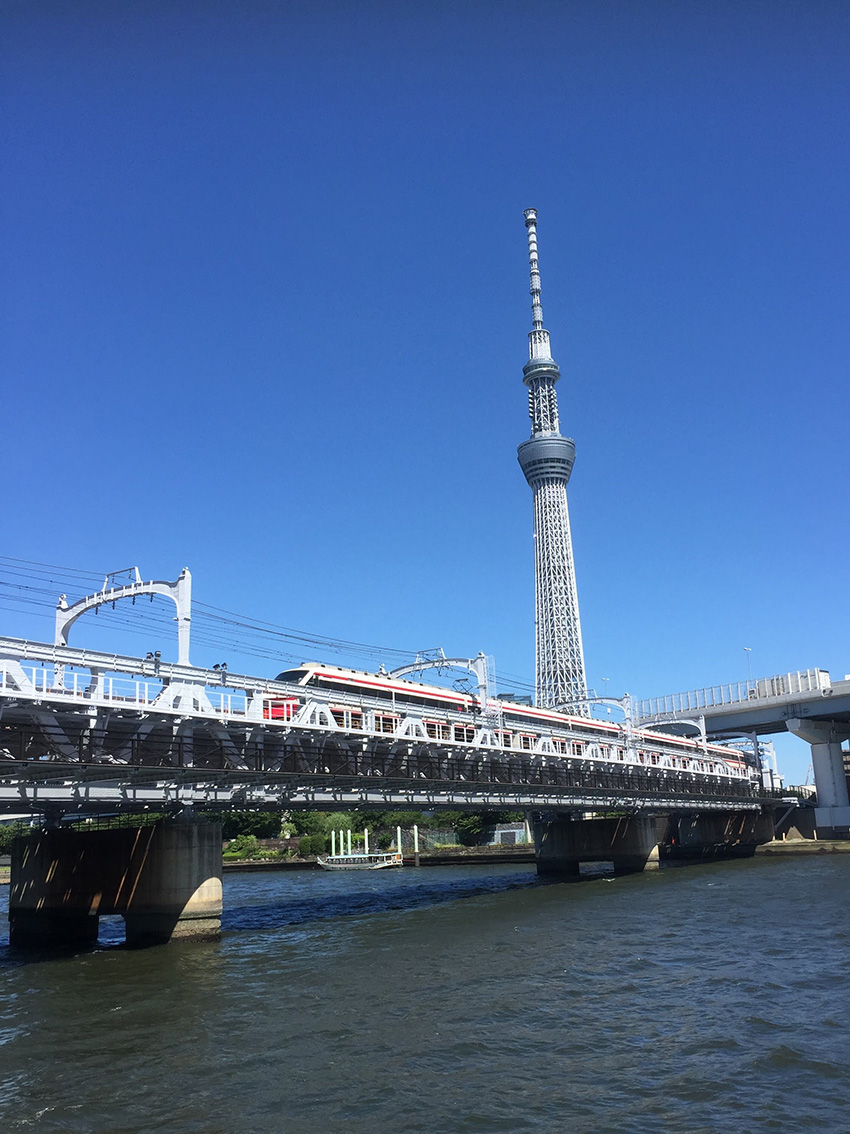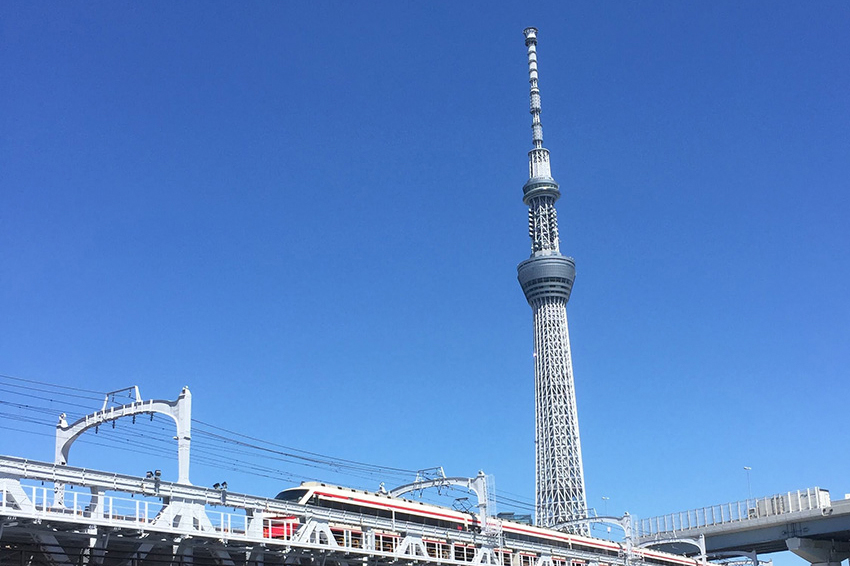 ©TOKYO-SKYTREE
If you're ever in the vicinity of TOKYO SKYTREE, use that opportunity to trek on over to neighboring Asakusa and experience some of the best that Tokyo has to offer. Specifically, the more accessible, down-to-Earth part of Tokyo. Historically, there have always been two sides to Japan's capital: The part where the rich lived, full of opulent mansions and beautiful gardens, and the so-called "shitamachi" ("low town") part populated by merchants, craftsmen, and other urbanites. Asakusa and its surrounding areas have done a remarkable job of keeping Japan's shitamachi culture alive and well.
For example, if you're looking for kitchenware like Japanese knives, head on over to the Kappabashi Shopping Street. In the mood for Japan's traditional rakugo comedy theater? You'll find what you're looking for at the Rokku entertainment district. Souvenirs? You will want the Nakamise Shopping Street for that, which will also lead you straight to Sensoji, the oldest Buddhist temple in Tokyo, famous for its 1,000-year-old Kaminarimon gate that by now has become a symbol of Asakusa. All that and more is available within walking distance of TOKYO SKYTREE and, best of all, the way there from the tower is unbelievably picturesque.
TOKYO Mizumachi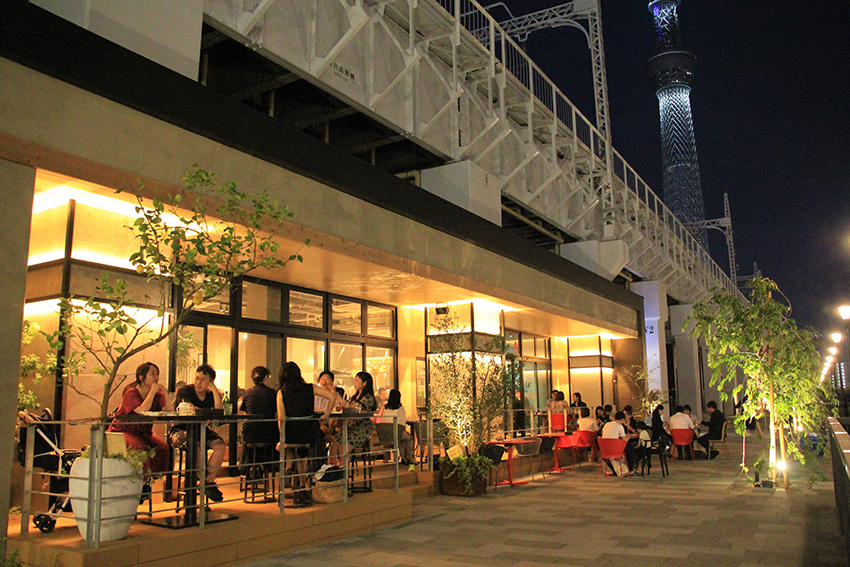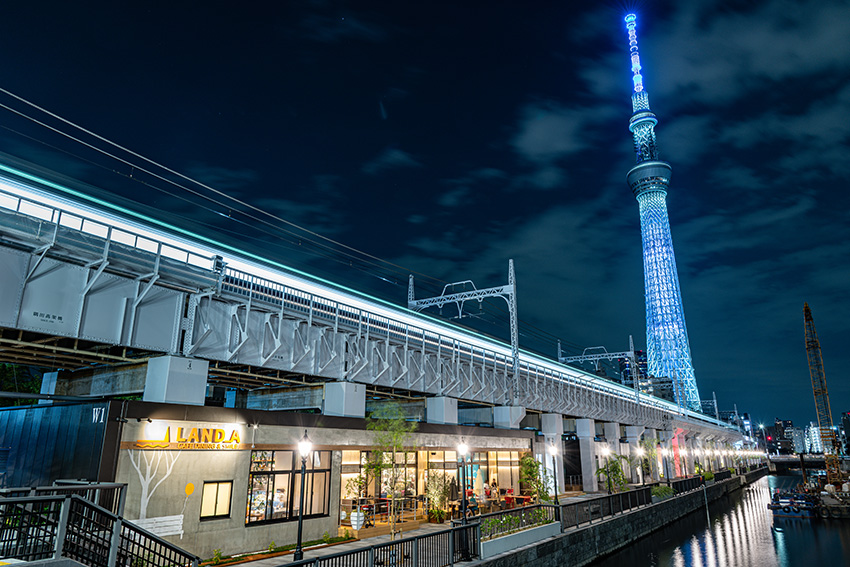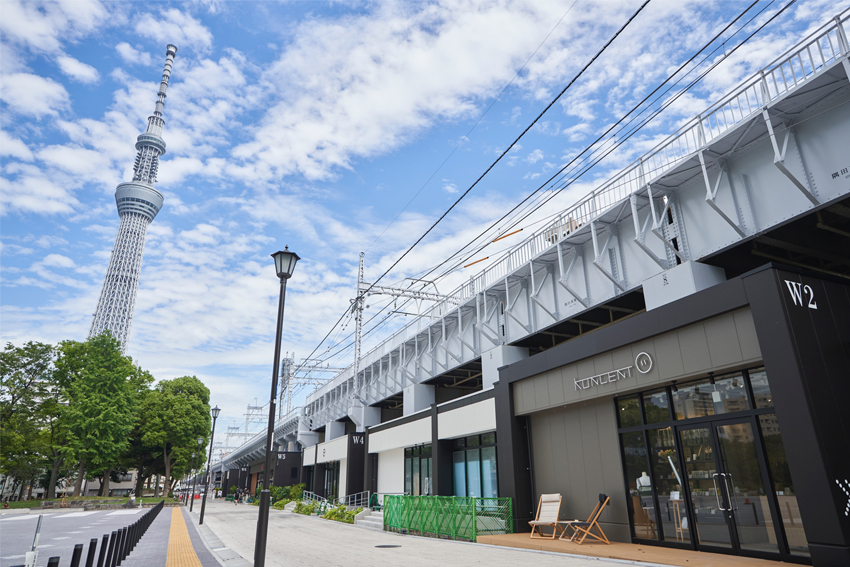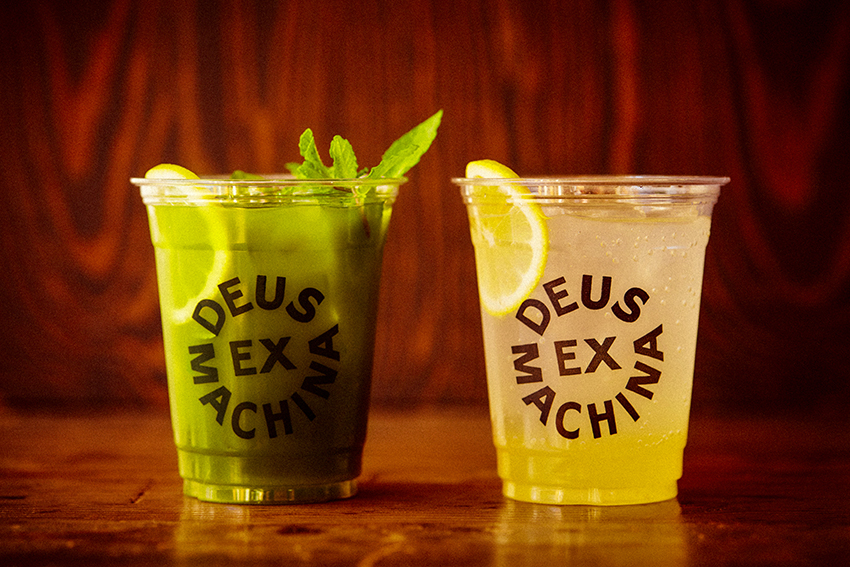 The shortest path from TOKYO SKYTREE TOWN to Asakusa is through TOKYO mizumachi, a shopping complex situated along the Kitajukken River that's unlike anything else you can find in the city. The entire waterfront area seems like something straight out of the American west coast with its chic and eccentric shops like the Australian bike and surf boutique Deus Ex Machina Asakusa that combines an apparel store with a bar and a motorcycle gallery. If you have small children, check out Lattest Sports' kid-oriented beach area where they can play with sand. TOKYO mizumachi also has cafés, restaurants, a hostel, and a laundromat on the premises, so it's fair to say that whatever you need, this waterfront complex has you covered.
SUMIDA RIVER WALK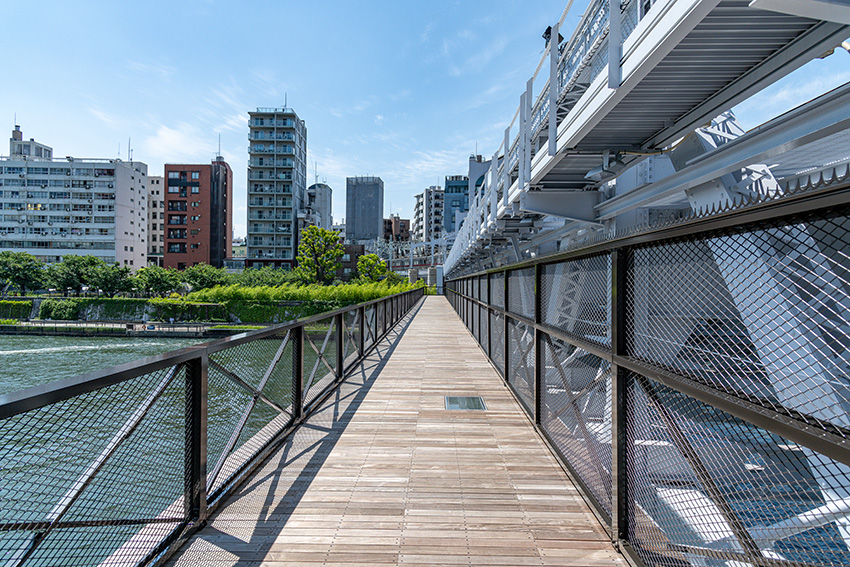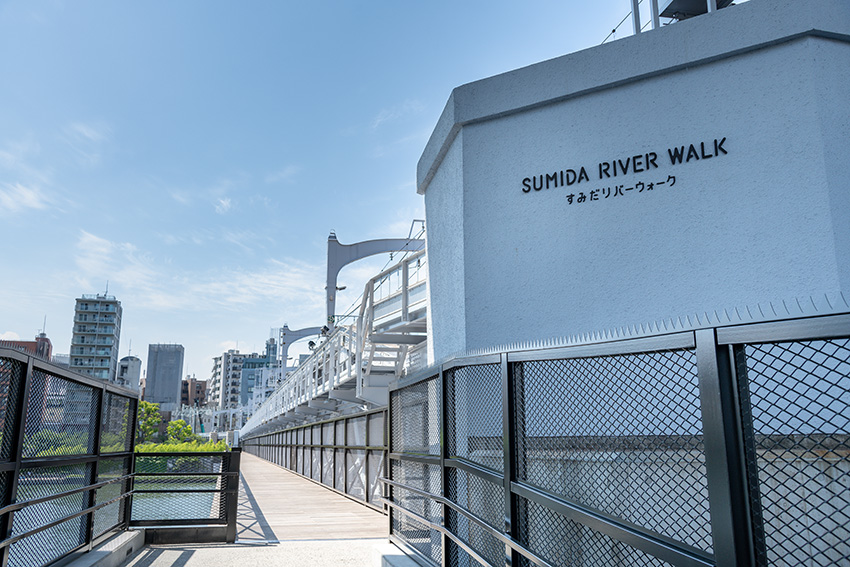 From TOKYO mizumachi, it's just a short trek across the Sumida River Walk bridge to get to Asakusa. But don't hurry too much. Instead, take it slow, and enjoy the spectacular views from SUMIDA RIVER WALK. Remember to not just look across the water, though, as the 160m-long promenade also features glass windows in the floor for watching boats pass below you. If you then look up, you'll see that the Sumida River Walk shares the same color scheme with TOKYO SKYTREE, with the two also being lit up at the same time during the night, making the walkway feel like an extension of the tower itself. Just be sure to not linger on it for too long, as the promenade closes at 10pm.
The New Symbol of Tokyo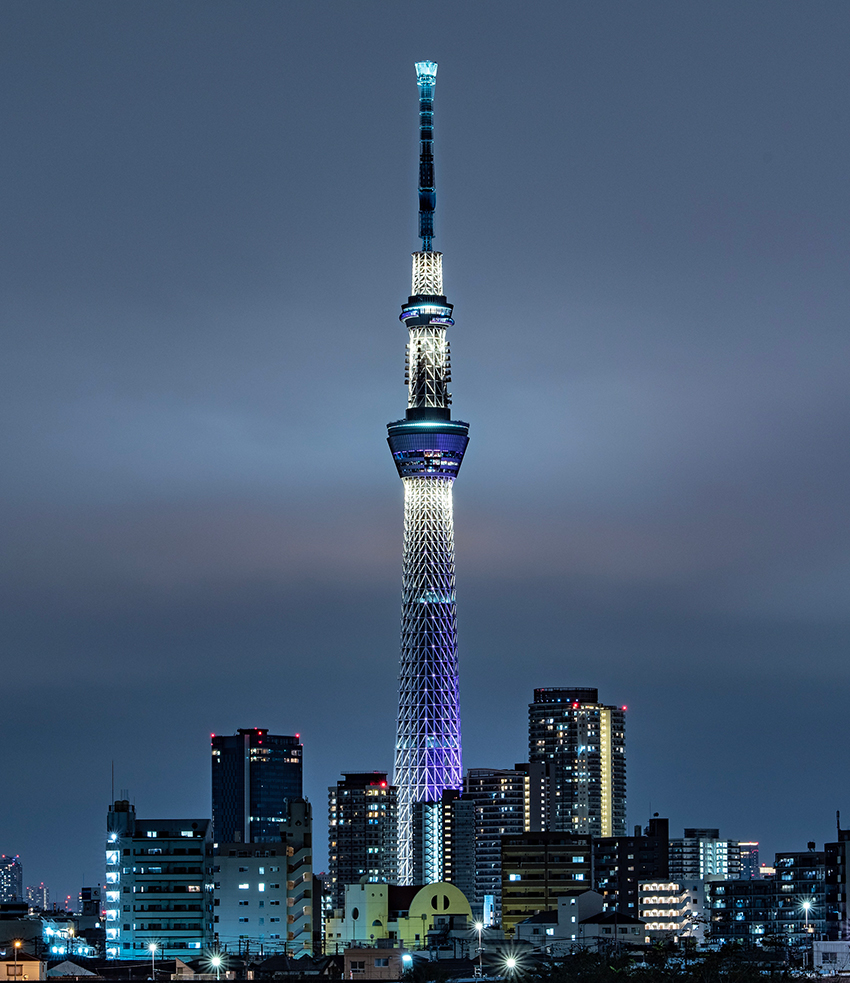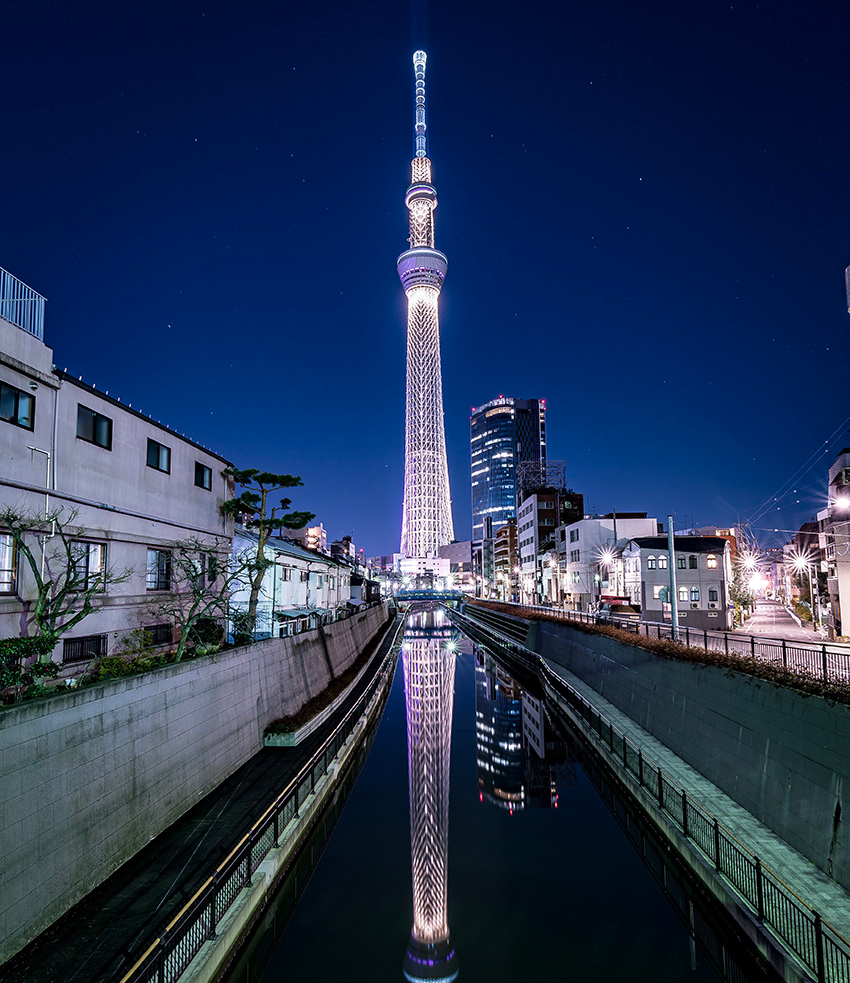 For something to be considered a true symbol of Tokyo, it needs to embody the city in some way, and TOKYO SKYTREE does exactly that. It combines futuristic, cutting-edge technology with tradition and spirituality, and it never remains static. Just like the city it represents, TOKYO SKYTREE keeps changing with the times, and it does so by being open to the rest of the world. Because of that, it has managed to attract many different people and businesses, creating a tiny city within a city around it, but always retaining that unmistakable Tokyo spark that has fascinated people for centuries. Hop on a train and see it all for yourself.