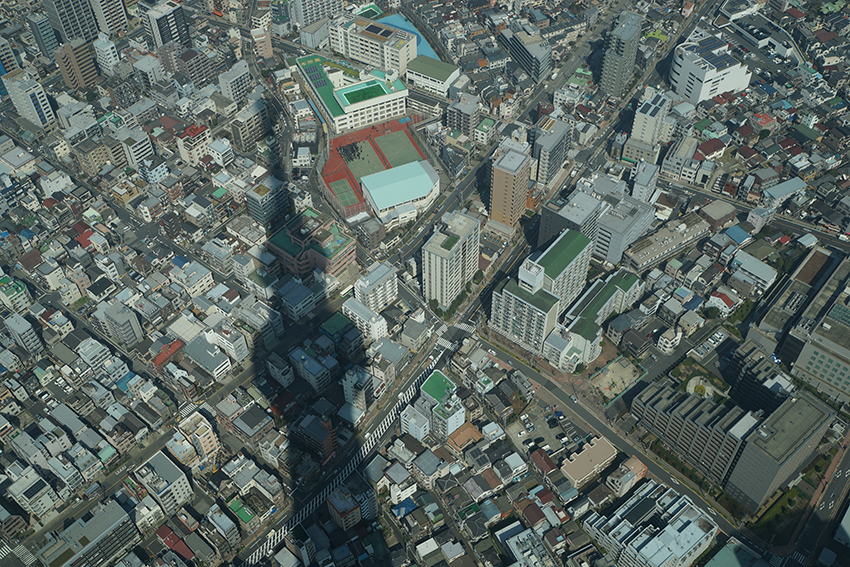 Tokyo's Sumida ward with TOKYO SKYTREE℠'s shadow
For the typical foreign tourist to Tokyo, a stop at Asakusa's temples and souvenir shops is a must. Visitors tend to stop by the edge of the Sumida river and take pictures with the iconic Tokyo SKYTREE in the background. However, not everyone takes the time to cross the Azuma-bashi Bridge into Sumida ward. Home to the imposing Tokyo SKYTREE, the other side of the Sumida river is quieter but no less interesting and has an authentic feel to it. While exploring it's calm streets where you can find with hidden history and art in the most unlikely places, we encountered the spots that served as inspiration for one of the most influential Japanese artists: Katsushika Hokusai.
TOKYO SKYTREE℠, a beacon of modernism rooted in Japanese traditions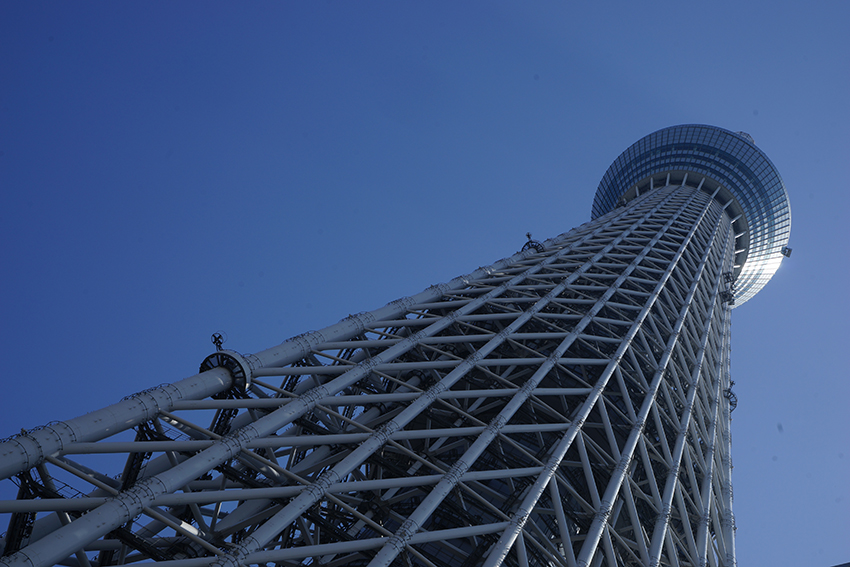 TOKYO SKYTREE℠ is the world's highest free-standing broadcasting tower at 634 meters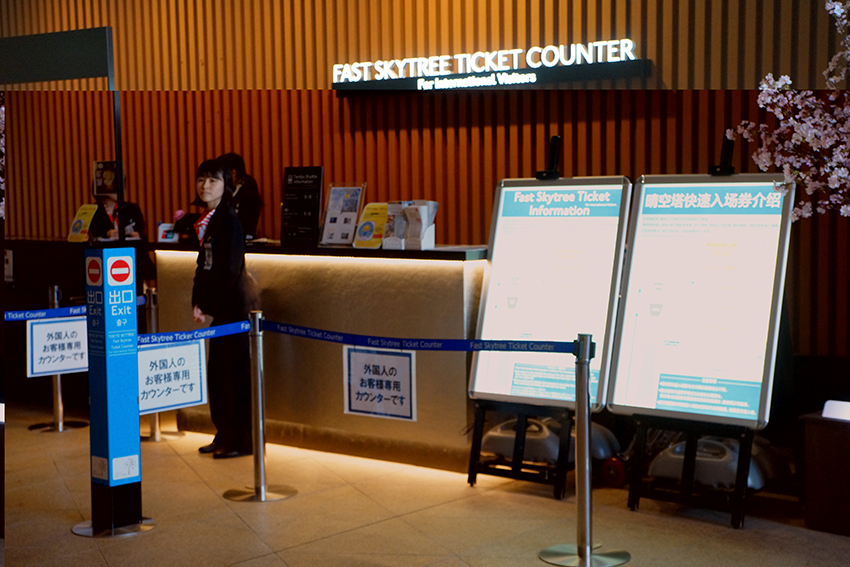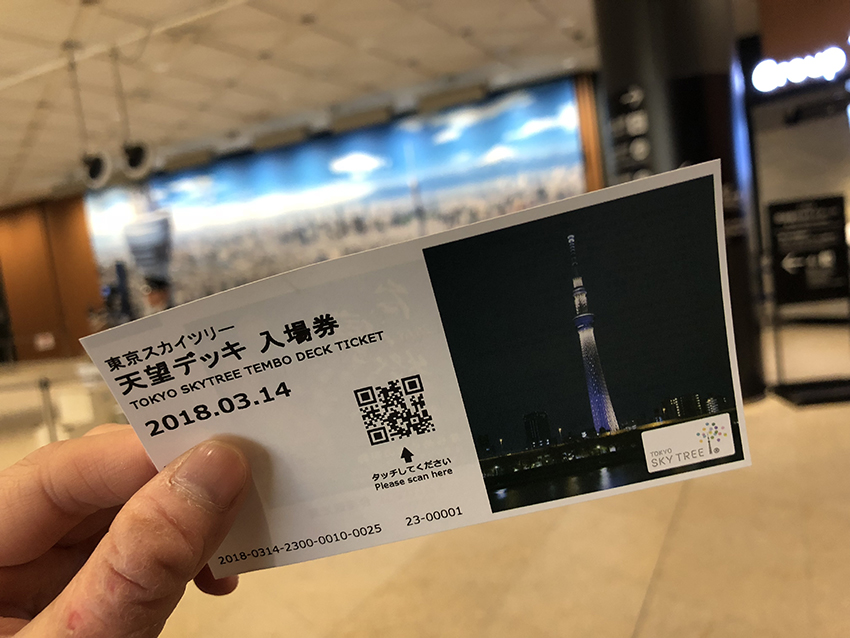 It was a clear, sunny morning and TOKYO SKYTREE℠ was gleaming against the bright blue sky. Before my neck could start to ache from gazing up at it, we went inside the maze of interesting shops and restaurants located at its base. I was eager to get unparalleled views over the city, so we went straight to the observatories. We got our tickets at the FAST SKYTREE TICKET COUNTER located on the 4th floor which allows international visitors to save time and skip the long lines.
We were led through a futuristic hallway adorned with dancing lights and got inside the elevator after a very short waiting time. The actual ascent on the elevator was very smooth and rather anticlimactic, and the only indication of its incredible speed is a monitor letting you know that you're traveling at the speed of 600 meters per minute. Before I knew it, our ascent was over and the soothing voice of the elevator attendant announced that we had reached Tembo Deck.
When the elevator doors opened, my eyes had to adjust to the bright light from the wide panoramic windows, but after a moment, the crawling metropolis of Tokyo came into focus. An impossibly intricate grid of gray-bluish silhouettes stretched into in the distance, with some landmark buildings being instantly recognizable.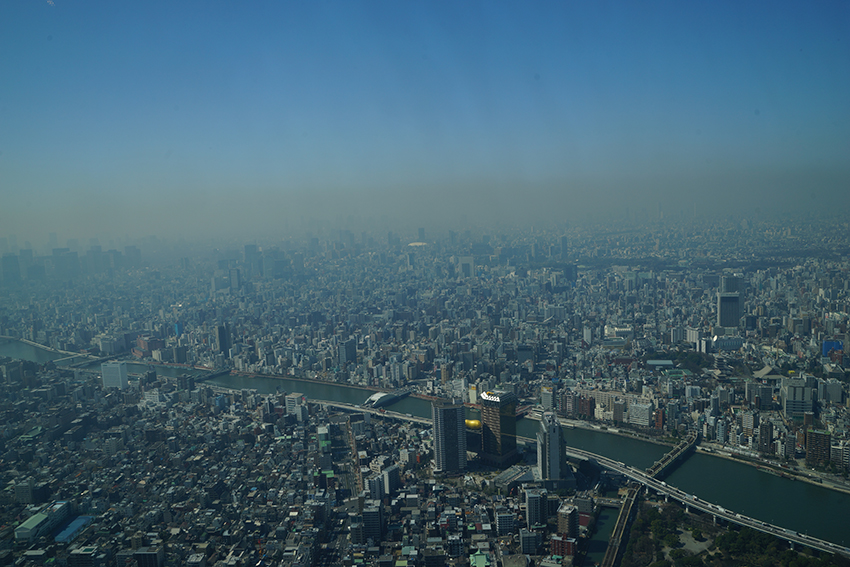 View at the Tembo Deck at 350 meters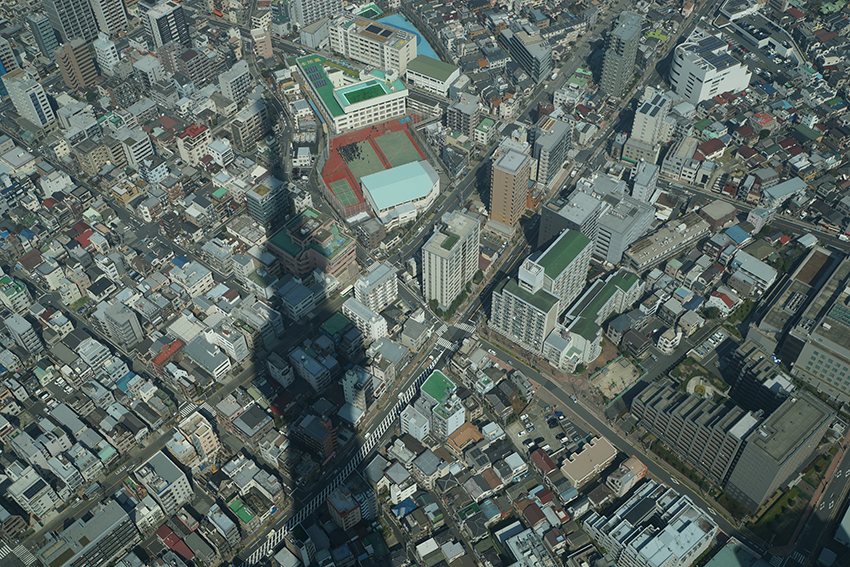 I entertained myself trying to identify the familiar places among the endless puzzle of buildings resembling little boxes on an architect's model. With the help of the touchscreen panels, I was able to locate famous landmarks and even see what the view is like during nighttime. However, I was most intrigued by the sight of everyday scenes such as students gathering in a schoolyard or the winding train tracks, along with the massive shadow of the TOKYO SKYTREE℠ cast over the city like a sundial.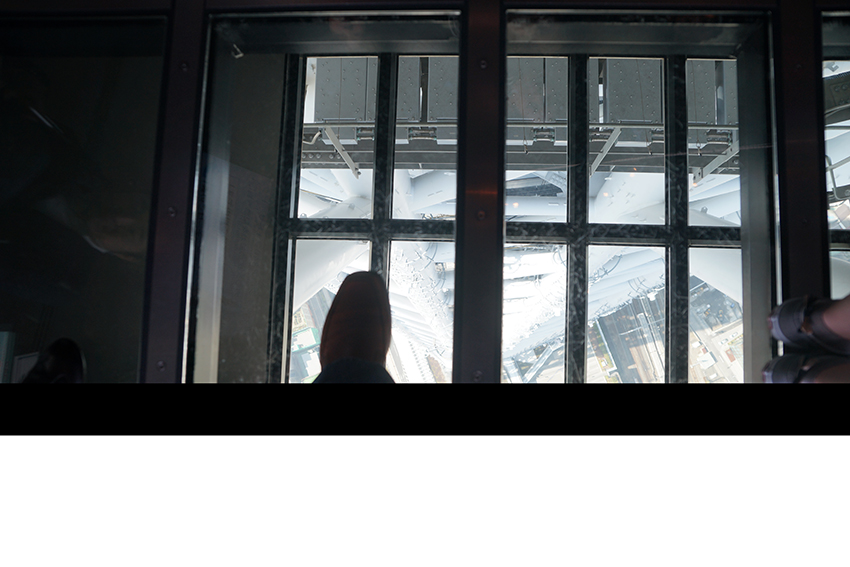 After completing a tour of the Observation Deck, I explored the souvenir shop and reluctantly stepped onto the glass floor, which allows visitors to peek down at both the city below and the gigantic metal rods supporting the tower.
As if 350 meters wasn't high enough to weaken your knees, we decided to hop on a different elevator to the Second Observatory, which is 450 meters high. This elevator offers more a thrilling ride, featuring a window on the door and ceiling to allow visitors to get a sense of the height as it increases.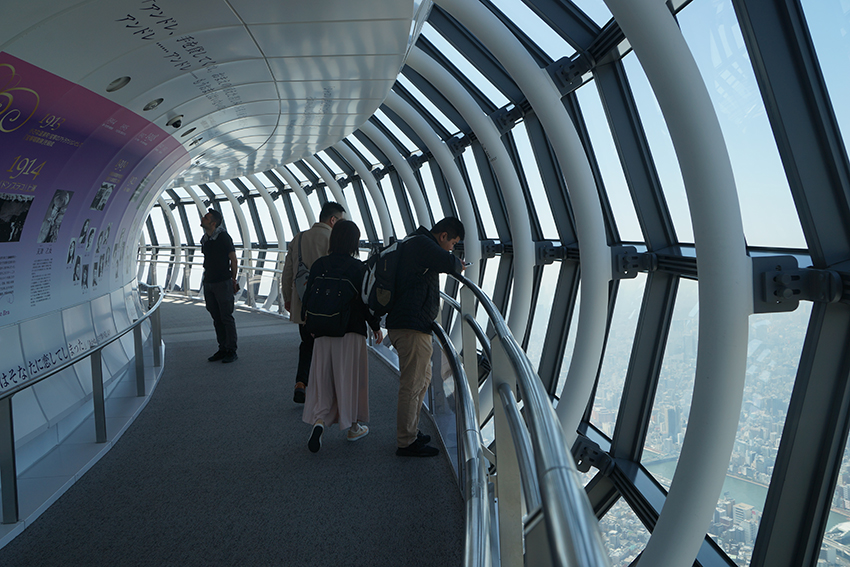 If the view at 350 m height doesn't make you dizzy vertigo, the one at 450 m high might
After taking it all in, we got back to earth on the ground floor and stopped at Sumidamachi Dokoro, an area offering local crafts, souvenirs and a corner destined to spread information about Sumida ward's products and tourism. It also features a space where local artisans offer their unique creations and showcase their skills to visitors, who are welcome to ask questions.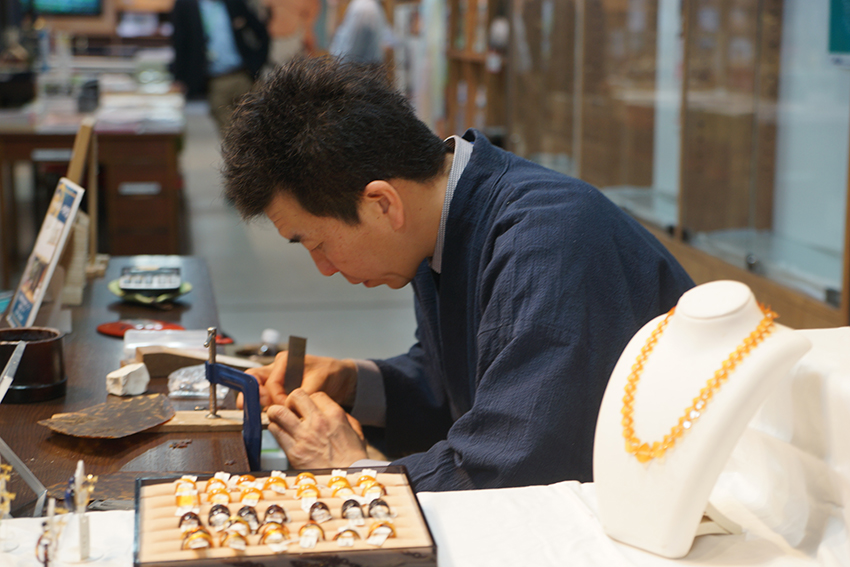 Isogai-san makes jewelry and accessories from hawksbill turtle shell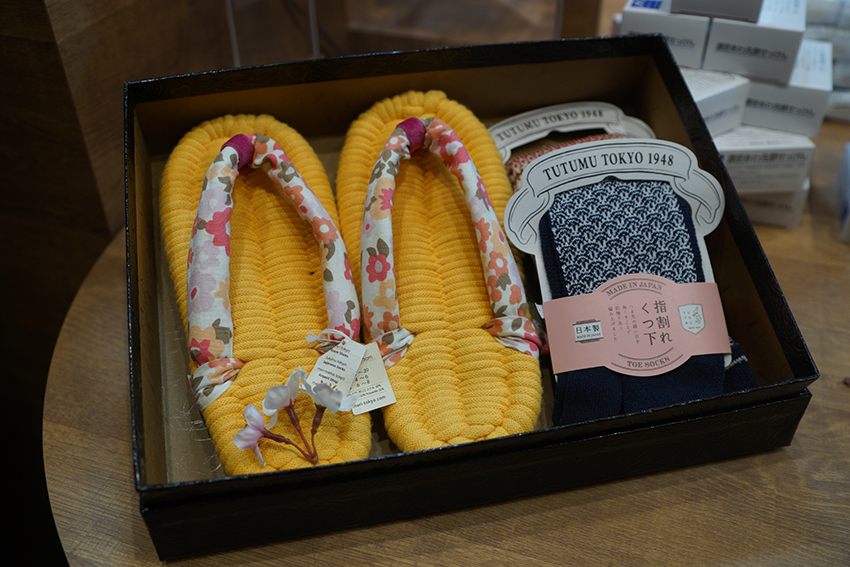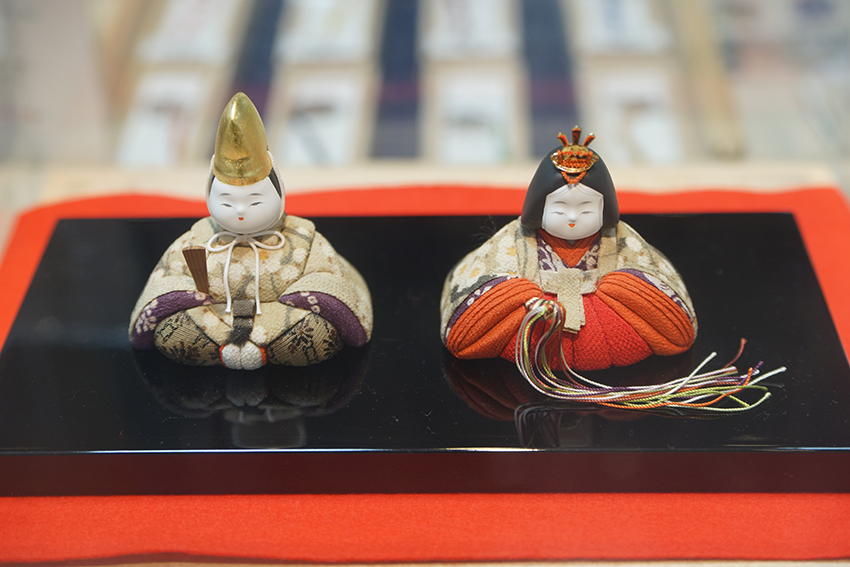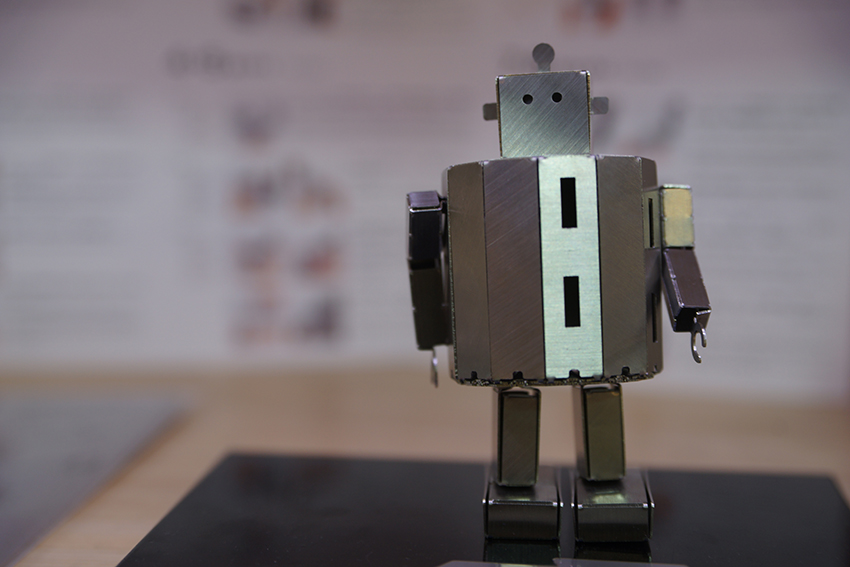 The items for sale at Sumidamachi Dokoro are unique in that they represent both the contemporary and traditional side of Japanese creative genius from traditional slippers and intricately decorated dolls, to kawaii robots made out of tin to sparkling jewelry and whimsical mobile phone danglers. The time I spent at Sumidamachi Dokoro and learning about Sumida ward's endless artistic spirit made me want to explore it in search for more unique crafts.
Japanese folding screens: furniture, decorations and canvases
Our first stop was a legendary folding screen shop that has mastered the art of combining elegance and practicality in their creations.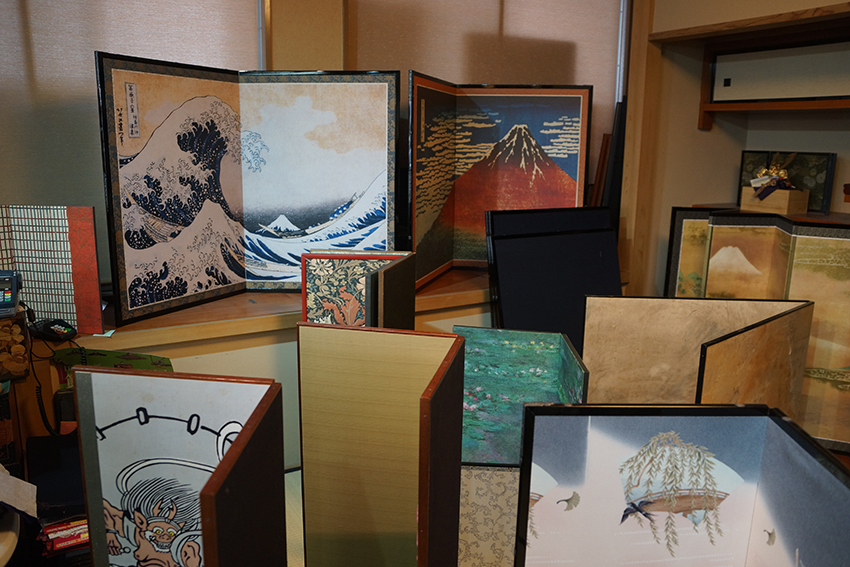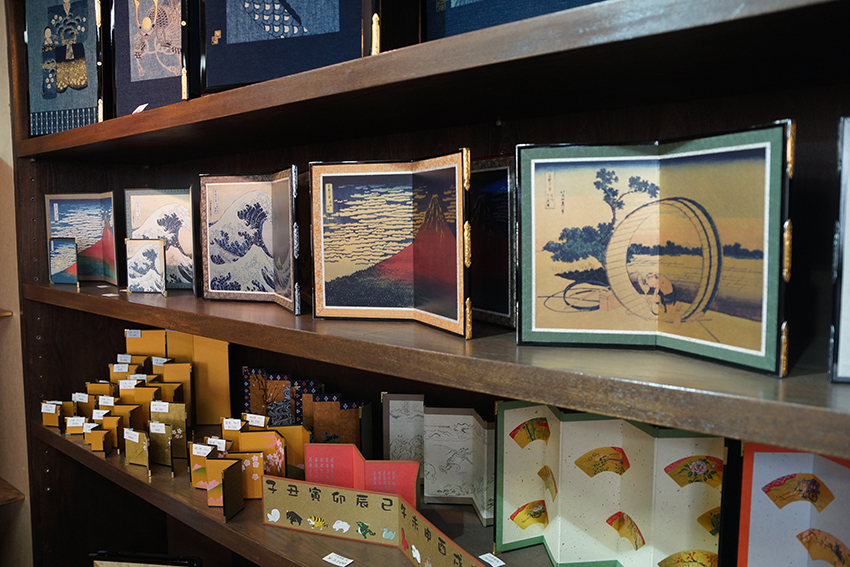 Kataoka Byoubu folding screen shop has more than 60 years of history
From decorative elements adding a Japanese touch to any room to smaller souvenirs for family and friends, Kataoka Byoubu's folding screens offer visitors a unique piece of Japanese craftsmanship that has never ceased to evolve.
Folding screens were originally imported from China around 1,300 years ago, and along with the techniques for making them, they underwent a transformation unique to Japan" the artisan Koto Kataoka told us.
In a modern twist and with the influx of foreign tourists, Kataoka Byoubu's folding screens feature several of Hokusai's most famous prints, most of them from the artist's popular series "Thirty-six Views of Mount Fuji.
For example in the Under the Wave off Kanagawa, you see an image that you could only have been taken with a camera at 1/10000 of the shutter speed, but he would just imagine it and draw it, fabricate it. It was something that other old painters didn't have. It was said he was a strange person, so that also increased his appeal", Kataoka-san said when asked about regarding Hokusai's popularity both in Japan and abroad.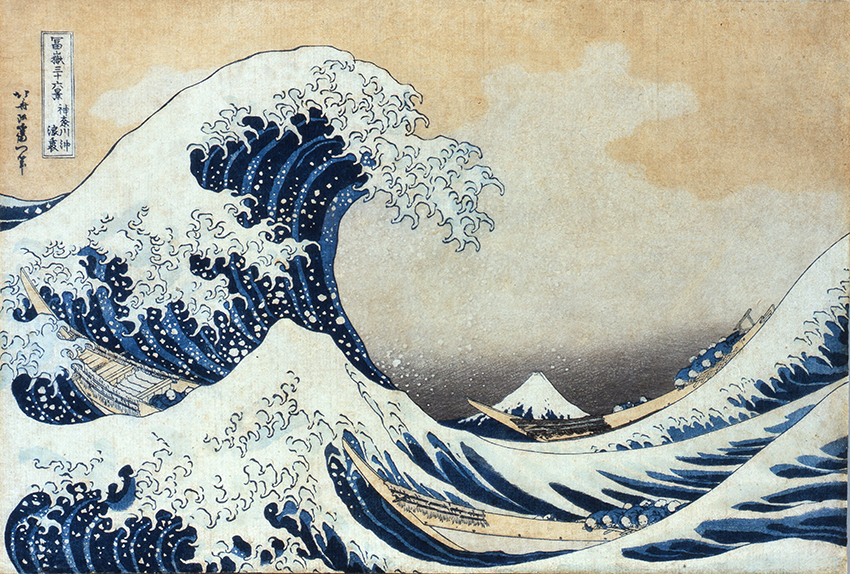 Under the Wave off Kanagawa is perhaps the most famous work by Hokusai
Having born and lived in Sumida ward for most of his life, Hokusai has become an unofficial ambassador for the area, and visitors can enjoy a variety of his works at the recently opened Sumida Hokusai Museum.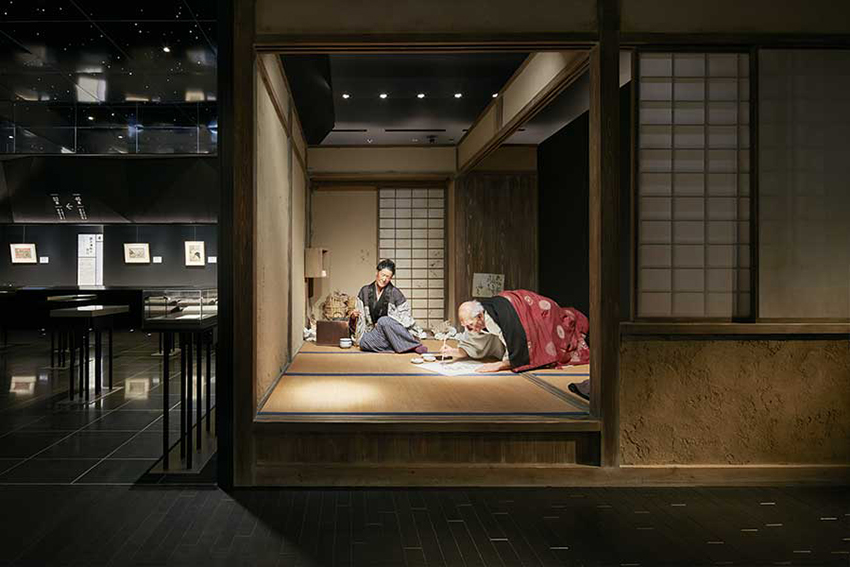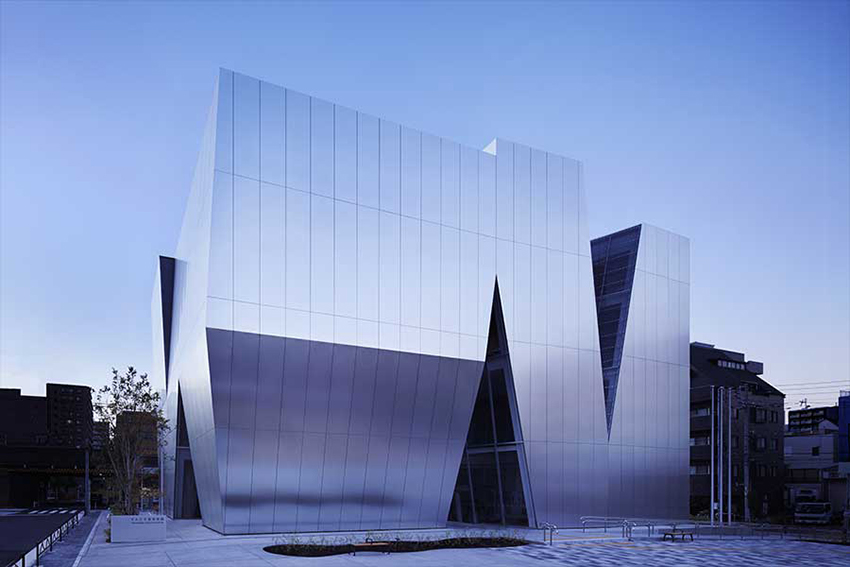 (C)Forward Stroke
Visitors can enjoy a replica of his room and an innovative exterior design
Besides admiring the works of art in Sumida, you can also visit the scenes that inspired Hokusai and travel in time as you learn about the different sites' connection to the woodblock print artist.
Sumida Park & Ushijima Shrine
Along our Hokusai pilgrimage, we stumbled upon Sumida Park, which combines a peaceful Japanese garden with the TOKYO SKYTREE℠ in the background, acting as reminder of changing times.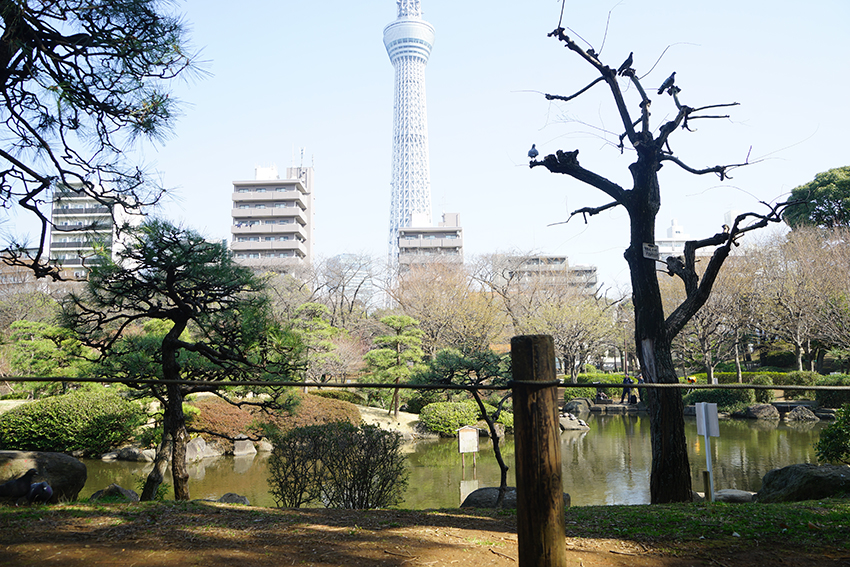 The Sumida park's pond with the TOKYO SKYTREE℠ in the background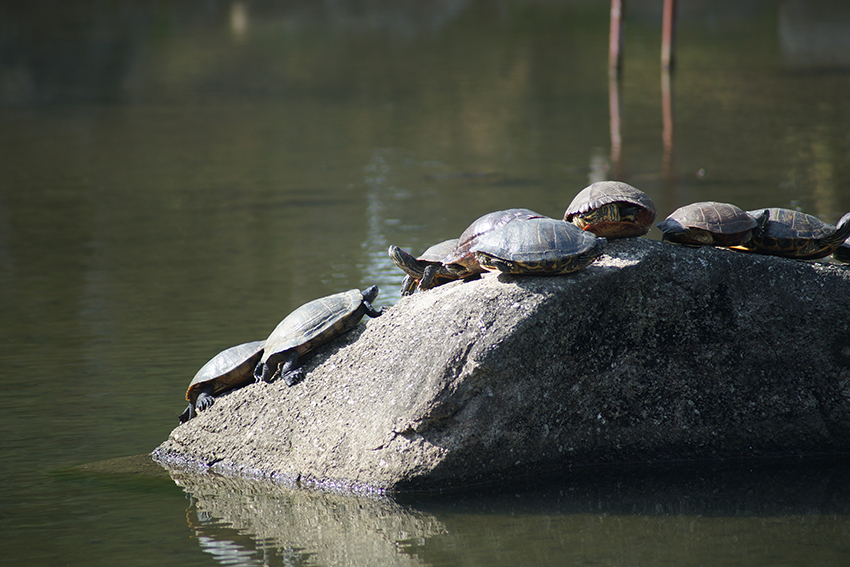 We gathered around the pond to take in the quiet atmosphere, and spotted lazy turtles sunbathing on the rocks. Bird watchers patiently waited nearby with their cameras and huge telephoto lenses ready to shoot, while an old man on the shore sang a nostalgic song as he played the samisen, a three-stringed Japanese instrument. It was like a scene straight out of a Japanese woodprint, which made me think that perhaps Hokusai himself had witnessed a similar scene while living in Sumida.
After a short walk, we reached Ushijima Shrine, a Shinto shrine founded in 820 CE that gets its name from the cattle that used to graze in the area (Ushi means ox in Japanese).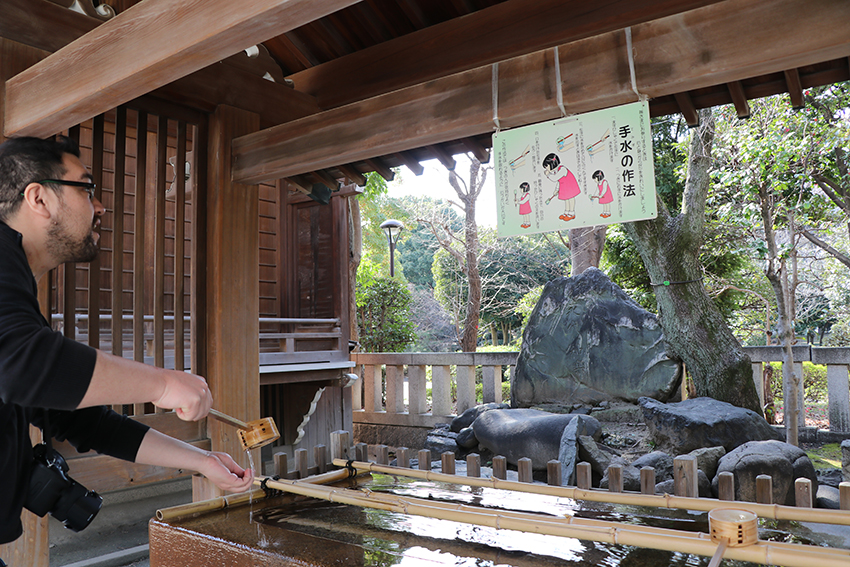 Make sure to follow the customs when visiting a Japanese shrine, such as washing up your hands and rinsing your mouth before entering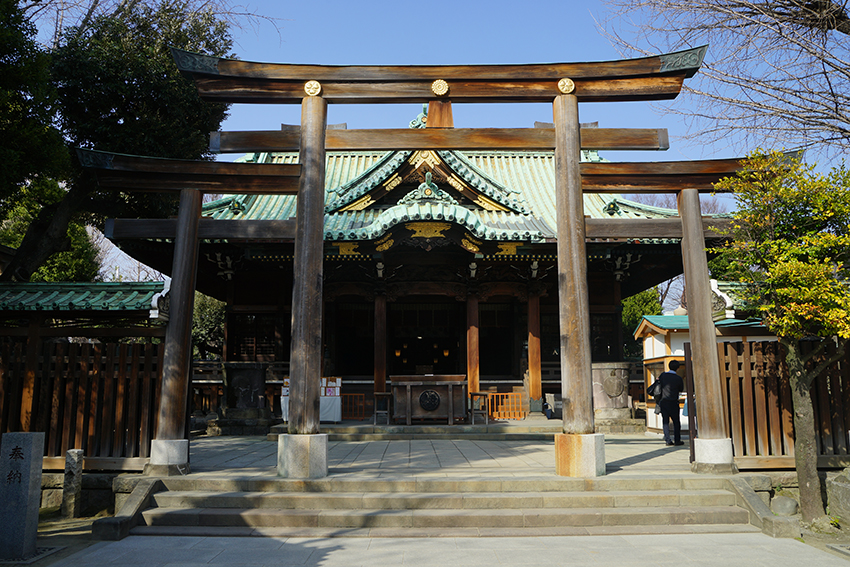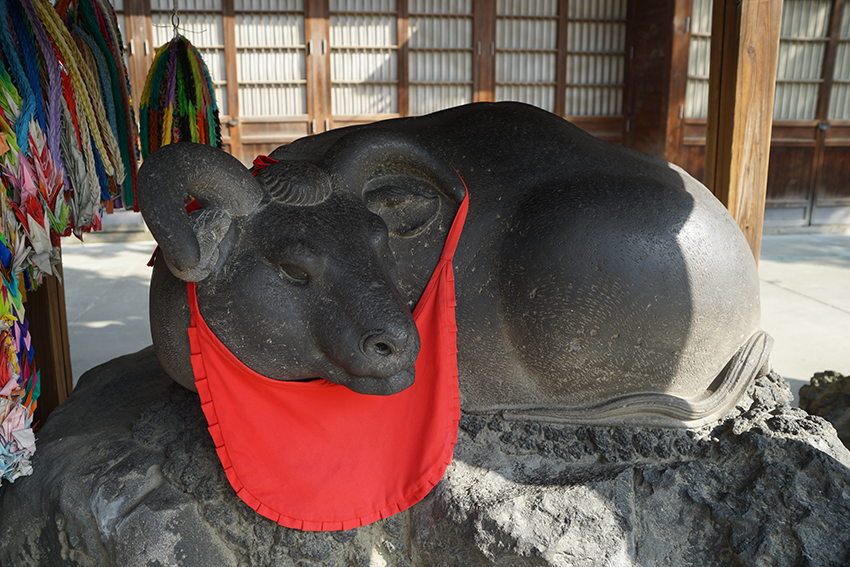 Ushijima Shrine is famous for the Nadeushi, a statue of an ox which is said to have the power to heal you if you touch it in the same place that troubles you.
It's said that Hokusai donated one of his masterpieces "Susanoo-no-Mikoto Yakujin Taiji no Zu" to the Ushijima Shrine, which depicts the god Susanoo-no-Mikoto fighting 15 personified diseases. However, it was unfortunately lost during the fire caused by the Great Kanto Earthquake in 1923. A black and white photograph of the masterpiece was all that remained until a group of expert art restorers recreated the painting with its original colors, which you can see today at Sumida Hokusai Museum.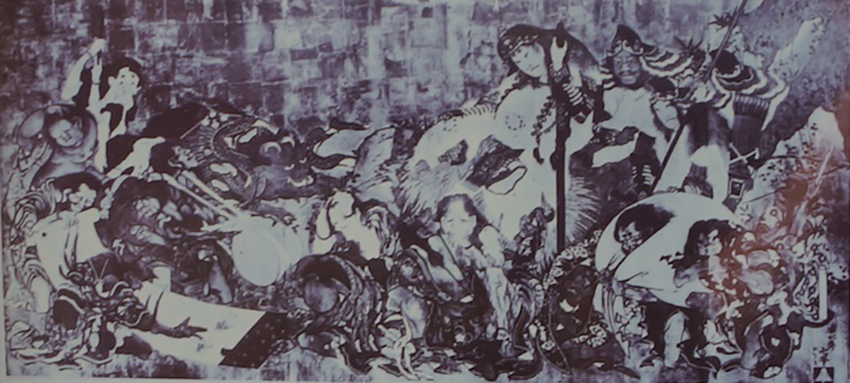 "Susanoo-no-Mikoto Yakujin Taiji no Zu" is considered one of Hokusai's masterpieces
Mimeguri Shrine, a power spot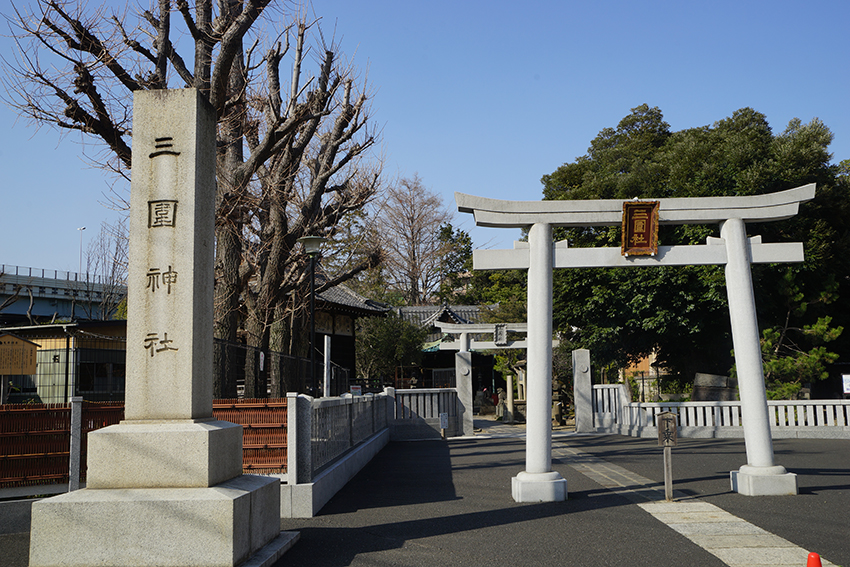 We continued our walk along quiet, sometimes deserted streets, but stopped here and there to peek into the lives of local artisans, from people making Tabi(traditional Japanese socks), to modern T-shirt printing workshops with contemporary designs. We eventually wound up at another shrine located in what appeared to be an even quieter part of Sumida.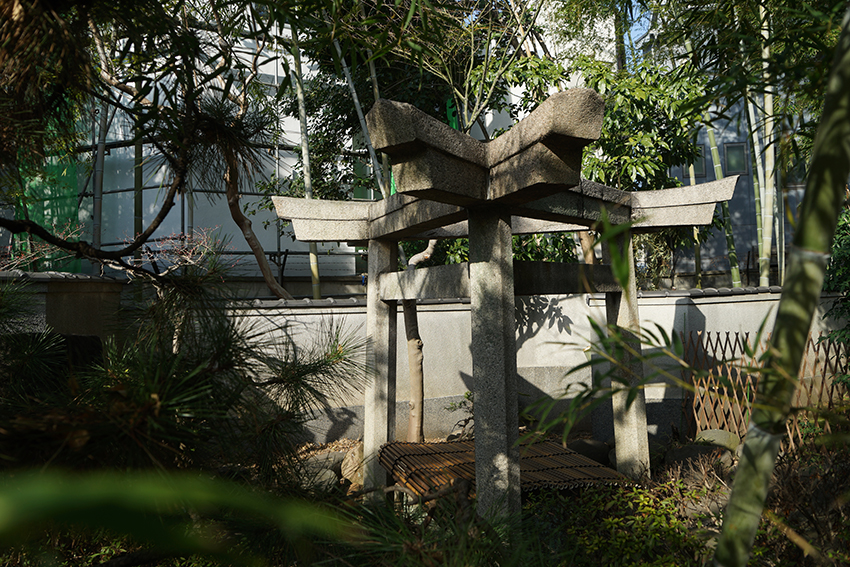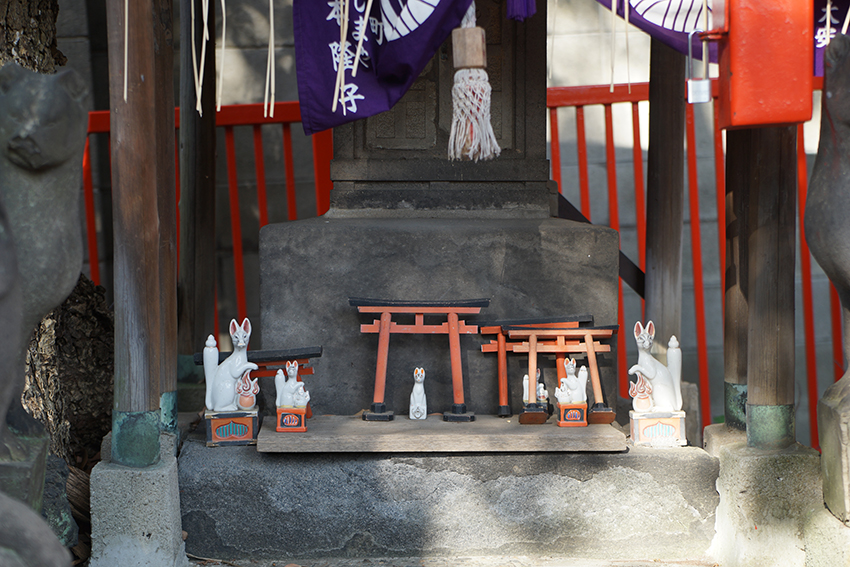 Mimeguri shrine is considered a "power spot", an expression which is borrowed from English. but originated in Japan. Power Spots are places with a special or spiritual energy, and are frequented by people looking to recharge their vital energy or purify their body and mind. At first didn't notice anything special, but perhaps due to the placebo effect, I soon started to feel a mysterious calmness and a tingling sensation in my fingertips. Strolling around the shrine's unique layout which forms a triangular path, I encountered vermilion torii gates and kitsune, white foxes said to be messengers for Inari, the goddess of prosperity. There was also a well protected by a structure that looked like three torii gates fused together.
Hokusai portrayed this unique shrine as it looked like during the Edo period, earning him a lot of praise for his work.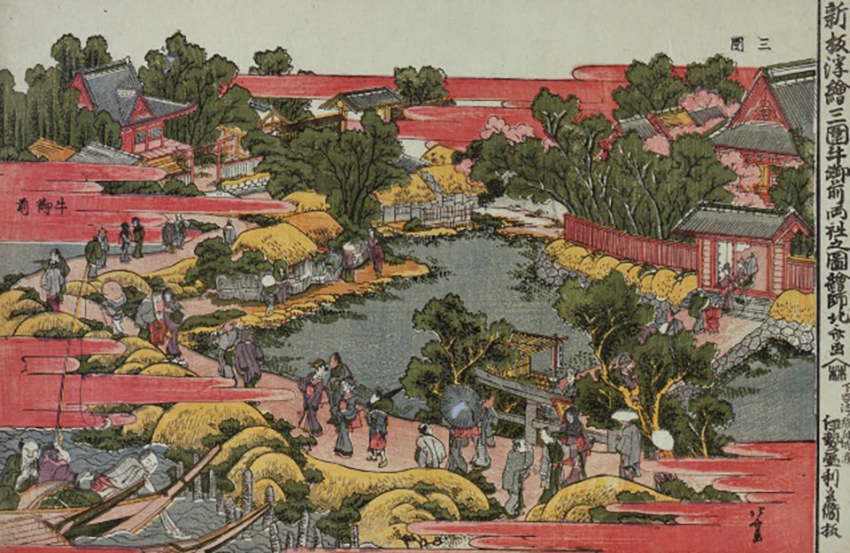 "Shinpan Ukie Mimeguri Ushi no Gozenryousha no Zu" depicts the shrine from a unique point of view
Kimekomi Dolls and Shirahige shrine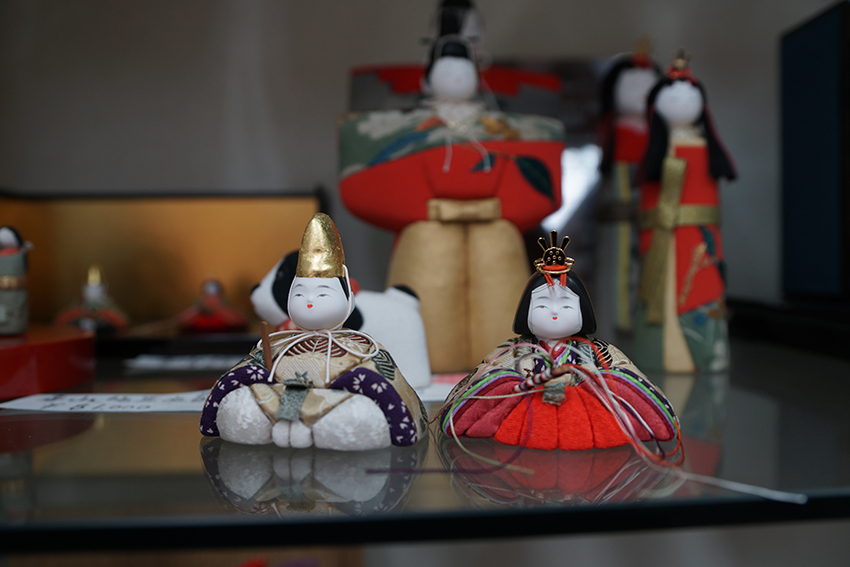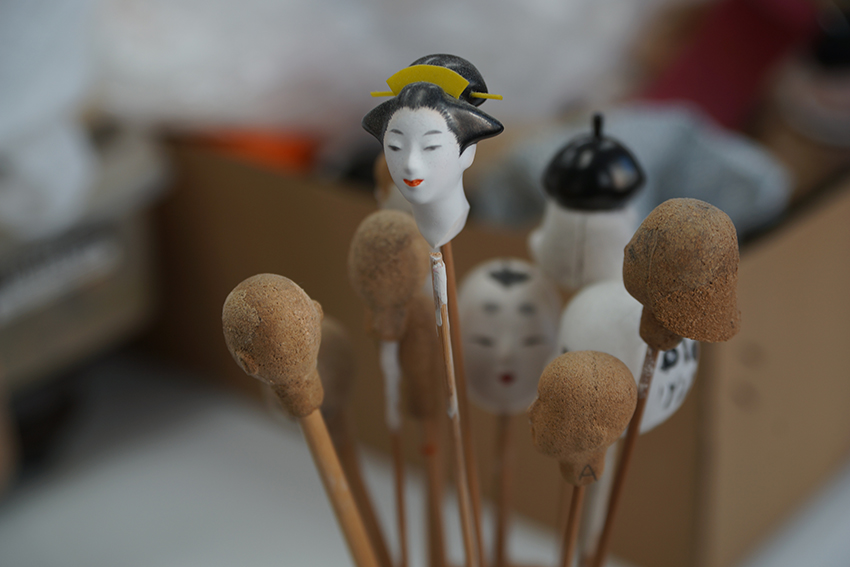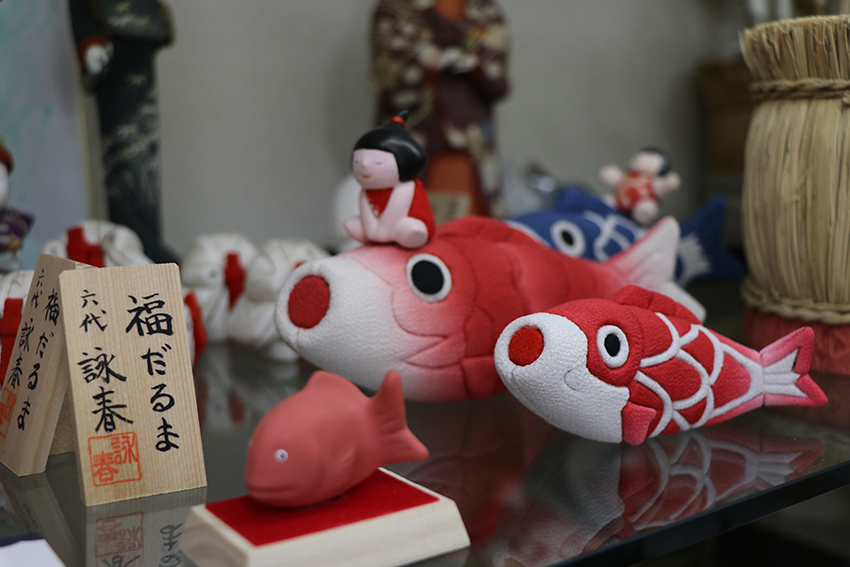 Of the many studios we encountered, we decided to spend some time at Edo Kimekomi dolls, a studio offering endearing Japanese characters made with the traditional kimekomi method, which consists of carving small dolls out of willow wood and decorating them with cloth straps. Some of the more popular creations include the auspicious hina dolls, the ubiquitous maneki-neko beckoning cat and cute owls, which are said to bring good luck.
This little studio offers a kimekomi doll making experience, where all the necessary materials and guidance are provided for a fee.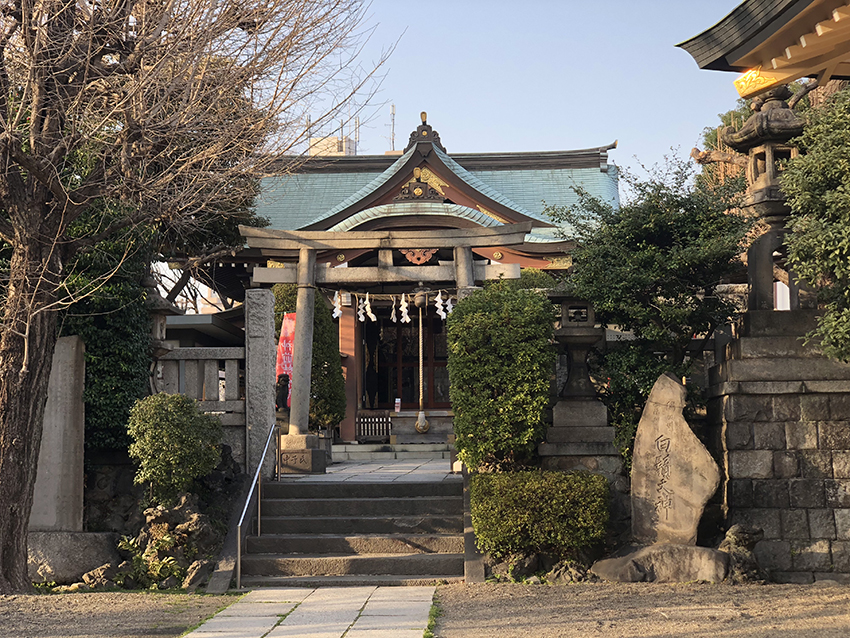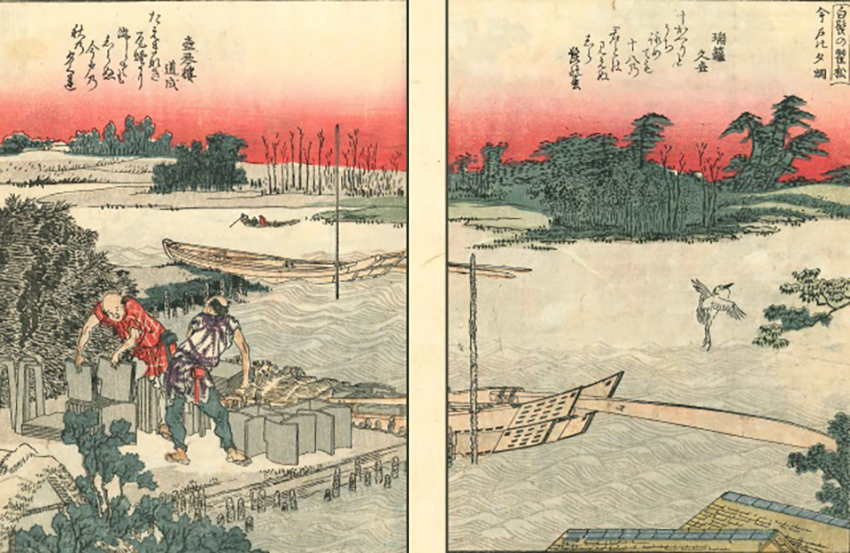 The next stop on the map was Shirahige Shrine, featured in Hokusai's series of the comical tanka prints "Panoramic Views on Both Banks of the Sumida River"
Although at the beginning I had expected to recognize the shrines featured in Hokusai's prints, I soon understood that it would be almost impossible amidst the urban sprawl of Sumida ward, not only due to the effects of time but also because Hokusai often chose to draw elements from his own imagination and had a highly stylized visual language.
Sakuramochi, a treat from the Edo period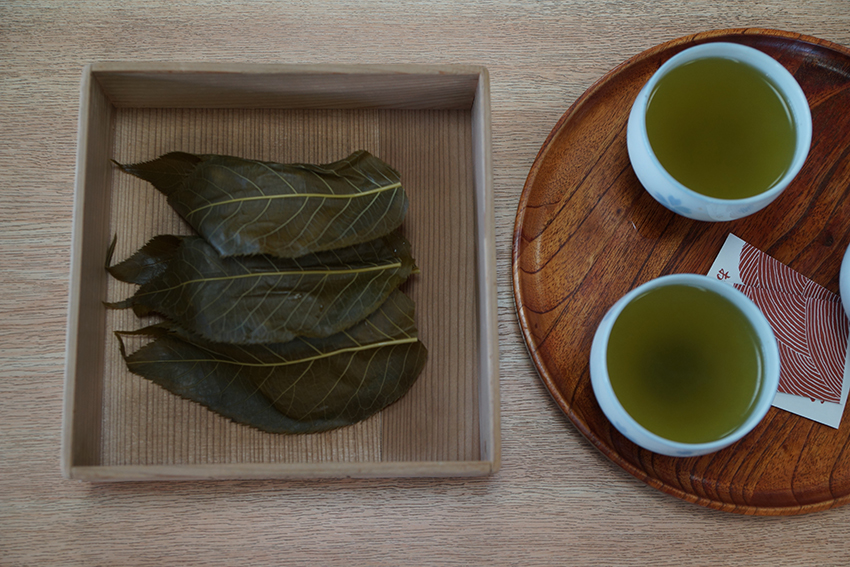 After almost a whole day of walking, it was time for refreshment, and we couldn't have found a better way to stay in theme with Hokusai's time, than to try the legendary Sakuramochi of Mukojima Chomeji, a confection of sweet mochi rice filled with red bean paste and wrapped in a cherry blossom leaf pickled in salt, which has been enjoyed since the Edo period.
The combination of the salty, tender leaf with the sweet mochi and bean paste was delicious, and the delicate flavor of the accompanying green tea was very soothing.
Sumida River Shrine
We reached the site of another of Hokusai's masterpieces, Setsugetsuka Sumida, and the place that inspired it: the Sumida River shrine. It's now partially shadowed by the highway running behind it, but back in the Edo period, the waters of the Sumida river reached all the way to the shrine and it was even called the Water Shrine.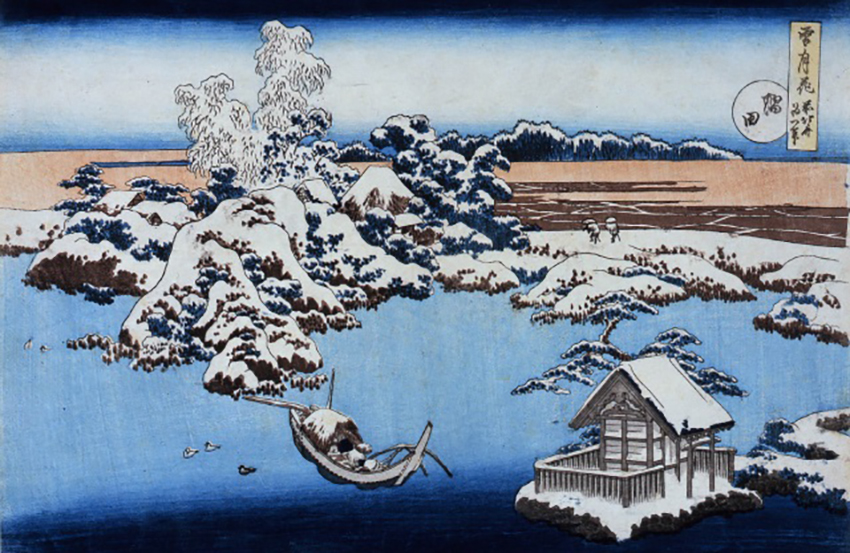 Setsugetsuka (Snow, moon and flowers) Sumida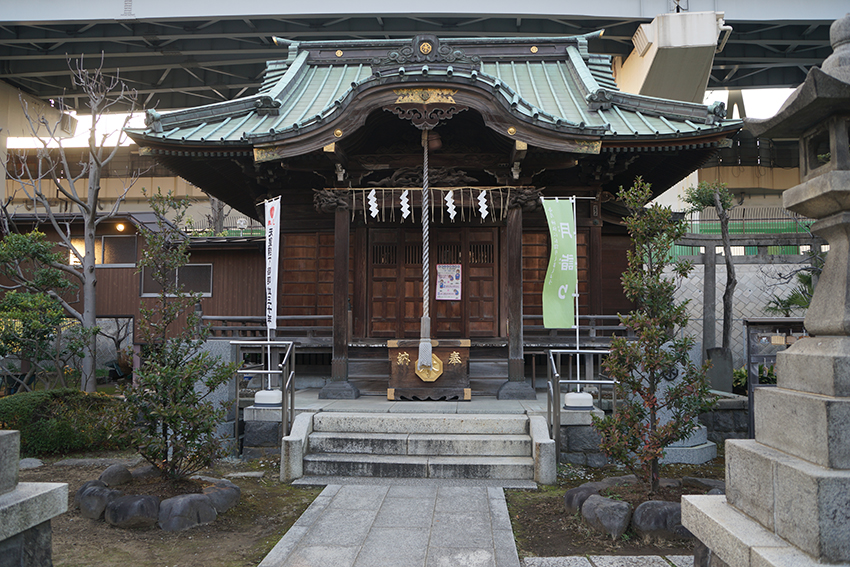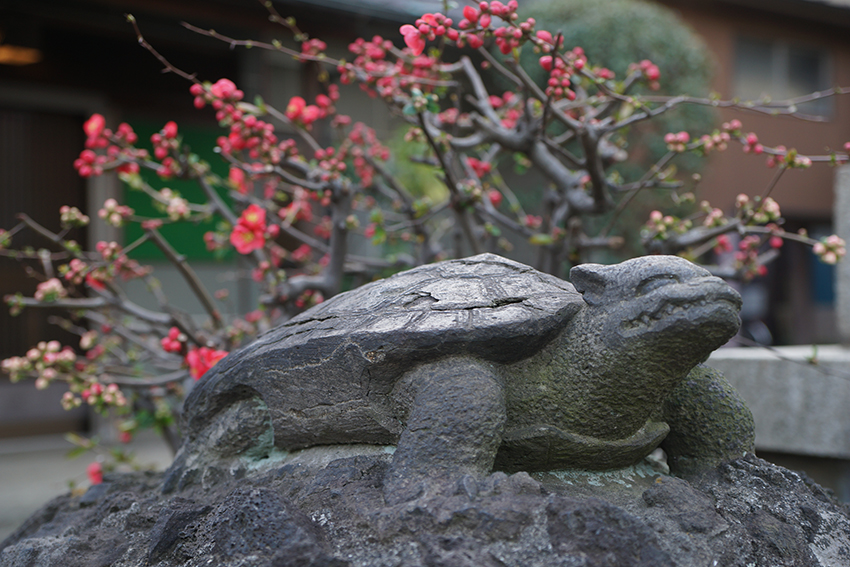 The present-day shrine with koma kame guardian turtles, instead of the usual guardian dogs.
Hosenji & Mokuboji
To wrap up a day full of history and art, we stopped by Honsenji and Mokuboji, two temples that also make an appearance in Hokusai's work.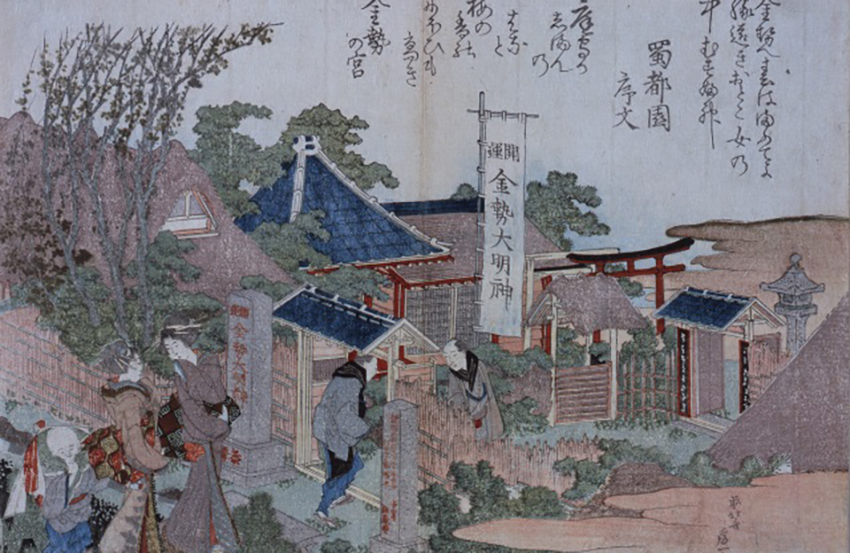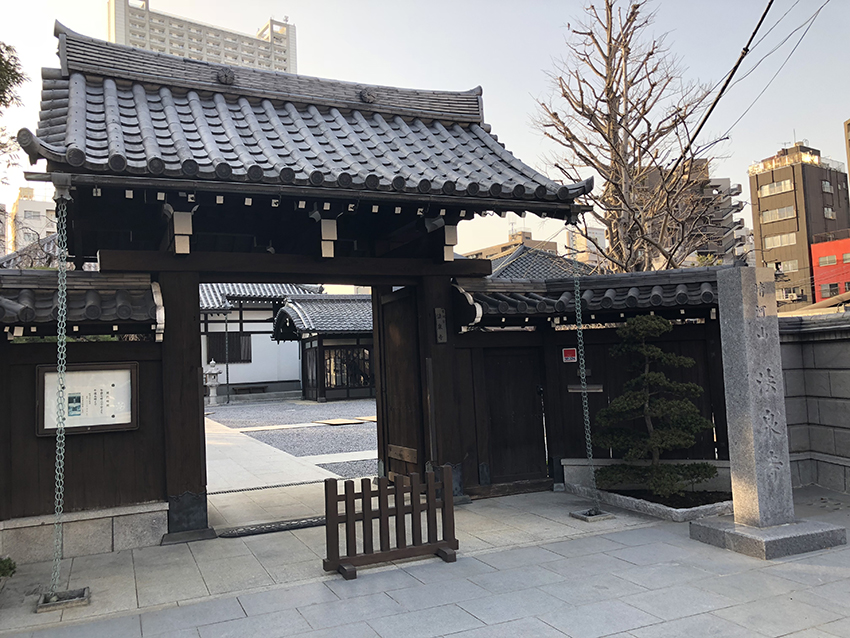 "Pilgrimage to Hosenji Temple" and present-day Hosenji temple
It's estimated that Hokusai made this print between the age of 60 and 70 and it depicts people attending the Hosenji temple to pray. The print has been designated as a Sumida-ku Tangible Cultural Asset.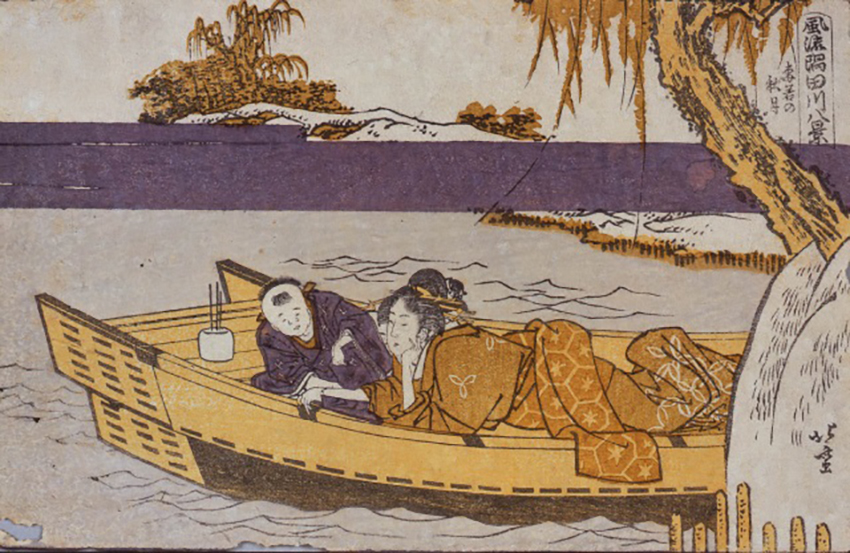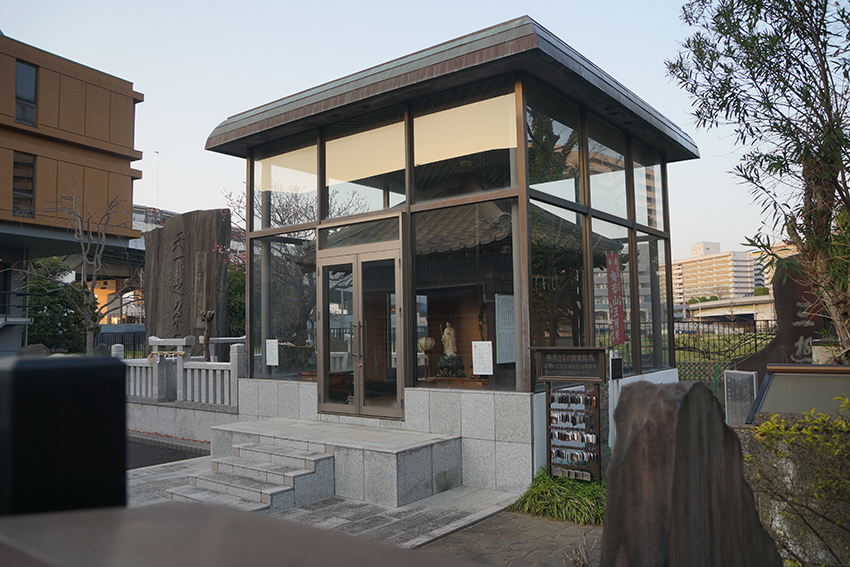 "Full moon of Umewaka" and present-day Umewaka-do protected by a glass enclosing in Mokuboji temple
Mokuboji temple is related to the legend of Umewaka, which tells the story of a boy who is separated from his mother and dies near the Sumida river. After learning about his death, the mother becomes insane and roams around looking for him. Hokusai painted a scene in which the mother and the son who were unable to meet again in life, are happily reunited enjoying a boat ride.
Kanegafuchi Station and TOKYO SKYTREE℠ by night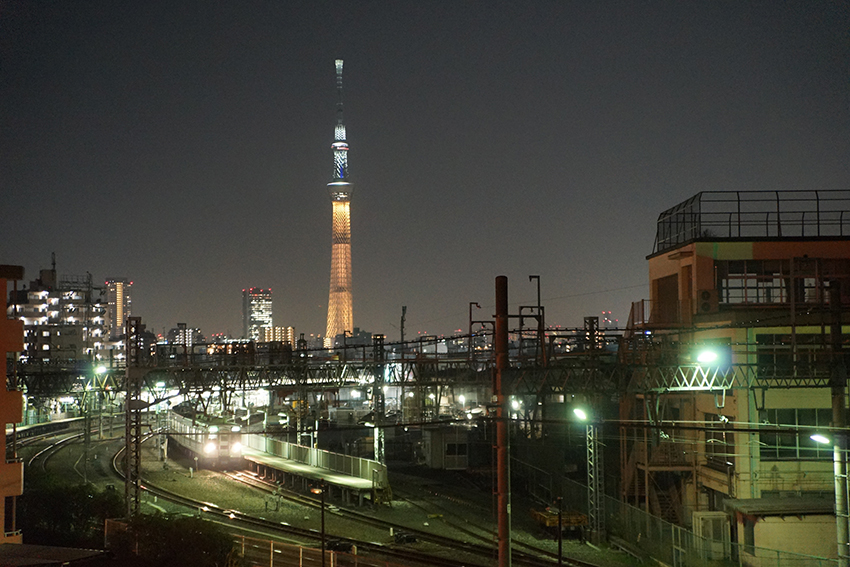 We walked to the banks of the Arakawa river to see this stunning view
We wound up near Kanegafuchi Station as it got dark and were able to snap this picture of the illuminated TOKYO SKYTREE℠. It had been popping in and out of sight at all the different places we visited and ending the tour here seemed like the perfect way to wrap up the day.
Walking around Hokusai's hometown and encountering all the places related to his work at different stages of his artistic career made me realize why he is considered to be one of the most outstanding and prolific Japanese artists. For him, however, it was probably not enough, as it's said that near the time of his death at the old age of 88, he muttered:
If only Heaven will give me just another ten years... Just another five more years, then I could become a real painter.
*All the paintings featured in this article are exhibited in the Hokusai Sumida Museum.
TOKYO SKYTREE℠

Kataoka Byoubu folding screens (in Japanese)

Sumida Hokusai Musuem:

To learn more about Hokusai's works of art visit the following site:

To make a reservation for a Kimekomi doll making experience: (in Japanese)
EXPLORING OKU-NIKKO: A HIDDEN SUMMER PARADISE